Posted by
Jenny Kane
on Mar 3rd, 2014 in
Blog
,
News
|
6 comments
I'll let you into a little secret. Even though Another Cup of Coffee was not my first novel, I was incredibly nervous when its publication date arrived six months ago. Not only was it a very different style of novel from those I'd previously written, but it was a very personal story to me. Based on decisions that I almost made- but didn't- it would have broken my heart if it hadn't done well. I was so worried in fact, that I sat on the original manuscript for over a decade before I was brave enough to put it out there.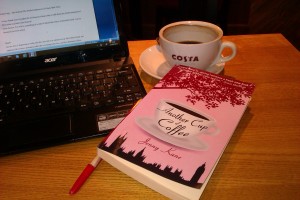 Blurb-
Thirteen years ago Amy Crane ran away from everyone and everything she knew, ending up in an unfamiliar city with no obvious past and no idea of her future. Now, though, that past has just arrived on her doorstep, in the shape of an old music cassette that Amy hasn't seen since she was at university.
Digging out her long-neglected Walkman, Amy listens to the lyrics that soundtracked her student days. As long-buried memories are wrenched from the places in her mind where she's kept them safely locked away for over a decade, Amy is suddenly tired of hiding.
It's time to confront everything about her life. Time to find all the friends she left behind in England, when her heart got broken and the life she was building for herself was shattered. Time to make sense of all the feelings she's been bottling up for all this time. And most of all, it's time to discover why Jack has sent her tape back to her now, after all these years…
With her mantra, 'New life, New job, New home', playing on a continuous loop in her head, Amy gears herself up with yet another bucket-sized cup of coffee, as she goes forth to lay the ghost of first love to rest…
****
Thanks to you wonderful readers however, I need not have worried a all. Another Cup of Coffee has stayed firmly near the top of the Amazon charts since its release- and I couldn't be happier!
I thought I'd celebrate its half birthday with a big THANK YOU to you all, and give you the chance to win an e-copy of either Another Cup of Coffee, Another Cup of Christmas, or any of my Kay Jaybee books (for those of you who fancy a walk on the kinky side)
All you have to do is leave me a quick comment, telling me your perfect location in which to sip a delicious cup of coffee (or tea if  you prefer!). My favourite suggestion will win!! (Don't forget to leave your email address so I can contact you about your prize if you win) Competition close on Monday 12th March at 12 noon UK time x
*****
Buy links
Amazon UK- http://www.amazon.co.uk/Another-Cup-Coffee-Jenny-Kane/dp/1783751126/ref=sr_1_1?ie=UTF8&qid=1377605533&sr=8-1&keywords=another+cup+of+coffee
Amazon US – http://www.amazon.com/Another-Cup-Coffee-Jenny-Kane/dp/1783751126/ref=sr_1_1?ie=UTF8&qid=1377605667&sr=8-1&keywords=another+cup+of+coffee+jenny+kane
Many thanks again everyone,
Happy reading,
Jenny xx