Today I'm delighted to welcome Karen King over for a coffee and a chat. Not only has Karen got a brand new YA novel out – but it is published TODAY!!
I thought I'd ask Karen a few questions about her book and her writing in general. Let's grab a cuppa, and get talking…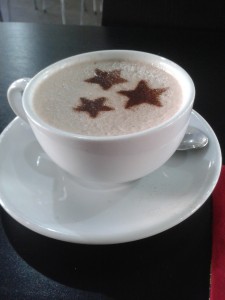 What's your writing process?
Thanks so much for inviting me onto your blog, Jenny, to talk about my YA Perfect Summer. As I write romance novels and children's books too, people often ask me if I find it difficult to write for different genres, and how I go about writing so I thought that might be a good thing to talk about today.
Whatever I am writing I always abide by two rules: know your market, know your reader. It's something I've adhered to over thirty plus years of being published, because I've often written commissioned work, so have followed someone else spec, and sometimes in a genre I've never written for before. For example, in my years of writing for children I've worked on many children's magazines and written picture books, fiction, educational readers, activity books, joke books and plays. Long ago I decided that the best way to tackle these projects was to 'know my market and know my reader'. My writing students call this my mantra!
I think it's really important to have a knowledge of the market I'm writing for. If you've never read a YA novel then I would think it's difficult to write one, especially if you're not a teenager yourself. Similarly, with a contemporary romance, or a picture book. I think this research is vital. It's no good writing a 2,000 word story for the picture book market, for example, as it's far too long. So whatever I'm writing, whether it's a YA, a romance or a picture book I always read several modern books in the same genre, so that I get the feel of the characters, how the plots are executed, the vocabulary used, etc.
I like to have a picture of the reader I'm writing for in my mind. For a YA novel the reader will be a teenager – I know a lot of adults read YA too but the intended audience is a teenager. So I make sure I familiarise myself with the teenage world, their emotions, the vocabulary they use. If I'm writing a chick lit then the target audience will probably be a young woman under 40 (although yes, lots of women over 40 read them), picture book readers will usually be six or under.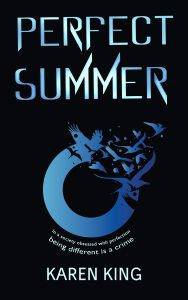 What about the characters and plot?
Before I actually start writing, I make sure I know my character really well. I complete a character profile for all my main characters, detailing not only their age and appearance but their personalities, family background, likes and dislikes. I do mood boards on Pinterest too, which helps me really get a feel for the story. You can see some of my WIP boards here https://uk.pinterest.com/karenkingauthor/
I need to know my characters before I write, so that I can write from 'inside their head' and know how they will react to any situation. Then I do a brief plot outline – this is flexible and bits will often be changed as I write – and off I go!
Do you revise as you go or afterwards?
The most important thing for me is to get the story out of my head and down onto paper/the screen so I always get my first draft down, then go over it and revise and rewrite. I read it over once it's finished and make notes on what needs revising. I probably revise at least four times because I look for different things each time, how the story pans out, characterisation, dialogue, continuity etc before a final check for typos and grammar mistakes.
Did you have to do much research for Perfect Summer?
As the plot involves organ transplants I had to do a bit of research on that. The most difficult thing I found about writing this story is that it's set about thirty years in the future so I had to try and guess what technology would be available then, and then found that technology moved faster than I imagined! The first edition of Perfect Summer was published a few years ago so I've now updated it for this new edition.
Which Point of View do you prefer to write in and why?
I use both, it depends what I'm writing, Most of my younger children's books are written in third person as are my romances, whereas Perfect Summer is written in the first person viewpoint. I started it in third person but it just didn't flow right, Morgan's voice didn't come out strong enough. So I changed to first person and I was away. I think first person viewpoint can be more immediate and give a pacier read, which is ideal for my YA stories.
Thanks for interviewing me, Jenny.
***
Blurb
Set in a society obsessed with perfection, 15 year old Morgan is best friends with the seemingly perfect Summer. But when Morgan's brother, Josh, who has Down's syndrome, is kidnapped, they uncover a sinister plot and find themselves in terrible danger.
Can they find Josh before it's too late? And is Summer's life as perfect as it seems?
What people are saying about Perfect Summer
'This book was amazing, as it was easy to relate to the characters, and it put a perfect twist on society's obsession with perfection.' Shehayamsani – Litpick reviewer.
'King does an amazing job of writing about the discrimination children with disabilities face'  http://strollinginstoryland.blogspot.co.uk/
I was really taken away by this book – it is full of excitement, danger, shocks, gripping scenes and a thick plot. It is a truly brilliant story, with some fun – but SO realistic – characters. It makes the reader think – could the future turn out to be something like this?? Bookworm1, Amazon UK review
'The story line was fascinating and kept my attention. Could also be a good book club discussion book.' Donna – More Than A Review
***
Extract
Later that evening, totally beautified, flawlessly made up and dressed in our finery, we got into a hire car with Leo and Tamara and set off for Roxy's. As we drove along the riverbank towards the exclusive nightclub, I noticed the trail of glamorous people winding along the pavement like a colourful, exotic snake. Butterflies fluttered in my stomach. When we got nearer, and I saw how stunning the girls in the waiting queue were, the butterflies took flight and my stomach went with them.
"Look at all those people waiting to get in," I stammered. "What if we're turned away?"
Leo smiled at me. "How could they turn away two gorgeous girls like you?"
I hoped he was right. I didn't think I'd get over the humiliation if I was. Not only would it be cringingly embarrassing, it would also ruin the evening for everyone as Summer and her family would probably leave with me.
The hire car dropped us outside the building, then Leo and Tamara led us right to the front of the queue, the stares and whispers from people as we walked past made me feel like a celebrity. Two bouncers barred the doorway, legs wide, arms crossed. One was an exotic flame-haired woman dressed in a slinky black dress with slits right up to the thighs. The other, a drop-dead gorgeous blond hunk, wore tight black trousers and a white shirt open to the waist to reveal a tanned, toned torso. I was so nervous I thought I was going to be sick. But I needn't have worried. The bouncers both gave us wide smiles.  The man said, "Good to see you again, Mr Maddison, Ms Price." Then they stepped aside to let us through, without a second glance. I couldn't believe it. I was actually going into a nightclub, and not just any old nightclub, the nightclub. I felt like I was floating on air.
Buy Links
Amazon: http://amzn.to/2mMXTzI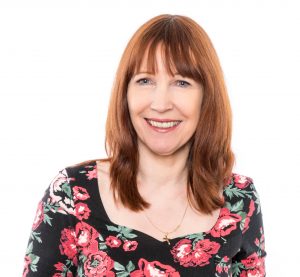 Author Bio
Karen King is the author of over 120 children's books and has had two YA's published, Perfect Summer and Sapphire Blue. Perfect Summer was runner up in the Red Telephone Books YA novel competition in 2011 and has just been republished by Accent Press.
Karen is also the author of two romance novels, and has been contracted for three chick lit novels by Accent Press. The first, I do?… or do I? was published in 2016 and the second, The Cornish Hotel by the Sea, is due out in the Summer. In addition, Karen has written several short stories for women's magazine and worked for many years on children's magazines such as Thomas the Tank Engine and Winnie the Pooh as well as the iconic Jackie magazine.
When she isn't writing, Karen likes travelling, watching the 'soaps' and reading. Give her a good book and a box of chocolates and she thinks she's in Heaven.
Author links
Website: http://www.karenking.net/
Twitter: @karen_king
Karen King Romance Author Facebook Page
Pinterest: https://uk.pinterest.com/karenkingauthor/
Instagram: https://www.instagram.com/karenkingauthor/?hl=en
***
Many thanks for coming along today Karen- especially as it's release day for Perfect Summer today!
Good luck with your new novel,
Jenny x
Today N J Simmonds launches her debut novel 'The Path Keeper', part of her thrilling new fantasy romance series. As a romance writer myself I have always been interested in what inspires other authors to write about love. Here's what N J Simmonds had to say…
'The Path Keeper' is much more than just a romantic tale about two young people. It has passion, suspense, drama, humour and a dash of the esoteric running through every page. You've been quoted as saying that the book is not a romance novel but a love story. What's the difference?
To me there's a big difference. When you write a traditional 'romance novel' you generally have two people that fall in love, you have a bunch of obstacles getting in their way and then you have a happy ending. From Cinderella to Fifty Shades of Grey and everything in between – ultimately you are following the journey of two people's love until they reach their Happy Ever After. But 'The Path Keeper' isn't just about Ella and Zac. I wanted to cover the topic of love in all its guises – unrequited love, friendship, the bond between mother and daughter, lost love, first love and of course soul mates. My writing isn't linear, probably because my mind thinks more like a collection of crazy fireworks than a straight line, so readers dip in and out of seemingly random people's lives – zipping back and forth from The Blitz to the 90s to the present day – until it all comes together in the end. Writing romance has a formula, writing about love has endless possibilities, because ultimately every decision we've ever made in our lives has been governed by love or fear…and every decision has a consequence.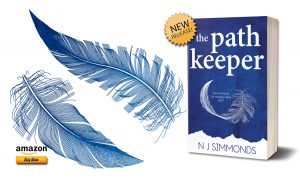 With all the negativity in the media lately, how do you get into the happy mindset to write romance?
I love love, it's my escape. I tend to shy away from conflict and anger, it makes me feel ill, so when I don't want to watch the news any longer I switch on a lovey dovey film. Or I put down my newspaper and pick up a romance novel instead. The thing about love, whether you watch it, read it or write about it, is that it fills you with hope. From the teenager who longs for their first experience of true love to the old lady who is reminiscing of happier days, having someone to love and being loved in return is the best feeling ever.
As a writer you not only have to move the images from your mind to the mind of your reader, but make them feel what your characters are feeling. It's not enough for me to have my readers follow a storyline; I want them so absorbed that they are the characters. To do this I love to watch romantic movies. One of my favourites is 'Before Sunrise'. Not only is the dialogue so clever but it's what isn't said that speaks volumes. The way Jesse looks at Celine when she isn't watching, the contradiction between what they are saying and their body language, those tiny subtle pauses, touches and unspoken words are what pulls you into the story and make you feel that all encompassing emotion. That's what I attempt to get across in my work.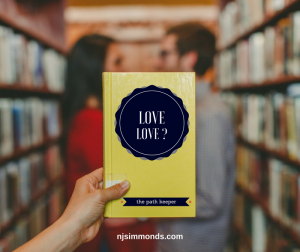 The love between your main characters Ella and Zac is very unique. How is writing fantasy romance different to regular love stories?
To be honest I didn't approach it any differently to writing a normal love story. In fact using fantasy elements makes writing about love easier as it opens the story up to endless possibility. Being in love, especially the first time when everything is so intense and raw, is truly magical….so adding a touch of the mysterious and unexplained to it feels totally natural to me. Unlike a lot of YA fantasy romances like 'The Vampire Diaries' and 'Twilight' my book doesn't have vampires, werewolves or witches – it's a lot more realistic (if you believe in the unbelievable, that is). Isn't that what love is all about, striving for that ultimate fantasy?
Did you have to sensor yourself once you discovered that 'The Path Keeper' was being categorised as YA (Young Adult)?
I never wrote 'The Path Keeper' intending for it to be a Young Adult book. I wrote the kind of story I like to read, which just happens to have a nineteen year old girl as the main character. When my publishers said they wanted it for their YA division I was worried – there's swear words and sex and some really adult themes – but they kept it in. Then I realised that I don't write for children, I write for older teens. They aren't stupid, they know about sex and F words and violence so why keep it away from them? I show love in a realistic light; hopefully I can give my younger readers a taste of what is around the corner and my older readers can be taken back to a time when life was simpler and more exciting.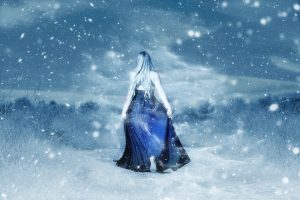 What do you love the most about writing romance?
The escapism. To be a decent writer you have to do more than just choose the right words – you have to feel everything your characters feel in order to describe their emotions effectively. So I could be doing something mundane like walking to the shops or ironing but in my mind I'm imagining what the taste of Zac's kisses are like or whether his lips are firm or soft. Likewise I may be imagining the pain of losing someone I love or being on the receiving end of an unloving mother. It can really take you to the brink and back, many a night I've been typing with tears splashing on to my keyboard. But I love it; the drama and the intensity – what other job gives you such a ride?
Ella's love interest Zac is a character that no one will forget in a hurry. What makes a perfect  leading male character?
Lots of things. I guess it depends what people want from their dream guy. For me I wanted to write about someone who was far from perfect. Zac is a very complicated character. Yes he's beautiful to look at and he adores Ella with a ferocity that can be quite suffocating at times but he's troubled. He is torn between the life he has and the life he wants with her. He wants her in every way, but knows that he shouldn't be with her…that makes for some very impulsive decisions that create all sorts of problems for our star crossed lovers. Saying that though, he really is gorgeous! Who doesn't love a guy with olive skin, dark hair and bright blue eyes?
And finally, what can you tell us about the sequel 'Son of Secrets'?
I wrote 'The Path Keeper' knowing that it would be the first in a series of books…I wasn't sure if it would be a trilogy or more, but I as I began to explore the characters I realised that the story had the potential to run and run. Except 'The Path Keeper' doesn't start at the beginning, it starts at the moment that Zac and Ella meet for the first time. But they have a bigger past, and we see that in the second book. We also see how they learn to live with their new lives and we find out what happens to the truly vile Sebastian. Best of all we meet Luci, one of the most exciting and original characters I have ever created. She is both petrifying and beguiling in equal measures, even I'm not sure what I think of her yet…but I'd definitely want her on my side!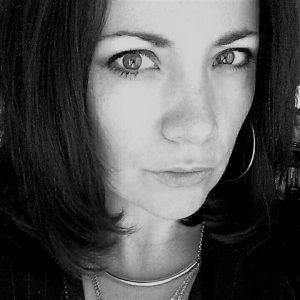 'The Path Keeper' is available from all good bookshops or click here to order from Amazon. To find out more about the series and follow N J Simmonds' writing adventures check out #thepathkeeper on social media. To read the first chapter of 'The Path Keeper' visit njsimmonds.com.
***
Many thanks for such a wonderful interview! Good luck with The Path Keeper.
Happy reading everyone,
Jenny x