I adore Christmas- I am something of a big kid when the festive season approaches- I love the wrapping of presents, cooking, gift giving, extra glasses of wine, the smell of cinnamon…the whole Christmas time package. So it was with great delight that I received Accent Press's request to write a Christmas themed follow up to my novel Another Cup of Coffee!
Based back at the Pickwicks café my new story is of novella length- and I hope will give you a cosy afternoons reading on the sofa with -of course- a cup of coffee to hand!
Check out this wonderful cover!!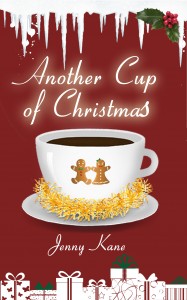 Here's the blurb-
Five years ago the staff of Pickwicks Cafe in Richmond were thrown into turmoil when their cook and part-owner, Scott, had a terrible accident. With help from his friends, his wife Peggy, and the staff at the local hospital, he made an amazing recovery. Now Pickwicks is preparing to host a special Christmas fundraiser for the hospital department that looked after Scott.
Pickwicks' waitress Megan has been liaising with the ward's administrator, Nick, as all the staff who helped Scott's recovery are invited are invited. As the problems of organising the fundraiser take up more and more of their busy lives, Megan and Nick contact each other more frequently, and their emails and phone calls start to develop from the practical into the flirty.
But can you actually fall for someone you've never met?
As the fundraiser draws closer, Megan is beginning to think that she had imagined all the virtual flirting between herself and Nick – he promised to arrange to meet her for real, but he hasn't done so. Now he's bringing someone with him to the fundraiser, and they're just bound to be everything Megan feels she isn't …
Another Cup of Christmas is a festive sequel (of sorts!) to Jenny Kane's fantastic debut romance, Another Cup of Coffee
I'll be back as soon as the buy links are released!!!
Happy reading,
Jenny xx