Jenny, it's great to be here with you. I'd like to begin by mentioning my love of musicals. Since becoming a published author I've often looked at the leading man with the critical eye of a romance writer hoping to find inspiration for the perfect hero. Well, that's my excuse!
The idea of a young woman falling for a singer wasn't enough. I needed to drag my heroine out of her comfort zone – make her vulnerable. I'm used to travelling between Wales and London, so setting Devilish Delights in these places appealed.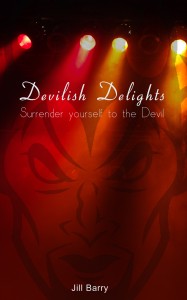 Laura takes on a temporary house and shop-sitting stint for her aunt and uncle in Wales. But the night before they go away, my heroine tags along with her aunt to a fundraising event where the delectable west end singer Alex Conway is performing. Laura is mesmerised by him but events conspire … and I hope you'll read the book and find out much, much more. It's said that authors shouldn't make a main character a fictional star because stars are too driven. Too obsessed with striving for more and more success. Hopefully I've addressed this by introducing a second man so Laura is faced with another new situation while Alex performs in the West End, attends rehearsals and so on. Laura's two temporary worlds collide, with a startling result.
I had fun, fabricating the fictitious musical that lends its title to this novel. As Laura says – think Witches of Eastwick meets The Rocky Horror Show but set in the UK and with a political theme. Alex, who's setting the West End on fire, gets to play both the Devil and the Prime Minister but not both at once. And I seize the chance to inject as much magic, passion and colour into my stage setting as possible.
Writing as Jill Barry has opened up new options for me throughout 2013. A Life Less Lonely – my medical romance with a difference is available as an ebook. With one D C Thomson pocket novel published and another due out in January, I'm hoping they'll like my idea for a serial. I'm also submitting short stories to women's magazines – which is how I began my writing career.
Thank you, Jenny, for inviting me and a very big thank you to anyone reading this.
Jill
****
You can purchase your ticket to Devilish Delights at
http://www.amazon.co.uk/Devilish-Delights-Jill-Barry-ebook/dp/B00GY8UNFO/ref=sr_1_1?s=digital-text&ie=UTF8&qid=1385624259&sr=1-1&keywords=devilish+delights
Jill Barry is on Facebook: https://www.facebook.com/pages/Jill-Barry/600174610034329
Jill would be delighted to have you following her on Twitter @barry_jill
Jill Barry author page: http://www.amazon.co.uk/Jill-Barry/e/B00FE0GQJ0
****
Many thanks for coming over to tell us about Devilish Delights today Jill- it looks positively wicked!!
Happy reading everyone,
Jenny x