It's my very first guest post!! Who better than to visit me first, than the brilliant writer of both erotica and romance, my good friend, Grace Marshall (a.k.a Kd Grace)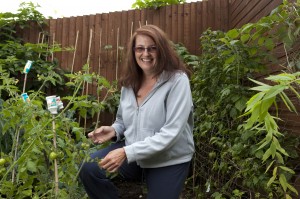 JK: Do you think you need to be a romantic to write romance? Would you consider yourself a romantic?
GM: I'm DEFINITELY a romantic, and way more so than I would like to be at times, but it is who I am, and it's made for some fun writing.
Yes, I do think you have to be a romantic to write romance, BUT, I think that we all have a little bit of romantic in us, and we all really want our own Happily Ever After. Honestly, I've never known anyone who when given the choice would choose the 'Not so happy ever after' ending for their own lives.
JK: It's no secret that you have a more, shall we say "erotically word-playful" alter ego- the incredible KD Grace- how would you say your writing style differs under the banner of Grace Marshall?
GM: I think we're opposite sides of the same romantic coin. While KD approached romance through erotica, I approach the erotic through romance. With KD, the sex is there from the beginning, and it's always an integral part of the story. With my work, the sex is a part of the 'pay-off.' I don't want to say it's earned, but it's definitely a part of the goal. For me the story is all about the chemistry that develops between to people who are attracted to each other on more levels than just sexually. I play a lot more with sexual tension than KD does. HOWEVER, when it comes time for the Big Event, I leave the bedroom doors wide open and invite my readers right on in.
JK: The cover of Executive Decision (the first in a brilliant trilogy), alone looks enticing- can you give us an idea about what we can expect from its pages?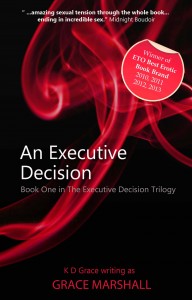 GM: You can expect both romance and sex and lots of drama. Ellis and Dee are both very intelligent, very driven people, and they find themselves in a situation that calls for all of that intelligence and drive and the amazing teamwork that goes far deeper than just their working relationship.
Here's the blurb:
Sex in the contract – it's the only way super-focused, over-worked CEO, Ellison Thorne, is ever going to get laid. That's what his retiring business partner and secret match-maker, Beverly Neumann, thinks. She's convinced no-strings, stress-free sex in certain employee contracts would raise productivity and minimize stress — perfect for a busy executive like Ellis. But she's joking, right?
 Enter Beverly's hand-picked replacement, Dee Henning. Young, hungry, gifted, Dee is the queen of no time for sex. When negotiations on a major project break down, and Dee and Ellis end up in each other's arms, the Executive Sex Clause suddenly becomes more than a joke. In fact hot executive sex just might be the ultimate secret weapon for success. But secrets seldom remain secret, and Dee and Ellis soon learn there's no such thing as no-strings where the heart is concerned. 
JK: Writing for a living is no easy feat- what do you do when the flow of words clogs up and you need to kick start the grey matter?
GM: I go for a long walk. I've never had a difficult spot that couldn't be solved by a good walk. Either that or I do a little weeding in the vegetable patch. We have an allotment now, so there's always LOTS of weeding to do.
JK: Executive Decision is the first of a trilogy has recently been followed by Identity Crisis. We are all now eagerly awaiting the third instalment- when is The Exhibition due to hit the shelves?
GM:  Book Three is The Exhibition, and it's due out really soon- on the 14th Novemeber!!! It's already available for pre-order.
Find Grace Marshall here:
Website: http://gracemarshallromance.co.uk/
Facebook Page: http://www.facebook.com/GraceMarshallRomance
Twitter: http://www.twitter.com/GM_Romance
****
Here's an extract from Book One of this wonderful series!!
Excerpt:
'I can't believe you just did that.' Dee whispered, applying plenty of tongue to seashell hollow of his ear and inhaling sharply as he ground himself against her, forcing her back still further into the corner.
'If the damned elevator doesn't hurry up, I'm gonna do a whole lot more than that.' He took time out from his kneadings to guide her hand into his pocket, then shifted just enough to impress upon her the urgency of the situation.
'My God, Mr Thorne, I'm amazed you can even walk.'
'Actually, I was hoping for a ride, Ms Henning.' He guided her hand to mirror and intensify the tight, almost undetectable rocking of his hips.
Meanwhile the businessman produced a bottle of something volatile and passed it around while singing a version of 'Yesterday' that would have brought tears to Lennon and McCartney's eyes. Once assured Dee knew her way around the inside of his pocket, Ellis retraced the route to the closest breast. His other hand snaked up under the front of her skirt, and with a slight tilting of her hips to open a path, he maneuvered into her panties. In the subtle, but intense rubbing and stroking that ensued, she nearly forgot where they were until the door opened and disgorged everyone but themselves and the elderly couple. Ellis quickly pulled his hand from beneath her skirt and licked wet fingers, the way a chef might test his favorite recipe. In a futile attempt to look respectable, they rode the last two floors straightening clothing and breathing heavily, finally making a quick escape to their suite.
By the time they got inside, Ellis's shirt was unbuttoned and he was working on his belt. She yanked down the zipper of her skirt and stepped out of it.
Standing with his trousers around his ankles, Ellis shoved her blouse and the unhooked bra out of the way and reintroduced her nipples to his enthusiastic tongue. 'Come on.' He gasped, when he finally pulled away and kicked aside his trousers. 'My bed's in here.' Hooking a finger into the waistband of her thong he pulled her at a fast trot through the sitting room. At the door to his bedroom, she grabbed his boxers from behind nearly tripping him as she tugged them down, freeing his erection, and giving herself a mouth-watering view of his ass.
Struggling to regain his balance, he turned on her. 'So, that's how you want to play, is it?'
'This is how I want to play.' She pushed him against the wall and dropped to her knees in front of him before he could take the initiative. Then she dragged the boxers down still further so she could cup the weight of his balls in one hand while the other closed around his erection.
'Dee.' His voice was tight, edgy. 'Dee, what are you doing?' He ran a hand down to cup her chin and lifted it until she met his gaze.
'I told you I wanted to taste you. You said you'd put it on the calendar. You didn't forget, did you? Of course not. Ellison Thorne would never forget an important meeting.' She took him into her mouth, afraid if she waited she might lose courage, she might remember who she really was in this relationship and not be able to do what she so badly wanted to do.
'Jesus, Dee.' He sucked breath between his teeth and grunted. 'I won't be able to hold off long with you doing that. Are you sure?'
'Positive.' She pulled away from him just enough to speak, running her fisted hand down the length of him, slickened and shiny with her saliva. 'I want to taste you. I want to see your pleasure.'
He was thick and heavy, more than she could take into her mouth. She wrapped her fingers tightly around the base of his erection, where it rose from the soft press of pubic curls. She sheathed him with her lips hard pressed around his girth, her tongue stroking and caressing the underside of his penis, taking in the shape of him, the rounded tip, the tight slit, the path of veins coursing beneath the skin. His flesh was warm and hard and the scent of was slightly yeasty, like bread baking. It was a scent that made her hungry in parts of her that had nothing to do with her belly. His large hand cupped the back of her head and controlled her movements, and she let him, yielding and opening more to him with each controlled thrust of his hips. All of him was hard, like he was one giant muscle waiting to flex, waiting to explode with power. And she felt all of his need as though it were her own building between her legs where she gaped hungry and begging and wet.
'Are you sure?' he asked again, his voice forced up the back of his throat with effort she felt at the base of his spine where she now rested an open palm. 'Because I can't … Because I won't be able to …'
She murmured and tried to nod, intensifying her efforts to match the crescendo of his need, tightening her grip until her cheeks ached, until her tongue thrust, until her eyes watered with her efforts to breathe around his assault on her mouth, the assault she had encouraged, the assault she had demanded.
His control slipped. She gagged, then placed a hand against his hip and forced herself to relax as his fingers curled in her hair, as his breath caught in his throat, as his control slipped again then vanished. He shuddered his orgasm into her mouth in a strangled cry that could have been pain as easily as pleasure. At first he tried to push her away, but she clung to him taking his semen, all of it, taking the taste of him, the rich, thick taste of him onto her tongue, into her throat, swallowing back the heat and the tension and the power of the man she admired most in the world until she was weak and giddy from the act, until she was euphoric and drunk from the feel of him. Then he slid down the wall onto the floor next to her, taking her into his arms. 'Now you know how I taste.' He took her mouth like he wanted to possess it, like he wanted to devour it. When he pulled away, he forced a laugh that tightened his abdominal muscles beneath her open palm. 'And now I know how I taste.'
****
Not only is this book amazing, but until the end of the month you can get An Executive Decision for only 99c or 77p as part of the #XciteMustReads promotion!!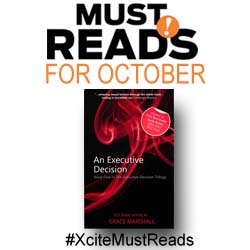 Available from:
eBook
Amazon UK
Amazon US 
Xcite Books
Print
Amazon UK
Amazon US
Barnes & Noble
The Book Depository
Xcite Books
Thanks so much for being my very first guest Grace!!!!!
Happy reading,
Jenny xx