I'm delighted to welcome back Grace Marshall today to share a tasty extract from her latest book- the last part of The Executive Decision Trilogy- The Exhibition!!!
Blurb:
Successful NYC gallery owner, Stacie Emerson, is ex-fiancée to one Thorne brother and ex-wife to the other. Though the three have made peace, Ellison Thorne's friend, wildlife photographer, Harris Walker, still doesn't like her. When Stacie convinces Harris to exhibit his work for the opening of her new gallery she never intended to include him in her other more hazardous plans. But when those plans draw the attention of dangerous business tycoon, Terrance Jamison, Harris comes to her aid. In the shadow of a threat only Stacie understands, can she dare let Harris into her life and make room for love?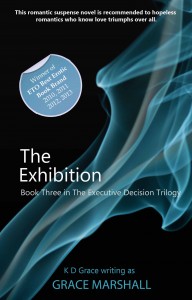 Excerpt:
Outside someone shouted, 'Hastings, check the crappers.'
Before Harris knew what hit him, Stacie pulled him into the cubicle at the other end of the row and locked the door behind him talking in a fast whisper. 'Sorry about this. Not very professional, I know, but I promised to do my best to keep us out of jail, and I'm thinking groping in the ladies' room's not what this raid's all about.' The words were barely out of her mouth before she launched herself at him lips first. Damn it; he wanted to be mad at her. They were about to go to jail, for fuck sake! But instead of giving her a piece of his mind, he kissed her right back, hard, and felt her yield and open, and his tongue was in heaven sparing with hers, tasting, testing, thrusting. He found himself hoping that the inevitable arrest would wait until after he got his fill of Stacie Emerson, and that could take a while. She felt way better than she had even in his fantasies, and when his badly-behaving hands moved down to cup her magnificent bottom and pull her closer, she returned the favour and gave his ass a good grope. As though that gave him permission to explore, he slid anxious fingers inside her trousers wriggling down past a miniscule thong to cup an impossibly soft, impossibly firm buttock that gave a muscular clench in his hand, forcing her hips forward until she couldn't possibly miss the press of his appreciative hard-on straining his jeans to get closer to her.
In the hall the noise got louder and the door burst open.
She had just managed a good firm stroke to the front of his trousers that had his full attention and then some, when a heavy-handed knock on the door caused her to yelp, and he nearly fell back onto the commode.
'All right, you two, tuck it in, and come on out.'
****
If you enjoyed that- and of course you did- and you'd like to read two more free extracts of a slightly more erotic disposition from The Exhibition, then just flip over to my darker side for a little read… http://kayjaybee.me.uk/news/the-exhibition…ares-some-smut/
****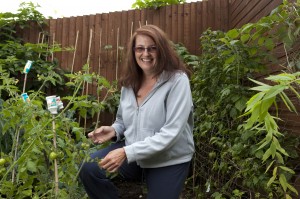 About Grace Marshall:
Grace Marshall lives in South England with her husband and the growing gang of hooligan birds who frequent their feeders. When Grace isn't busy writing something sexy and romantic, she's busy digging in her ever-expanding veg garden or walking across the British countryside. She finds inspiration outdoors in nature, and most of her best story ideas come to her while she's walking or gardening.
Grace is the author of the fast paced, quirky Executive Decisions Trilogy published by Xcite Romance. An Executive Decision, Identity Crisis and the final instalment of the trilogy, The Exhibition, are all now available at all your favourite book sellers with lots of romance and thrills served hot.
Grace Marshall's alter-ego, K D Grace writes critically acclaimed, best-selling erotic romance. Whether it's sexy romance or romantic sex, between The Graces, there's a story for you.
Find Grace Here:
Websites:
http://gracemarshallromance.co.uk/
Facebook:
https://www.facebook.com/GraceMarshall
http://www.facebook.com/KDGraceAuthor
Twitter:
If you fancy buying The Exhibition (or any of the trilogy) they are –
Available from:
****
Huge thanks for coming over to my place Grace!!!
Happy Reading,
Jenny xxx