In the first two novels of the series, The Outlaw's Ransom and The Winter Outlaw, Mathilda of Twyford, found herself thrust into situations where she had to get to the bottom of a crime simply to stay alive. However, in book three, Edward's Outlaw, Mathilda's reputation for solving mysteries sees her being asked to solve a murder by the sheriff…and she is in no position to say no…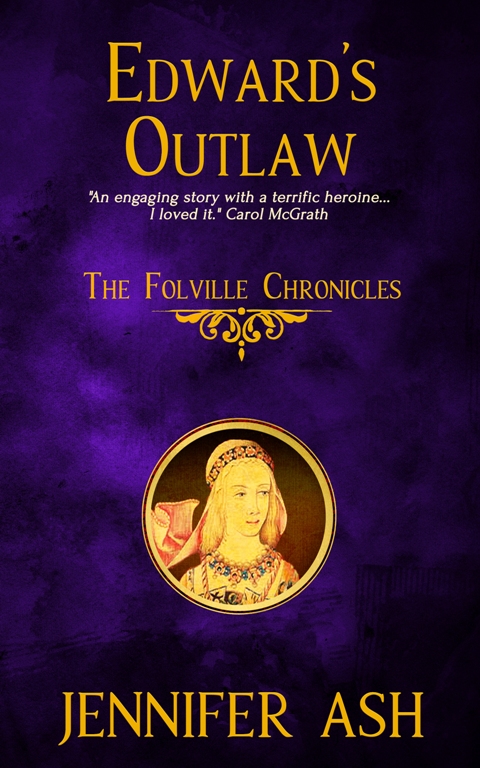 Blurb
January 1330: England is awash with corruption. King Edward III has finally claimed the crown from his scheming mother, Queen Isabella, and is determined to clean up his kingdom.
Encouraged by his new wife, Philippa of Hainault, and her special advisor ‑ a man who knows the noble felons of England very well ‑ King Edward sends word to Roger Wennesley of Leicestershire, with orders to arrest the notorious Folville brothers… including the newly married Robert de Folville.
Robert takes his wife, Mathilda, to Rockingham Castle for her own safety, but no sooner has he left than a maid is found murdered. The dead girl looks a lot like Mathilda. Was the maid really the target ‑ or is Mathilda's life in danger?
Asked to investigate by the county sheriff in exchange for him slowing the hunt for her husband, Mathilda soon uncovers far more than murder… including a web of deception which trails from London, to Derbyshire, and beyond…
The third thrilling instalment in Jennifer Ash's The Folville Chronicles series.
***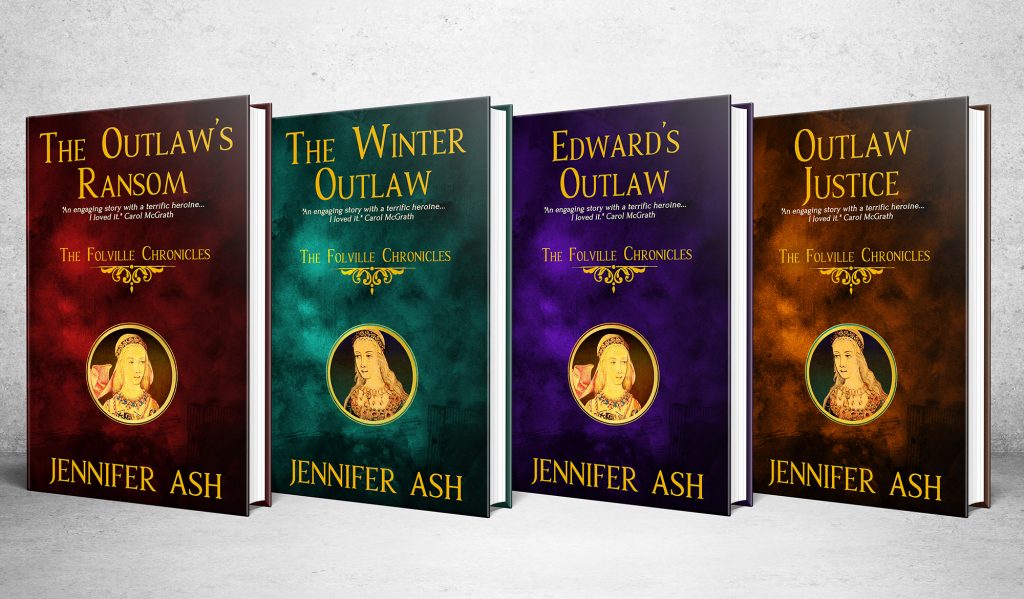 Mathilda has only been married to Robert de Folville for three days, and already trouble has coming knocking at door of their home; Ashby Folville manor, Leicestershire. A warrant for the brother's arrest sends Mathilda alone into Rockingham Castle for her own safety. Under the protection of its constable, Robert de Vere, she shelters within the castle while her husband and his brothers are on the run.
Mathilda doesn't have time to worry about Robert for long, for within only a few days a young girl is dead and the sheriff thrusts the role of detective upon her.
Why would anyone here believe her, even if she did find the killer? The word of a woman, even one who has married into one of the most notorious households in England, is not worth much without substantial evidence. And what if she gets it wrong and accuses the wrong person? Mathilda's terrified that she might send the wrong person to the gallows.
The pressure on Mathilda to succeed becomes even greater when she begins to wonder if Agnes, the murdered maid, was the intended victim after all. The more Mathilda thinks about it, the more she sees how easy it would have been for the killer to mistake the dead girl for her…Was Mathilda the intended target after all?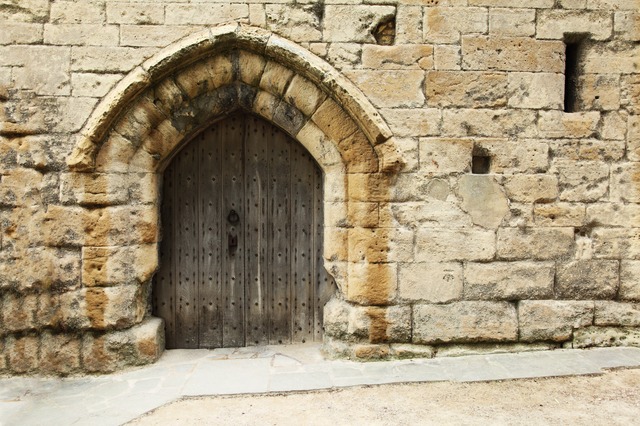 Extract
… Blood hammered in Mathilda's ears. She had tracked down killers in the past, but never by appointment. The first time had been unintentional, a task she'd stumbled upon to save her father's honour and her freedom. The second had come with an even higher price tag. The cost of failure would have been her life.
Now, these previous successes had earned her a third attempt, and Mathilda doubted she was up to the task. In Ashby Folville she had Sarah and Adam to back her up, not to mention Robert and his brothers. Here, she was alone but for Daniel, who'd already had a myriad of household duties heaped upon him.
Would her desire to find justice for Agnes, and her equally strong curiosity to uncover what was going on in the castle, be enough to solve the crime. Or crimes?
Whatever her misgivings, Mathilda's starting point was clear. The sheriff and his associates had not yet left the castle. She wanted to talk to each of them privately. The constable had promised her the freedom of the castle while he'd had little choice but to agree, but would he continue to extend that offer once Wennesley and his comrades had gone to recommence the search for her husband.
Not sure if she was heartened or worried by Sheriff Ingram's claim that she was unstoppable in her pursuit of felons, Mathilda wiped away the perspiration from her palms.
As she walked towards de Vere's rooms, Mathilda forced herself to focus. Even if the arresting party remained with the constable, that didn't mean they would be willing to answer her questions. After all, they hadn't been there when Agnes had died, yet Mathilda couldn't shift the uneasy feeling that it was all connected somehow. She had no logical reason for that suspicion beyond the coincidence of Isabella's abrupt reappearance and the night-time movements of a tall, short-haired man who could have been either of the younger men on the warrant party… or someone else entirely….
***
Edwards' Outlaw can be read as a standalone book, or as part of The Folville Chronicles.
If you'd like to read Edward's Outlaw, – or any of The Folville Chronicles, they are available in eBook format and paperback from all good reatilers, including…
The Outlaw's Ransom – mybook.to/theoutlawsransom
The Winter Outlaw- mybook.to/thewinteroutlaw
Edward's Outlaw – mybook.to/EdwardsOutlaw
Outlaw Justice – mybook.to/OutlawJustice
Happy reading,
Jennifer xx