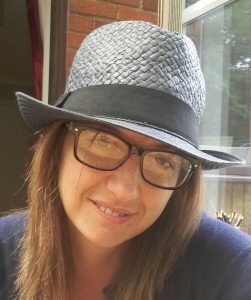 With a background in history and archaeology, Jennifer Ash should really be sat in a dusty university library translating Medieval Latin criminal records, and writing research documents that hardly anyone would want to read. Instead, tucked away in the South West of England, Jennifer writes stories of medieval crime, steeped in mystery, with a side order of romance.
Influenced by a lifelong love of Robin Hood and medieval ballad literature, Jennifer has written The Outlaw's Ransom (Littwitz Press, 2018) – a short novel, which first saw the light of day within the novel Romancing Robin Hood (written under the name, Jenny Kane).
The Outlaw's Ransom (Book One of The Folville Chronicles) is followed by the full length novel, sequels, The Winter Outlaw, (Book Two of The Folville Chronicles) and  Edward's Outlaw and Outlaw Justice,(Book Four of The Folville Chronicles)
When Jennifer isn't writing novels, she writes audio scripts for Spiteful Puppet and Chinbeard Books, for ITV's 1980's adventure series, Robin of Sherwood. (She honestly can't believe her luck!) So far she has written five audio stories, The Waterford Boy, Mathilda's Legacy, The Baron's Daughter, The Meeting Place and Fitzwarren's Well. She has also written two Robin of Sherwood novels – The Meeting Place and The Power of Three.
Jennifer was recently mentioned in the Radio Times for her work on the audio lockdown special- Fitzwarren's Well.
"I'm also indebted to writer Jennifer Ash, who took my conceptual idea for the story and created a script that is linked so well with the television series and seamlessly fits with the style of the late, great creator and writer of the show, Richard 'Kip' Carpenter."