It's almost here!! It's almost Christmas!!
If you're anything like me you are, despite all your intentions to the contrary, you are still buying last minute gifts! I had planned to have everything wrapped and labelled, and the tree up, and the shopping sorted….but of course, none of that has happened yet!!
So- what are you going to buy during your last minute shopping spree? Fancy a book or two? Not sure if you want a cosy coffee time read, or something spicy?
Here's a few suggestions to help things along- paperbacks to pop in those stockings, or ebooks to adorn the new Kindles currently stock piled on Santa's sleigh!
SPICY (OVER 18's only)
Digging Deep (erotic romance)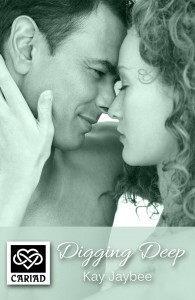 An erotic romance novella set in an archaeological dig, in the grounds of the
Ancient Roman city of Leptis Minus in Tunisia by Kay Jaybee
As site supervisor on an archaeological dig, in the grounds of the Ancient Roman city of Leptis Minus in
Tunisia, Dr Beth Andrew's hands are well and truly full. Her first foreign excavation, which she co-runs with the American archaeologist Dr Harrison Harris, gets off to a shaky start due to the jealous interference of Harrison's ex, and an overzealous student… Love and lust really can cloud even the cleverest person's judgement!
A Sticky Situation (erotic romance)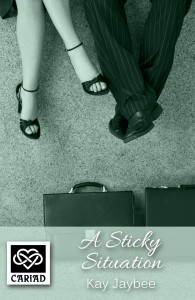 An erotic romance novella by bestselling author, Kay Jaybee.
If there is a paving stone to trip over, or a drink to knock over, then Sally Briers will trip over it or spill it. Yet somehow Sally is the successful face of marketing for a major pharmaceutical company; much to the disbelief of her new boss,
Cameron James.
Forced to work together on a week-long conference in an Oxford hotel, Sally is dreading spending so much time with arrogant new boy Cameron, whose presence somehow makes her even clumsier than usual.
Cameron, on the other hand, just hopes he'll be able to stay professional, and keep his irrational desire to lick up all the accidentally split food and drink that is permanently to be found down Sally's temptingly curvy body, all to himself.
***
COSY COFFEE TIME READS
Another Cup of Coffee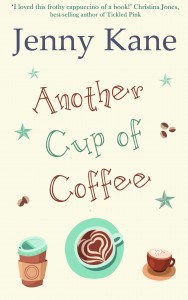 Thirteen years ago Amy Crane ran away from everyone and everything she knew, ending up in an unfamiliar city with no obvious past and no idea of her future. Now, though, that past has just arrived on her doorstep, in the shape of an old
music cassette that Amy hasn't seen since she was at university.
Digging out her long-neglected Walkman, Amy listens to the lyrics that soundtracked her student days. As long-buried memories are wrenched from the places in her mind where she's kept them safely locked away for over a decade, Amy is suddenly tired of hiding.
It's time to confront everything about her life. Time to find all the friends she left behind in England, when her heart got broken and the life she was building for herself got completely shattered. Time to make sense of all the feelings she's been bottling up for all this time. And most of all, it's time to discover why Jack has sent her tape back to her now, after all these years…
With her mantra, New life, New job, New home, playing on a continuous loop in her head, Amy gears herself up with yet another a bucked-sized cup of coffee, as she goes forth to lay the ghost of first love to rest…
Another Cup of Christmas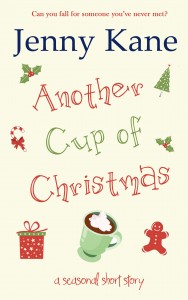 Another Cup of Christmas is a festive sequel (of sorts!) to Jenny Kane's fantastic debut romance, Another Cup of Coffee. Five years ago the staff of Pickwicks Cafe in Richmond were thrown into turmoil when their cook and part-owner, Scott, had a terrible accident. With help from his friends, his wife Peggy, and the staff at the local hospital, he made an amazing recovery. Now Pickwicks is preparing to host a special Christmas fundraiser for the hospital department that looked after Scott.
Pickwicks' waitress Megan has been liaising with the ward's administrator, Nick, as all the staff who helped Scott's recovery are invited are invited. As the problems of organising the fundraiser take up more and more of their busy lives, Megan and Nick contact each other more frequently, and their emails and phone calls start to develop from the practical into the flirty.
But can you actually fall for someone you've never met? As the fundraiser draws closer, Megan is beginning to think that she had imagined all the virtual flirting between herself and Nick – he promised to arrange to meet her for real, but he hasn't done so. Now he's bringing someone with him to the fundraiser, and they're just bound to be everything Megan feels she isn't …
Romancing Robin Hood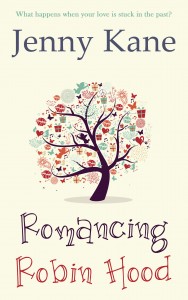 Dr Grace Harper has loved the stories of Robin Hood ever since she first saw them on TV as a girl. Now, with her fortieth birthday just around the corner, she's a successful academic in Medieval History, with a tenured position at a top university.
But Grace is in a bit of a rut. She's supposed to be writing a textbook on a real-life medieval gang of high-class criminals – the Folvilles – but she keeps being drawn into the world of the novel she's secretly writing – a novel which entwines the Folvilles with her long-time love of Robin Hood – and a feisty young girl named Mathilda, who is the key to a medieval mystery…
Meanwhile, Grace's best friend Daisy – who's as keen on animals as Grace is on the Merry Men – is unexpectedly getting married, and a reluctant Grace is press-ganged into being her bridesmaid. As Grace sees Daisy's new-found happiness, she starts to re-evaluate her own life. Is her devotion to a man who may or may not have lived hundreds of years ago really a substitute for a real-life hero of her own? It doesn't get any easier when she meets Dr Robert Franks – a rival academic who Grace is determined to dislike but finds herself being increasingly drawn to… 
****
Hope this has given you a few ideas!!!
Happy last minute panic shopping everyone!!
Jenny xx