I think it's fair to say that I've had a busy couple of months- but boy they have been so much fun!!!
Writing is, on the whole, a lonely business. You sit at your desk (or coffee shop table in my case), and let fictitious happenings fill your mind, flow through the arms into your fingers and onto the computer screen, or onto the pages of a notebook. These last eight weeks however, very little actual writing has had the chance to form as I've been on something of a grand tour book wise.
(Take a deep breath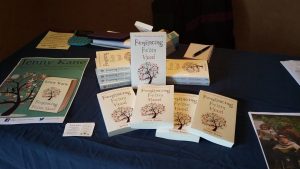 before you read this paragraph- well, sentence!)
Starting back in April with a brilliant World Book Night event arranged by Annette Shaw down in Dartmouth, travelling on to Chepstow to sell copies of Romancing Robin Hood to the wonderful folk who attended this year's Hooded Man event (celebrating the 30th anniversary of Jason Connery's adoption of the role of Robin of Sherwood, as well as the birth of the latest Robin of Sherwood audio adventure, The Knights of the Apocalypse – #KOTA), before heading off to London to be part of the aforementioned #KOTA premiere, and then back to Tiverton to arrange the local literary festival, before I dashed- only an hour after the end of the festival- off again to the NEC in Birmingham to attend a book event and award ceremony for the 'other me'.
In amongst all that my latest novel was released as well- not to mention there was real work, life etc to squeeze in.
Now I'm taking a minute (well, a day), to myself to let it all sink in before I start writing my next novel. This new story will be much inspired by my travels with the Robin of Sherwood crew. Called The Winter Outlaw it is to be based, not of RH himself, but a group of historically accountable noble outlaws who admired his stories. (Out Nov 2017)
My fingers are itching to write again- but first I need another cup of coffee!
I'll leave you with a few more photographs from my recent adventures,
Many thanks for all your support as ever. Writers are nothing without readers,
Jenny x