I'm delighted to be welcoming Anna Legat to my blog today. Anna's latest cosy crime novel is out now.
Over to you Anna…
Hello Jenny, and thank you for inviting me to your wonderful blog to talk about my brand-new cosy crime mystery, At Death's Door.
This is the second instalment of The Shires Mysteries featuring two amateur sleuths, the indomitable Maggie Kaye and her more level-headed neighbour, Samuel Dee. The pair blunder through murder and mayhem that is rife in the West Country town of Bishops Well which they call home.
In this book the story strays into the distant lands of the Southern Hemisphere where I have spent a big chunk of my life, experiencing worlds, lifestyles and cultures far removed from the quaint and magical English countryside. There was a different sort of magic to them: New Zealand was submerged in the deep and dense greenery of tree-ferns and redwoods; Southern Africa was a plain of gold and dust baking in the unforgiving sun. You felt safe in one of them and prayed to God your car didn't break down in the middle of nowhere in the other. There was immense, ancient beauty to both.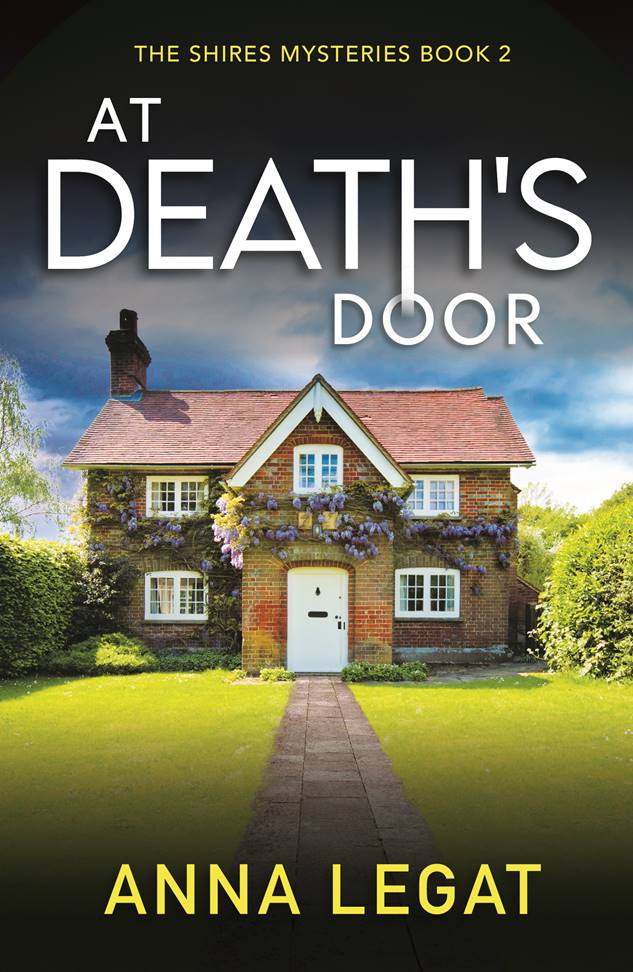 I'd like to share with your readers, if I may, a short extract from At Death's Door, describing the first impression South Africa made on one of my characters.
The engine of the Jeep wheezed and rattled as they negotiated the increasingly un-navigable roads in the full blazing sun. The wind, when it bothered to blow, carried with it dust and the occasional fetid stench of decaying roadkill. The dust and the stink stripped her tongue and nostrils of fluid. She regretted not bringing any bottled water with her on this escapade. Escapade wasn't quite right – this had been a damn long journey to nowhere. She hadn't realised it would be this long and this far.
She had thought Botswana was just the size of a county and the Caprivi just a strip of land beyond it, a promenade on the banks of the Zambezi. And then, as soon as the business at hand was done and dusted, Wayne had promised, they would go and see Victoria Falls. She was beginning to think that even Victoria Falls wasn't worth all this stinking trouble.
They had landed in Johannesburg a week ago, and it had been a blast! They were staying at the
Intercontinental Sandton Sun and Towers, in the presidential suite, complete with white marble floors and crystal mirrors. The chandeliers – she would swear – were made of diamonds.
She stood on the terrace overlooking Johannesburg with all its distant buzz and twinkling lights, smoking a Marlboro Light. The cool night air slid over her skin like an ice cube. She was on top of the world, basking in luxury, light years away from the doldrums of sleepy English villages with all their creature discomforts of incessant drizzle and curtain-twitching neighbours. God, this was her first decent crack at entering paradise!
… Unfortunately, paradise was not meant to be, but I will say no more. At Death's Door is out now.
At Death's Door: The Shires Mysteries 2: A twisty and gripping cosy mystery by Anna Legat | WHSmith
At Death's Door: The Shires Mysteries 2 eBook by Anna Legat – 9781786159915 | Rakuten Kobo United Kingdom
At Death's Door: The Shires Mysteries 2 by Anna Legat | Waterstones
At Death's Door: The Shires Mysteries 2: A twisty and gripping cosy mystery by Anna Legat | NOOK Book (eBook) | Barnes & Noble® (barnesandnoble.com)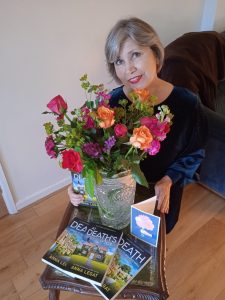 BIO
Anna Legat is a Wiltshire-based author, best known for her DI Gillian Marsh murder mystery series. Murder isn't the only thing on her mind. She dabbles in a wide variety of genres, ranging from dark humorous comedy, through magic realism to dystopian. A globe-trotter and Jack-of-all-trades, Anna has been an attorney, legal adviser, a silver-service waitress, a school teacher and a librarian. She has lived in far-flung places all over the world where she delighted in people-watching and collecting precious life experiences for her stories. Anna writes, reads, lives and breathes books and can no longer tell the difference between fact and fiction.
Subscribe to Anna's News, Rumours and Scandalous Revelations at https://landing.mailerlite.com/webforms/landing/j6b7k1
To find out more: https://annalegat.com/
Follow Anna on Twitter: www.twitter.com/LegatWriter
Join Anna on Facebook: www.facebook.com/AnnaLegatAuthor/
Many thanks for popping by today, Anna.
Happy reading everyone,
Jenny x