This past week I've been on tour with my brand new Cornish romance- Abi's Neighbour.
I've been honoured to have been invited to some amazing blog sites to talk about my work, my life, and the inspiration behind the second Abi Carter adventure.
If you missed any of the stops on my tour, now is your chance to catch up on them all!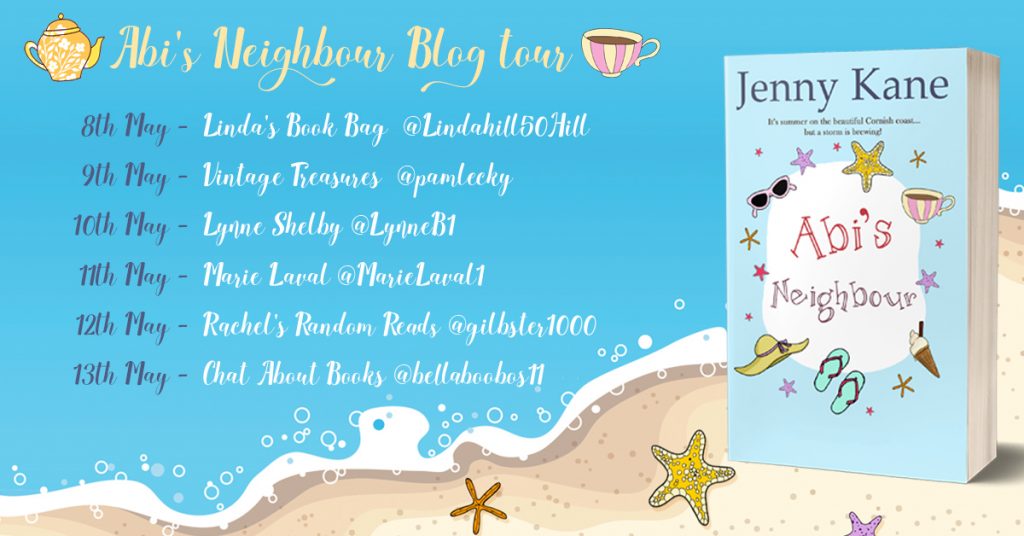 My first stop was with Linda Hill at Linda's Book Bag – https://lindasbookbag.com/2017/05/08/a-split-personality-in-cornwall-a-guest-post-by-jenny-kane-author-of-abis-neighbour/
My second stop was with Pam O'Shea at Vintage Treasures – https://pamlecky.com/2017/05/09/jenny-kane-blog-tour/
My third stop was with Lynne Shelby – https://www.lynneshelby.com/single-post/2017/05/10/Abis-Neighbour-Blog-Tour-With-Love-to-my-Grandparents—Jenny-Kane
My fourth stop was with Marie Lavel – http://marielaval.blogspot.co.uk/2017/05/abis-neighbour-by-jenny-kane.html?spref=fb
My fifth stop was with Rachel's Random Reads – http://rachelsrandomreads.blogspot.co.uk/2017/05/guest-post-postcard-to-penwith-by-jenny.html
My sixth stop was with Kerry Parsons at Chat About Books – https://chataboutbooks.wordpress.com/2017/05/13/abis-neighbour-blogtour-jennykaneauthor-accentpress-authorinterview/
Huge thanks to all of my lovely hosts, and to you my lovely readers. Without readers theyd be no writers.
I'd also like to give an extra big thank you to the lovely Rachel at Rachel's Random Reads who has just given the first book in the Abi Carter series – Abi's House – a fantastic review – you can catch all of it here- https://rachelsrandomreads.blogspot.co.uk/2017/05/book-review-abis-house-by-jenny-kane.html
Here's a little snippet-
"…This is the first book I have read by Jenny Kane, and I found myself really enjoying her writing style, which is easy to follow, and the story flowed really well. I loved her characters, and even the Cornish burr for Stan I could really hear in my head. In fact Stan was one of my favourite characters, although in theory he could be seen as a naive old man, he really is a gentleman, and he adds a lot of local colour to the story…"
***
Happy reading,
Jenny xx