I'm delighted to have Cathy Mansell with me today, sharing a little of her brand new book, Her Father's Daughter.
Over to you Cathy…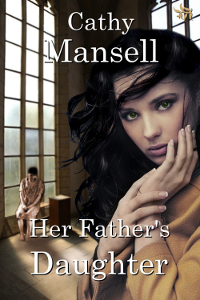 Blurb: Her Father's Daughter
Set in the 1950s Ireland, twenty-year-old Sarah Nolan leaves her home in Dublin after a series of arguments. She has taken a job in Cork city with the Gazette, a move her parents' strongly oppose. With her limited budget, she is forced to take unsavoury lodgings where the property owner cannot be trusted.  Soon after she settles in, Sarah befriends sixteen-year-old Lucy, who has been left abandoned and pregnant.
Dan Madden is a charming and flirtatious journalist who wins Sarah's heart.  He promises to end his relationship with Ruth, but can Sarah trust him to keep his word?
It is when her editor asks to see her birth certificate that she discovers some long-hidden secrets.  Her parents' behaviour continues to baffle her and her problems with Dan and Lucy multiply.
Will Dan stand by Sarah in her time of need?  Will Sarah be able to help Lucy keep her baby? Or, will the secrets destroy Sarah and everything she dreams of for her future.
Book links:
www.tirgearrpublishing.com/authors/Mansell_Cathy
http://www.amazon.com/Cathy-Mansell/e/B00DVKNSY6/?_encoding=UTF8&camp=1789&creative=390957&linkCode=ur2&tag=lucyfelt-20
http://www.amazon.co.uk/Cathy-Mansell/e/B00DVKNSY6/?_encoding=UTF8&camp=1634&creative=19450&linkCode=ur2&tag=lucyfelthouse-21
EXCERPT
Her Father's Daughter
Later, as Sarah lay alone in Dan's bed, she observed the subtle matching décor of a typical bachelor's bedroom.  It was just how she had imagined it, expensive with no frills.  It took all her strength not to go to him in the next room where she knew he must be uncomfortable sleeping on the sofa.  She could hear him tossing and moving about, and she pictured his long legs overhanging the couch.  When she heard him accidentally knocking over the coffee table, she had to stifle a giggle.
In her heart, she knew that he was the man she wanted to spend the rest of her life with.  She'd known it almost from the moment she'd set eyes upon him, but Sarah had no intention of giving him what she held sacred, something she had been keeping until she was married, her virginity.  She had just helped her friend Lucy through a harrowing predicament and it was enough to put her on her guard.  As much as she loved Dan, it wasn't going to be like that for her.
Surprised to have slept at all, she woke early, and once she realised where she was, she could hardly believe that she had spent the night in Dan's bed.  Dressing quickly she pulled on her jumper and slipped on her black skirt.  She rolled on her fully-fashioned stockings, snagging one with her nail causing it to ladder. If she had brought her nail varnish with her, it would have stopped it running further.
Emerging from the bedroom she expected to find Dan still sleeping, but instead his blanket was neatly folded.  She found him in the kitchen, his back towards her waiting for the kettle to boil.  She called his name, and he jerked his head around.
'Good morning, Sarah.' The shrill of the whistling kettle diverted his gaze and he reached for two mugs.  'Tea, or would you prefer coffee?' he yawned.
'Coffee, please.'
He placed the steaming mugs of coffee with milk and sugar on a small tray and took it into the room, placing it down on the coffee table. 'Would you like a slice of toast, Sarah? I can toast it against the fire,' he said.
She shook her head. 'Just the coffee thanks, Dan.' Shocked by her decision to stay the night, she couldn't relax. She had taken an unnecessary risk. The idea of her being alone with Dan in his flat seemed like madness in the cold light of day.
'You're quiet, Sarah.  Didn't you sleep either?' he questioned.
'I'm sorry, Dan. This feels so strange.'
He was glancing at her over the rim of his mug. 'You've nothing to feel bad about,' he assured her. 'We love each other, don't we?  Look, come to Kinsale? You deserve a break, and the fresh air will do you a power of good.' He smiled.
She wanted to go with him, even though in her heart she knew she should decline, but when he smiled like that, she just couldn't resist.
'What time are you planning on going?'
'I'd like to get off as soon as possible. Please, say yes.' He stood up, running his fingers through his tousled hair.
'Yes, okay then. I've not been out of the city since I arrived here,' she said brightly, her previous concerns fading.
'I love you, Sarah Nolan,' he said, and planted a kiss on her lips.
Suddenly, the name Nolan clouded her happiness. Would he still love her once he discovered that Sarah Nolan was not her real name, and that she had no idea what her name was?  For the past few hours, she had managed to put the whole business of her mysterious birth to the back of her mind.  Now her face clouded.
'Don't worry,' he said. 'I can't wait to speak to Ruth and the sooner the better.'
'How do you think she'll take it?'
'Well, to be honest, Sarah, I don't think she's in love with me. I expect to get a load of abuse from her father.'
'Oh, Dan, I'll be glad when all this is sorted out.'
'It will be, trust me, Sarah.' He kissed the top of her head.
'Well, I had better be getting home.' She laughed when she saw his downcast expression. 'You don't expect me to meet your mother dressed like this.' She pointed down at her laddered stockings.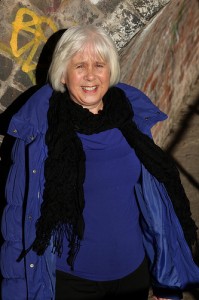 Author bio
Member of Leicester Writers' Club, Just Write workshop, Life President of Lutterworth Writers' Group, Member NAWG, Member Romantic Novelist Association and past president of Riverside Speakers club
Cathy is an experienced writer of romantic fiction. Her early work was competition short stories and articles published in national magazines. She was Editor in Chief of the Leicestershire Anthology, 'Taking Off', a book promoted and supported by Arts Council UK.
In recent times, Cathy has turned to writing full-length novels that are set in Ireland/England/America. HER FATHERS'S DAUGHTER, Cathy's second book, contracted by Tirgearr Publishing as an e-book is out in paperback in June, 2014, and available in library large print.
Her debut book, Shadow Across the Liffey, a 2013 contender for the Romantic Novelists' Association's Joan Hessayon award was published in February 2013 by Tirgearr Publishing is available now in paperback.  And will be available in library large print in June 2014
She was a recent contestant on the TV show Food Glorious Food, with her recipe Cathy's Crumbs Crumble.
Links to Cathy:
http://www.facebook.com/cathy.mansell4
http://www.twitter.com/cathymansell3
http://www.linkedin.com/pub/cathy-mansell/46/B50/550
****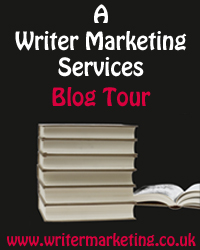 Many thanks to Cathy for dropping by today on her latest blog tour.
Happy reading,
Jenny xx