I'm delighted to welcome Celia J Anderson back to my site today on Day 7 of her blog tour, celebrating her brand new novel, Little Boxes.
Over to you Celia…
Today's theme is starting again. In Little Boxes, Molly is faced with the challenge of making a new life and getting to grips (in more ways than one) with a brand new man. Tom knows he's the right one for Molly, but she finds it very hard to leave her past behind.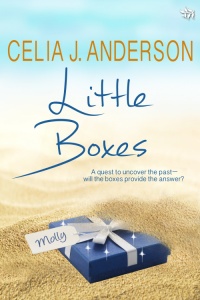 Here's the story of my own fresh start:
The man stood in the doorway of the restaurant. Breakfast time in San Francisco – crisp winter sunshine, trays of fresh fruit, snowy linen cloths and a woman by his side, for a change. He had left England under a thick blanket of snow, the February skies mournful and grey. Here, the cold was sparkling, clean and energising and the Golden Gate Bridge soared high over the sea. Following him to a table by the wide window overlooking the bay, the woman said 'I'm sorry; I'm not very hungry, are you?'
He smiled, picking up one of the enormous menus. 'No, but that's not a problem – we'll just order the smallest thing we can find. What about French toast and fruit; is that ok? Do you like French toast?' Signalling to the waiter, he realised with a stab of alarm that he knew next to nothing about her.
'I like everything! It's just that I still get a weird lump in my throat sometimes when I try to eat, even after all these months. And this week, coming over here to a strange place, especially to go to Matt's wedding – well, it's hard, isn't it?'
The man nodded. He'd never talked about his grief to anyone before, 'Sometimes I just feel guilty for still being alive, to be able to eat great food and drink chilled wine and see the sunset, and go out walking.'
'And go to new places, and meet people, and make new friends…' she agreed. Her eyes were suddenly full of tears and the man blinked in sympathy. There was a silence, and he tentatively reached for her hand. 'I know, it's a bugger, isn't it?'
The waiter brought their order and they laughed, breaking the tension. The plates were so loaded that the toast spilled over the edges, and the enormous slices of watermelon dwarfed the heaps of strawberries and kiwi. He looked at her and felt a sharp pang when he saw green eyes instead of blue. He didn't know that she was seeing blue eyes when she had half expected green.
'So much for a light breakfast,' he said.
Later, as they wandered along the boardwalk, a street trader stopped them in their tracks, holding out a handful of black t-shirts hopefully. The man shook his head, 'Sorry, we don't need anything today.'
'Hey, you got no choice, dude – you gotta pay the forfeit.'
'Forfeit?'
'That's what I said, didn't I? You're out here, in the most beautiful bay in the world, on the most romantic day of the year, and you ain't holdin' the lady's hand. That'll be ten dollars, and the t-shirt's free.'
The man and the woman exchanged sheepish glances, both blushing. 'But…I don't really know her,' he stuttered.
'Yeah, right – who you tryin' to kid? Gimme the ten dollars, and you got a deal.'
Grinning, the man dug out a note from his wallet, and handed the t-shirt to the woman. 'Happy Valentine's Day,' he said.
They were married in December, 2008. Neither of them ever wore the t-shirt.

Extract:
After the day of the capsized chair, Tom began to feel seriously disappointed if he didn't bump into Molly at least once a week. Sometimes she waved, but usually she was too preoccupied with trying to hold on to Max.
Tom thought she was absolutely beautiful. He often wondered what sort of man would be lucky enough to live with his Lady in Red. Maybe she was married to someone who worked away, or had a job with unsociable hours? Or maybe she was on her own with the children, struggling to make ends meet? He speculated as he painted, watching for Molly out of the corner of his eye, ready to look busy whenever she appeared, but aware of her every move.
But then one day in June, just when Tom had decided that Molly must be a single parent waiting for a new partner to come along and sweep her off her feet, Tom spotted Theo, Hattie and Max walking along the promenade with a gangly, spiky-haired man. He was urging them forwards with quick movements of his hands, frowning at Theo who stuck her tongue out at him and hissed something under her breath. They all laughed at this, and Tom heard the man shout, 'Theo – your mum'll go mad when she hears what you just said.'
'But you won't tell, will you, Daddy?' said the little boy, catching hold of the man's hand and swinging it to get his attention.
'No, don't, Dad – she didn't mean it. She's in enough trouble already this week,' Hattie chipped in.
'Well, whose fault's that? She should never have got that tattoo. You knew how your mum felt about it, didn't you, Theo? After last time, I thought you'd have had more sense.'
'It's only a little dragonfly. She loves dragonflies. I didn't think she'd mind.'
The man sniffed. 'Come on, Mum'll be waiting for us at the restaurant by now so we can eat together for once. She won't like being kept hanging around, will she?'
Tom hadn't painted that day, but had been sitting looking out over the sea thinking about the future. He turned his wheelchair and kept within earshot of the family, feeling uncomfortably like a stalker but following at a discreet distance until they came to a doorway under a striped awning.
Blurb:
Suddenly bereaved, Molly White realises that she has never really known her feisty husband Jake when random boxes begin to appear through the post, each one containing a tantalising clue to the secrets of Jake and Molly's past. Someone who knows them both well, for reasons of their own, has planned a trail of discovery. The clues seem to be designed to change Molly's life completely, leading her around Britain and then onwards to rural France and deepest Bavaria.
Meanwhile, waiting in the wings is Tom, a charismatic artist who runs a gallery in the same town. Strong, independent and wheelchair-bound from the age of fifteen, he leads a solitary life and has no idea how devastatingly attractive he is to women. When Tom meets curvy, beautiful and funny Molly, he knows that she is his dream woman, but she seems way out of his orbit until the boxes start to weave their spell and the two of them are thrown right out of their comfort zones.
Little Boxes is a story of love in a variety of guises – mother-love, unrequited passion, infatuation and the shadow-love held in memories that refuse to go away.
Buy links: http://celiajanderson.co.uk/books/little-boxes/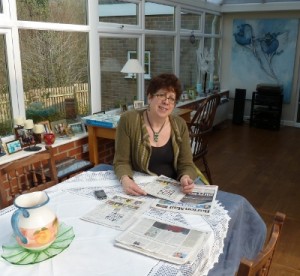 Author Bio:
Celia J Anderson spends most of her spare time writing in as many different genres as possible, including children's fiction. In her other life, she's Assistant Headteacher at a small Catholic primary school in the Midlands and loves teaching literature (now comfortingly called English again but still the best subject in the world.)
She tried a variety of random jobs before discovering that the careers advisor at secondary school was right, including running crèches, childminding, teaching children to ride bikes (having omitted to mention she couldn't do it herself) and a stint in mental health care. All these were ideal preparation for the classroom and provided huge amounts of copy for the books that were to come.
Celia enjoys cooking and eating in equal measures, and thinks life without wine would be a sad thing indeed. She is married, with two grown up daughters who have defected to the seaside. One day she plans to scoop up husband and cats and join them there.
Links:
http://theromaniacgroup.wordpress.com
https://www.facebook.com/CeliaJAndersonAuthor
http://www.twitter.com/CeliaAnderson1
GIVEAWAY!
****
Many thanks for dropping by today Celia.
Happy reading everyone,
Jenny xx