It's that time again! The end of the month mean a visit from Nell Peters!
Over to you Nell…
Yo folks, and welcome to my first monthly guest spot of 2017 on Jenny's blog – grab a cup of something tasty, pull up a sock and chill out with us for a few moments. You know you want to.
On this day in 1606, Guy (Guido) Fawkes was executed for the part he played in the plot to blow up Parliament the previous November. The conspirators' trial began on 27th January, so there was no hanging around (so sorry!) after an unsurprising 'guilty' verdict was returned by the jury. GF had, after all, been caught loitering with intent around several kegs of gunpowder in the cellars.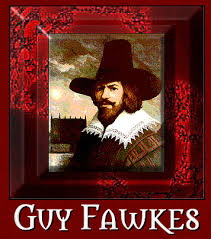 The Lord Chief Justice found all the accused culpable of high treason and they were sentenced to be hung, drawn and quartered, or in the Attorney General's words, 'put to death halfway between heaven and earth as unworthy of both'. I will use great restraint here and refrain from mentioning anything about a suspended sentence. Genitals were to be cut off (double ouch!) and burned, then their bowels and hearts removed – decapitation to follow for good measure, and the dismembered parts of their bodies displayed, so that they would become 'prey for the fowls of the air'. Slight case of overkill perhaps? Anyone would think they'd seriously hacked someone off …
Fawkes was the last to die – as he began to climb the ladder to the noose, he managed to avoid the agonies of the more gory part of his dispatch by breaking his neck when jumping to his death from the scaffold. Nevertheless, his corpse was quartered and his body parts distributed to 'the four corners of the kingdom', to be displayed as a warning to other would-be traitors. I'm guessing by that stage he didn't really care too much.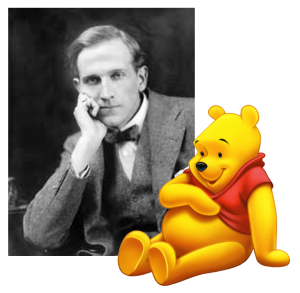 A.A. Milne, author of Winnie the Pooh, died less spectacularly on this day in 1956. Last Christmas, we gave each of the (three) granddaughters a small silver pendant inscribed with a Milne quote; 'you are braver than you believe, stronger than you seem, and smarter than you think.' I hope they all remember that, when I'm not around to remind them and nag them into pursuing and attaining their goals, whatever they might be. Hold onto your hats as we travel forward in time sixty years, to when the death of broadcaster Sir Terry Wogan hit the news in 2016 – at the end of a month that had already seen the demise of David Bowie and Alan Rickman. Little did we know then what a year for 'celebrity' deaths it would turn out to be! I read somewhere that the score was eighty-two, but don't quote me on that.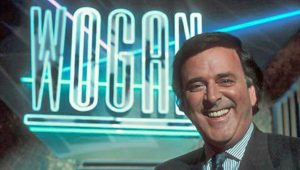 Hopping centuries, long before the wee leader of the SNP was a twinkle in her ol'  grand pappy's eye, on Friday 31 January 1919 – thereafter known as Bloody Friday – more than sixty thousand demonstrators gathered in George Square, Glasgow (know it well!) in support of a strike demanding reduction of the working week to 40 hours. While a deputation from the Clyde Workers' Committee was in City Chambers to hear the Lord Provost's reply to their petition, police mounted an unprovoked attack on protesters, felling unarmed men and women with their batons. How rude! Inspector Jim Taggart (he of 'there's been a muurrrrda' fame) would never have behaved so outrageously – although it could have been so much worse if they'd revved up the bagpipes … Not about to give in, the demonstrators, with ex-servicemen fresh from WWI to the fore, retaliated with fists, iron railings and broken bottles, forcing the police to retreat – which sadly sounds a lot like your average Saturday night in many UK cities nowadays. Strike leaders rushed outside to restore order, but one, David Kirkwood, was clobbered with a truncheon, and along with William Gallacher, arrested – a 'why did I bother getting out of bed?' moment, if ever there was one. English troops arrived later with machine guns, tanks and a 4.5" Howitzer – unless you were certifiably insane, you wouldn't argue with that lot.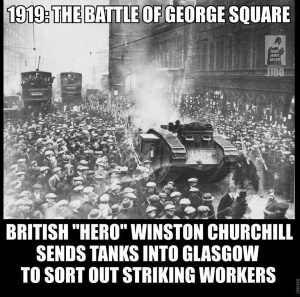 On 10th February the strike was called off by the Joint Committee – whilst not achieving their goal of 40 hours, workers from the engineering and shipbuilding industries did return to work clutching an agreement that guaranteed a 47 hour week, seven hours less than they worked previously, although their morning haggis break went down the Swanee minus a paddle. What part-timers! Most writers would give their right arms – and possibly legs – to have their noses to the screen for a mere fifty-four hours a week!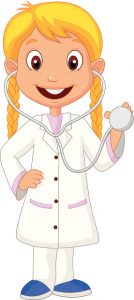 Many others still work very long hours in their chosen professions – junior doctors come swiftly to mind, especially med students on clinical placements. I did a stint in A&E (which does not stand for Anything and Everything, although a high percentage of visitors don't appear to realise that!) with a name badge declaring me 'Dr', even though I was a million miles away from being one. That is not to boost the student's ego, but to give the poor patients faith in their attending's ability to patch them up and send them on their way in a healthier state than when they arrived. It was a very scary place to be – imagine a scatty, skinny young thing who looked about twelve (thereby instilling confidence in absolutely no one, staff or patients), let loose on whoever walked, or was carried, through the door in search of a miracle cure. If you had any sense at all, you'd run a mile wouldn't you, no matter what was wrong with you? Trying to project an air of professional confidence, but in reality barely knowing my gluteus maximus from my humerus, I wandered lonely as a cloud, knowing I'd made the wrong career choice. All this typically on a couple of hours sleep snatched during the last seventy-two. It's a wonder anyone ever escapes from the department alive – a bit of Darwin's survival of the fittest thing going on there.
Last autumn, the OH and I had a taste of just how green the average A&E medic is, when my father was taken there by ambulance. He was suffering from a prolapsed bowel, which was obviously causing him ongoing pain, and because Dad has vascular dementia and is basically away with the fairies, the doc spoke directly with us, ignoring his patient. After I gave a potted history of the problem, he looked at me pityingly and told me in all seriousness there was no such thing as a prolapsed bowel, only a prolapsed womb. I could hardly contain myself! However, after a spluttered 'What?!' I felt a sharp kick to my ankle, courtesy the OH, and didn't continue with 'have you actually passed any of those pesky exams they make you sit/perhaps it's time for you to hit Gray's Anatomy; the book, not the TV series/have you considered an alternative career as a road sweeper, where you can't do actual physical harm to others'/all of the above. I believe it was after that we drove off with a sandwich and banana on the car roof …
Like many stressful work environments, there's a lot of graveyard humour flying around A&E, including the shorthand used in patients' notes – most of it in very bad taste. For example, WWI – walking while intoxicated (fell over); DTS – danger to shipping (fat); VAC – vultures are circling (on last legs); PAAF – pissed as a fart; Organ recital – hypochondriac's medical notes; NQRITH – not quite right in the head; AALFD – another a***hole looking for drugs; AHF – acute hissy fit; BMW – bitch, moan and whine; JIC – Jesus is calling; LLS: looks like sh*t; KFO – knock the f*cker out (obnoxious patient); LMC – low marble count (dumb); FFDIG – found face down in gutter; HIVI – husband is village idiot; GRAFOB – grim reaper at foot of bed; FLP – funny looking parents (of child patient); DUB – damn ugly baby; Doughnut of death – CT scan; DIFFC – dropped in for friendly chat (nothing wrong); CBT – chronic burger toxicity (obese); MGM syndrome – faker putting on a good show; TSL – too stupid to live. Enough! There are zillions …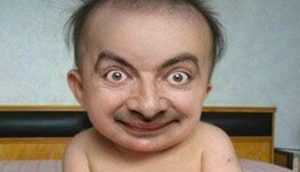 On a slightly – very slightly – more sophisticated note, two ageing punk rockers celebrate 31/1 birthdays as Aquarians. One, American Michael John Burkett, aka Fat Mike, aka Cokie the Clown, clocks up fifty years today. Not heard of him? Me neither, but John Joseph Lydon (61) might ring a few bells as 'legend' (seriously?) Johnny Rotten, of Sex Pistols fame. Living abroad, I missed the heyday of punk culture, for want of a better term, with its anti-establishment dialogue expressed mainly through shouty song lyrics and anarchic behaviour, all accessorised by enough safety pins to hold the Brighton Pavilion together. How bizarre that anyone could launch a whole career based on being loudly obnoxious, confrontational and nihilistic toward societal norms and values.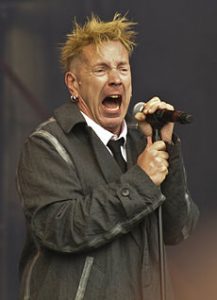 In January 2004, Lydon appeared in the jungle on I'm a Sleb and demonstrated that he had perfected the art of never evolving (or indeed growing up), by using obscene language during a live TV broadcast (surprise, surprise!), prompting a slew of complaints from outraged viewers. Mission Look At Me (or CFA in A&E speak – cry for attention) accomplished. What did producers expect from someone quoted as saying, 'I'm not here for your amusement; you're here for mine'? Possibly a few ego issues going on there, Johnny, old chap. Most bizarre of all, came an advertising campaign in 2008 for Country Life butter, with Lydon portraying a toff, as opposed to social activist – intellectual irony? I couldn't possibly comment.
We can only hope that actresses Minnie Driver (47 today) and Portia de Rossi (44), as well as singer Justin Timberlake (36) are slightly more typical of the water carrier air sign, which encompasses those born between January 20th and February 18th. Characteristically, they are progressive, original, independent and humanitarian, but they also avoid emotional expression, are temperamental, uncompromising and aloof. My mother will be ninety on 2/2 and she has made an art form of those last four. Aquarians are shy and quiet, but can be eccentric and energetic – they tend to be deep thinkers and highly intellectual folk who love helping others and are able to assess both sides of a situation without prejudice, making them great at solving problems. OK, The Mater def has her DoB wrong …
Because I wrote my NYE blog long before Christmas Day, I wasn't able to mention two of my favourite gifts received – a little porcelain chicken from GD Daisy and another, larger, sculpted metal beauty to keep cockerel Vladimir company in the garden, from GSs Alfred and Sidney! They are called Valentina and Raisa respectively – and no beastly cat or other predator is ever going to cause them harm. Raisa has turned out to be most aptly named; we've had some strong winds lately and because – unlike Vladimir – she is a two-sided fowl with a hollow belly, she's been blown over a few times. So, I have to raise her and stand her back on her feet! Boom, boom!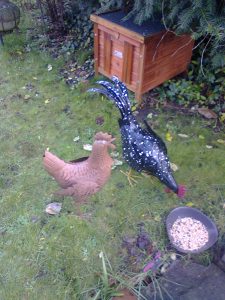 Probably time to disappear, hanging my head in shame … but before I do, just thought I'd mention there are only 334 days left until we get to party again on NYE 2017!
I'm gone … toodles!
NP
***
Another brilliant blog!! Thanks so much hun.
Happy reading,
Jenny x