It's Opening Line's time! This week, I'm welcoming Anna Legat to my site – as part of her #blogtour – with the first 500 words of her brand new  mystery – Cause of Death.
Over to you Anna…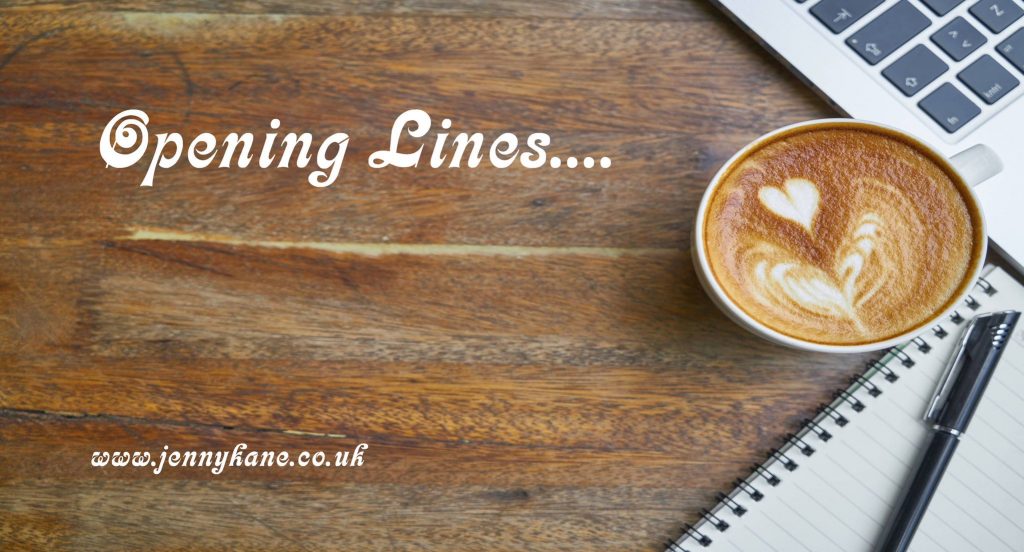 Cause of Death is the third instalment in my cosy crime series, The Shires Mysteries. I enjoyed writing it immensely – it was good fun and a true labour of love. It could be because of my affinity with and affection for my two protagonists, Maggie and Sam, or maybe because of its light-hearted and humorous tone, but whatever the reason I was swept into the story from the off. So, I am delighted that I can share the opening lines of Cause of Death here on Jenny's blog.
BLURB
Maggie and Sam's crime-busting exploits continue in Cause of Death, book 3 in The Shires Mysteries.
All is not well in the village. The local meadows have been the pride of Bishops Well for hundreds of years, but now they are facing the sharp blades of developers. The landowner is a rich and reclusive author who is happy to see them destroyed, but the villagers – including Sam Dee and Maggie Kaye – are fighting back.
Until, that is, someone decides to silence one of their number permanently.
As Maggie and Sam soon discover, there is more than a quick buck to be made in the developers' plans. There are age-old secrets and personal vendettas that could have deadly repercussions in Bishops Well today.
With Sam's legal expertise and Maggie's… well, Maggie-ness, they delve into the past, determined to unearth the truth. And, as sparks begin to fly, could there finally be something more between this sleuthing duo?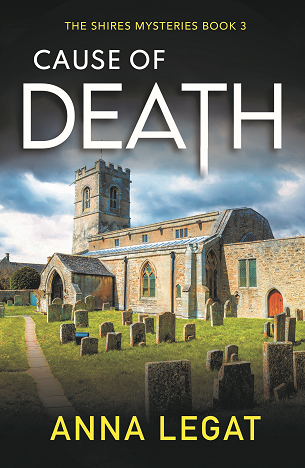 FIRST 500 WORDS-
The full moon was their silent accomplice – it shone brightly, illuminating the finer detail of the grand forgery they were carrying out on the ground. It wasn't an easy job. The work had to be conducted on the uneven surface of the south-facing slope of a hill which by day was home to a herd of Friesian cows. A hill covered in cowpats was like a minefield, especially to those who had made the unfortunate choice of sandals for footwear. Old cowpats pretended to be dormant, but once stirred they could explode in a bouquet of unpleasant odour. That became evident when Rumpole, Vera Hopps-Wood's Irish wolfhound, was detected smeared with cow excrement and stinking to high heaven. He appeared as happy as a pig in . . . mud, but Vera was inconsolable. No one showed her any sympathy. She should not have brought her pet to work. Forgery was no walk in the park.
The first part of the operation was the painstaking removal of topsoil together with all vegetation and the offending cowpats. That task had been conducted under the watchful eye of the designer and project manager – Maggie Kaye. The whole undertaking was her idea. The loosely organised but fiercely proud community of Bishops Well, in the shape of the Bishops Well Archaeological Association, had rallied round, as they usually did.
Sam Dee had had his reservations, but it was that or desecrating Harry Wotton's wheat fields with crop circles. He had gone with the lesser evil. At least the injured party would be harder to establish. The ownership of the hill was disputed and claims to it were laid by three warring parties: the folk of Bishops Well, local magnate Lord Weston-Jones, and the parish of St John the Baptist.
By midnight the works were in full swing. The forgers were careful to stay within the outline of the shape, delineated earlier by the best art students recruited by Maggie and fellow teacher Cherie Hornby from Bishops Ace Academy. The labour distribution had been thoughtfully planned: the fairer sex was engaged in the finer art of scraping off the soil and staying within the lines (that required attention to detail and a steady hand) while the men carried bucketfuls of soil, grass, and the ever-present cow muck, which required little more than brute strength, to the top of the hill. There they distributed it evenly so that no one would detect it in the morning.
'If Alec knew what I was getting up to, he'd have to divorce me,' Vanessa Scarfe whimpered as she shovelled a stubborn tuft of grass out of existence. 'I had to say I was staying at Vera's tonight!' Her chubby cheeks reflected the ghostly moonlight in all its fullness. Crime didn't become her. And it shouldn't – after all, she was the wife of Detective Chief Superintendent Scarfe, a pillar of the community and a man beyond reproach. He couldn't afford to be linked to a common trespasser …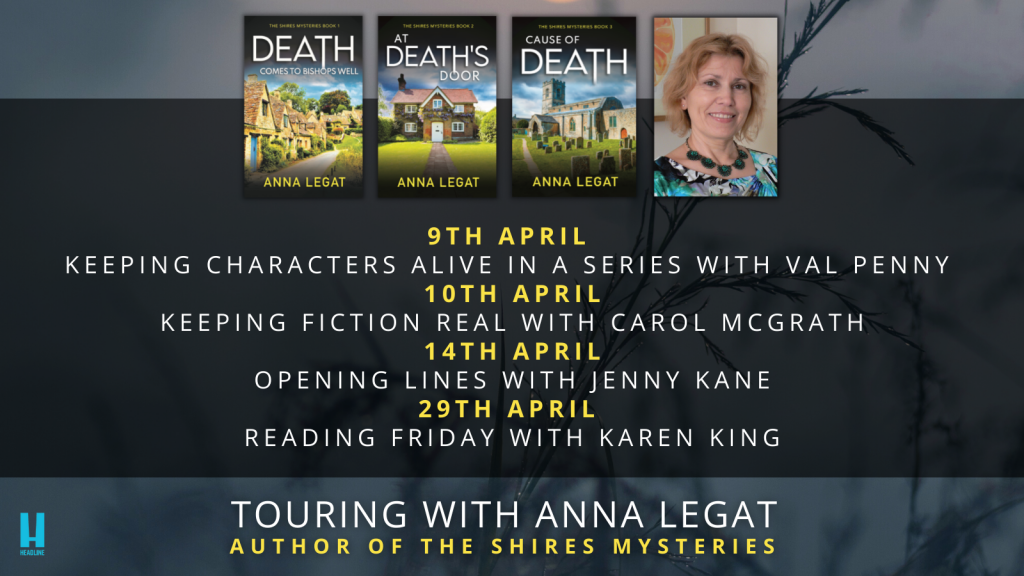 You can buy a copy of Cause of Death from…
Cause of Death: The Shires Mysteries 3: A gripping and unputdownable English cosy mystery eBook : Legat, Anna: Amazon.co.uk: Kindle Store
Cause of Death: The Shires Mysteries 3 eBook by Anna Legat – 9781786159892 | Rakuten Kobo United Kingdom
Cause of Death by Anna Legat, Paperback | Barnes & Noble® (barnesandnoble.com)
Cause of Death: The Shires Mysteries 3 by Anna Legat | Waterstones
Cause of Death: The Shires Mysteries 3: A gripping and unputdownable English cosy mystery by Anna Legat | WHSmith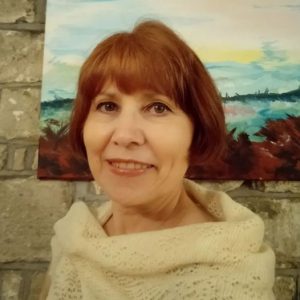 BIO
Anna Legat is a Wiltshire-based author, best known for her DI Gillian Marsh murder mystery series. A globe-trotter and Jack-of-all-trades, Anna has been an attorney, legal adviser, a silver-service waitress, a school teacher and a librarian. She read law at the University of South Africa and Warsaw University, then gained teaching qualifications in New Zealand. She has lived in far-flung places all over the world where she delighted in people-watching and collecting precious life experiences for her stories. Anna writes, reads, lives and breathes books and can no longer tell the difference between fact and fiction.
Twitter @LegatWriter
Facebook @AnnaLegatAuthor
Instagram @LegatAuthor
Many thanks for your opening lines, Anna.
Happy reading everyone,
Jenny x