I'm delighted to welcome, Deborah Swift, with the first 500 words from her fabulous historical novel,
The Poison Keeper.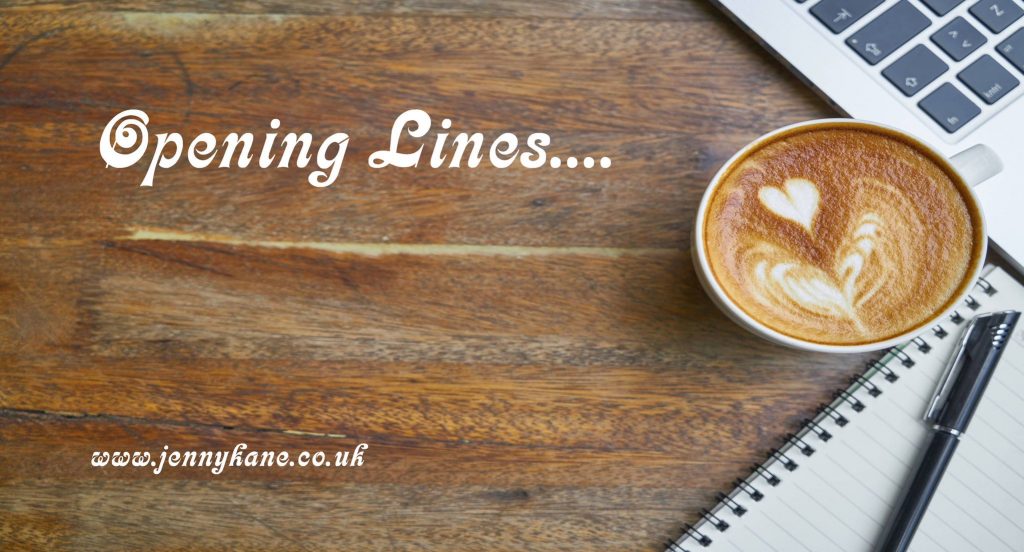 About the Poison Keeper, a historical novel set in Renaissance Italy:
Naples 1633
Aqua Tofana – One drop to heal. Three drops to kill.
Giulia Tofana longs for more responsibility in her mother's apothecary business, but Mamma has always been secretive and refuses to tell her the hidden keys to her success. But the day Mamma is arrested for the poisoning of the powerful Duke de Verdi, Giulia is shocked to uncover the darker side of her trade.
Giulia must run for her life, and escapes to Naples, under the shadow of Mount Vesuvius, to the home of her Aunt Isabetta, a famous courtesan. But when Giulia hears that her mother has been executed, and the cruel manner of her death, she swears she will wreak revenge on the Duke de Verdi.
The trouble is, Naples is in the grip of Domenico, the Duke's brother, who controls the city with the 'Camorra', the mafia. Worse, her Aunt Isabetta, under his thrall, insists that she should be consort to him.
Based on the legendary life of Giulia Tofana, this is a story of hidden family secrets, and how the darkest desires can be overcome by courage and love.
'Her characters are so real they linger in the mind long after the book is back on the shelf' Historical Novel Society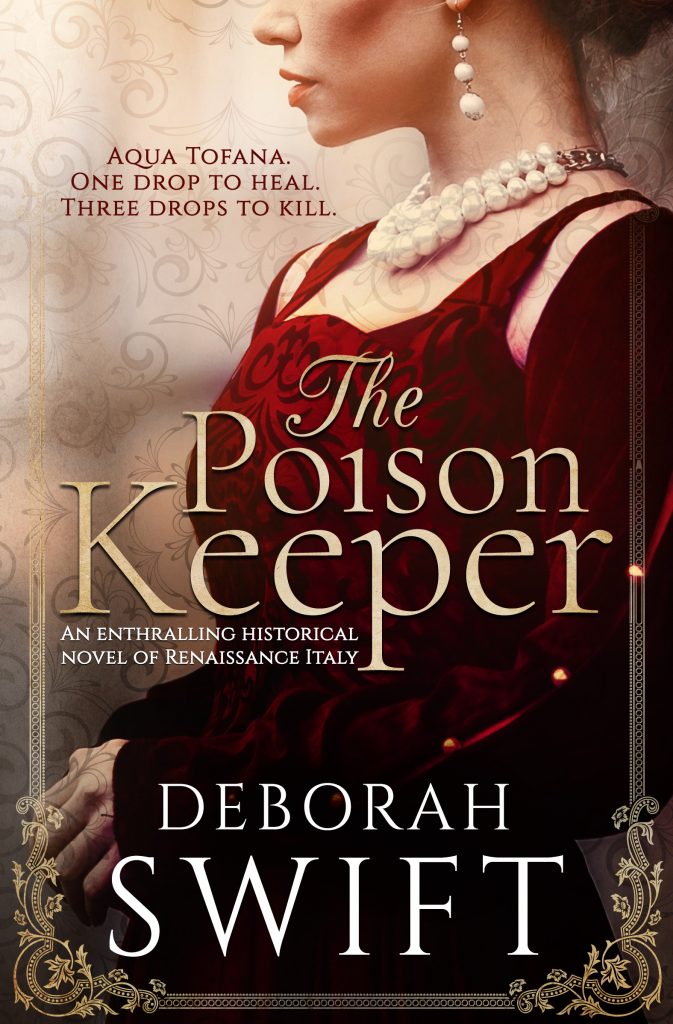 FIRST 500 WORDS
PROLOGUE
Palermo, Sicily. June 1633
'Did you see her?' Duke Antonio de Verdi's voice rose from the bed in a feeble croak.
His housekeeper, the ramrod-straight Signora Fattorini, nodded, lips pursed in satisfaction. 'I waited as you suggested, in the guest chamber, and spied her through a crack in the door. She dropped something into your broth, Your Excellency.'
'Dispose of it. And have Bruno and Alessandro fetch her in.' A pause, in which he heaved himself up on the pillows and gathered enough saliva to speak again. 'No word, hear me… no word to anyone beyond these walls. Just a stomach sickness, understand me?'
He saw in her eyes, and her servile curtsey, that she understood exactly. He didn't want the court to know he had no control over his wife.
'Your Excellency, the glovemaker is due to see the Lady Valentina at two o'clock. What shall I tell her?'
'Send her away. My wife won't be needing any more gloves.'
Chapter 1
A splash of noonday sun danced against the latticed window. Giulia paused, plate in hand, as a spider, escaping the sudden light, spooled slowly downwards on its silvery thread. If it put so much as a leg into the downstairs chamber, Mamma would kill it. Any stray crumb could pollute her work, she said. Any creature that fell into her carefully measured remedies could change the balance. Turn good to ill. Things were apt to turn into their opposite without careful attention, Mamma said, and Mamma was always right.
Fortune smiles on you today, little one, Giulia thought, Mamma is busy in the still room.
The spider completed its acrobatic descent and was gone, spindly legs scuttling away across the windowsill and into the blue-black shadow behind the cheese press. Giulia finished laying out the meal: yesterday's bread, wedges from a round of hard salty cheese, pickled olives and figs from Tuscolo.
She called down the staircase, 'It's ready, Mamma.'
It was their servant Maria's day off, so it was left to Giulia today to make Mamma eat. And today she was determined to make her listen.
She cocked her head. No answer, again.
Mamma often didn't hear, or pretended not to, when she was involved in her work. Giulia tucked the stray wisps of hair back into her dark coiled braids, lifted her heavy skirts and hurried downstairs, heels clacking on the stone treads. The door was shut as usual. It seemed to her she'd been locked outside this door her entire life. Only when Mamma was ready would she open it.
She remembered the time when she was eight years old straying into the still room and lifting the end of a stopper to her nose to smell it. A stinging slap to the cheek. 'Never, never do that,' Mamma had shouted, whipping the stopper away with a gloved hand, with the stark warning; 'You could die.'
Since then the door was locked until Mamma deigned to open it, and she had accepted it…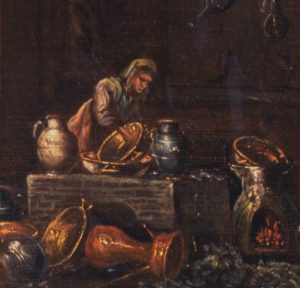 5 Interesting facts about Giulia Tofana:
The poison Giulia Tofana invented was called Aqua Tofana (Tofana Water) and it was often disguised as Manna of St Nicholas, an elixir that was supposed to drip from the saintly bones of the dead St Nicholas. It was widely used as a cure-all in Renaissance Naples.
Poison was one of the few weapons available to women in this patriarchal society. Fear of poisoning was so great that there were rumours Giulia Tofana wanted to poison the whole city of Rome by putting poison into the water system.
The arsenic Giulia Tofana used in her potion was supposedly supplied by a corrupt priest whose brother ran a pharmacy. His church was the church of Sant'Agnese in Agone in the centre of Rome. However, Giulia had begun her poisoning career in Palermo and seems to only have moved to Rome after her mother was executed. It is likely her mother began the whole business, and this family was actually three generations of female poisoners.
Giulia Tofana's daughter Girolama took over the secret affair of supplying poison, and she was rumoured later to be the widow of a wealthy Florentine businessman. This enabled her to move in aristocratic circles. Though you have to wonder how she became a widow!
There is no hard evidence to show when Giulia Tofana herself It is believed she died of natural causes in her own bed in about 1651, after which her daughter took over the supply of Aqua Tofana to those women who wanted to hasten the deaths of their husbands.
You can buy The Poison Keeper here – mybook.to/PoisonKeeper
And you can pre-order the sequel: The Silkworm Keeper here – mybook.to/SilkwormKeeper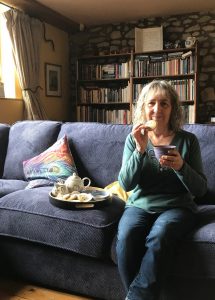 BIO
Deborah is the author of fourteen historical novels, including a trilogy set in WW2. Deborah used to work as a set and costume designer for theatre and TV, and enjoys the research aspect of creating historical fiction, especially exploring archives, old houses and museums. She likes to write about extraordinary characters set against the background of real historical events.
Her home is in North Lancashire on the edge of the Lake District, an area made famous by the Romantic Poets such as Wordsworth and Coleridge. Deborah has an MA in Creative Writing and now mentors other writers via The History Quill, and teaches classes and courses in writing through the Adult Education service. She's a member of the Historical Writers Association, The Historical Novel Society and the Romantic Novelists Association.
Find Deborah on her website www.deborahswift.com  or onTwitter @swiftstory  
Facebook: https://www.facebook.com/authordeborahswift/
Many thanks for sharing your fabulous Opening Lines with us, Deborah.
Happy reading,
Jenny x