Today's the day!!
Romancing Robin Hood, my second full length novel under the name Jenny Kane, hits the e-shelves today!! (Paperback coming soon)
Switching from the modern romance (or lack thereof), of Grace Harper, to the fourteenth century tale of Mathilda de Twyford (the fictional heroine Grace has created within her own novel), Romancing Robin Hood is a tale of friendship, romance, the medieval criminal nobility, and a teenage obsession with Robin Hood…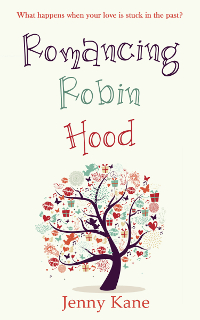 Romancing Robin Hood – Blurb
Dr Grace Harper has loved the stories of Robin Hood ever since she first saw them on TV as a girl. Now, with her fortieth birthday just around the corner, she's a successful academic in Medieval History, with a tenured position at a top university.
But Grace is in a bit of a rut. She's supposed to be writing a textbook on a real-life medieval gang of high-class criminals – the Folvilles – but she keeps being drawn into the world of the novel she's secretly writing – a novel which entwines the Folvilles with her long-time love of Robin Hood – and a feisty young girl named Mathilda, who is the key to a medieval mystery…
Meanwhile, Grace's best friend Daisy – who's as keen on animals as Grace is on the Merry Men – is unexpectedly getting married, and a reluctant Grace is press-ganged into being her bridesmaid. As Grace sees Daisy's new-found happiness, she starts to re-evaluate her own life. Is her devotion to a man who may or may not have lived hundreds of years ago really a substitute for a real-life hero of her own? It doesn't get any easier when she meets Dr Robert Franks – a rival academic who Grace is determined to dislike but finds herself being increasingly drawn to…
***
If you'd like to buy a copy, Romancing Robin Hood is available in all e-formats, from Accent Press and all good e-retailers including-
Happy reading,
Jenny
xx