Release Blitz!
Shopping for a CEO
(Shopping for a Billionaire series Book 7)
by Julia Kent is out now!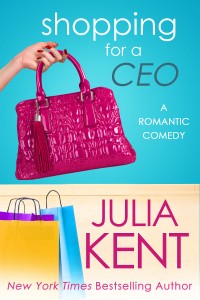 Blurb
I'm thrilled to be the maid of honor in my friend's wedding, but the best man, Andrew McCormick, is a chauvinistic pig with a God complex.
And I can't stop kissing him in closets.
(Don't ask.)
He's the brother of the groom and the CEO of my biggest mystery shopping account, but suddenly he's refusing to be in the wedding. He won't talk about it. Won't see reason.
He's such a man.
And he still won't stop kissing me in random closets.
(Thank goodness.)
I'm a fixer. That's what I do. I can fix anything if given the chance. But when the game is fixed there's only so much I can do.
The ball's in his court now.
Game on.
* * *
Shopping for a CEO is the 7th book in the New York Times and USA Today bestselling Shopping series. When CEO Andrew McCormick and mystery shopper Amanda Warrick find themselves in the unlikely position as maid of honor and best man in the Boston society wedding of the year, an undeniable attraction and dual stubborn streaks add fuel to the fire in this romantic comedy from Julia Kent.
Extract-
Why did you kiss me the first time? That day when I barged into your office?"
He nods, eyes looking at everything and nothing, finally settling on my face. "Because you were so passionate about protecting Shannon. Because you were adorable and irate and you had this energy I wanted to taste."
I'm holding my breath. I thought we would spend this first date doing the awkward getting-to-know you dance. Andrew's gone right to the point. Laser focus.
Just like a CEO.
"Taste?"
"Yes. I know what I want. I don't equivocate. I decide and act. I compartmentalize. I issue orders and execute strategy. You came in that day and started ordering me around and it was cute and exciting and inspiring. Oddly sensual. And when you kissed me — "
"_You_ kissed _me_!"
"And when _we_ kissed," he says, eyebrows raised, as if settling this point once and for all, "I got something far more forbidden than I realized I was getting when I went for that simple taste of you."
Forbidden?
"What's that?"
He studies me, as if sizing me up, trying to determine whether he should tell me what's next. Or not. Finally, his face changes through a series of three or four emotions, most of them involving some variation of deliberation.
And then:
"You didn't fit in a box."
"I fit in a closet."
He doesn't laugh.
"You intrigued me."
"Not enough to call me after that kiss, though."
He shakes his head. My heart plummets.
"No, Amanda. The opposite. You intrigued me too much."
I get the sense that the word 'intrigued' means something else.
"You mean I scared you."
His eyes flash with emotion I can't read.
"Yes."
Men like Andrew McCormick don't do this. They don't lay their emotions out on the table like this. Why is he doing this?
"Then why did you kiss me again? And again. And again again — "
"I don't know."
"C'mon." The driver takes us onto the Mass Pike, lights flying by like spaceships. Like little orbs shooting past us, filled with people oblivious to the quantum shift taking place inside this tiny space. "You always know. You're a CEO. You compartmentalize. You execute. You decide. You act. You can't tell me that the great wunderkind Andrew Mc –"
He's on me before I can take an inbreath to continue speaking, his body so big and bold, so impulsive and unrelenting. The limo becomes its own dimension, his hands seeking to hold all of me as we tumble into some new plane of awareness that doesn't factor into any life we've known until this moment. His mouth finds mine, hands under my suit jacket, palm cupping the lines of my breasts, my waist, my hips, and he's tasting me again, this time with an urgent need that comes from an honesty I don't think he's felt permission to express in a very long time.
If ever.
***
Buy links
Amazon US: http://amzn.to/1MyMNVv Amazon UK: http://amzn.to/1HDYXsO iBooks: http://apple.co/1BTcs5l Amazon Canada: http://amzn.to/1IaHf5I Print: http://amzn.to/1M1Zc3W BN: http://bit.ly/1fR0CV9 Kobo: http://bit.ly/1OkyPaX Google Play: http://bit.ly/1J5zEV6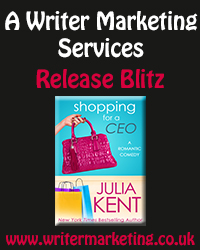 Author bio and web/social media links
New York Times and USA Today Bestselling Author Julia Kent writes romantic comedy with an edge, and new adult books that push contemporary boundaries. From billionaires to BBWs to rock stars, Julia finds a sensual, goofy joy in every book she writes, but unlike Trevor from Random Acts of Crazy, she has never kissed a chicken.
She loves to hear from her readers by email at jkentauthor@gmail.com, on Twitter @jkentauthor, and on Facebook at https://www.facebook.com/jkentauthor . Visit her website at JKentAuthor.com.
Website
Facebook
http://www.facebook.com/jkentauthor
Twitter
http://www.twitter.com/jkentauthor
Newsletter
https://app.mailerlite.com/webforms/landing/p5h7j7
Pinterest
https://www.pinterest.com/jkentauthor/shannons-sane-wedding-planning-board/
https://www.pinterest.com/jkentauthor/maries-scottish-themed-wedding-board-for-shannon-a/