Tempting Will McGlashen by Liz Everly (@Lizeverly1)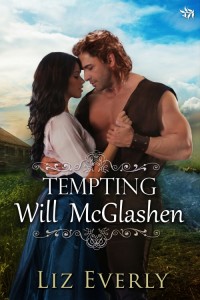 Blurb:
Mathilde Miller wanted to be a good daughter and marry the son of a long-time family friend, Joshua Bowman. But she didn't want to be the wife of a Pennsylvania farmer. She loved her life, cooking on the Virginia frontier at her family's ordinary. The minute blacksmith Will McGlashen walks into her kitchen, her restlessness focused on him. Fresh from Scotland, with a voice "like a song" and thick coppery hair, her heart belonged to him. Was it possible for the daughter of a Pennsylvania German to marry a hired man from Scotland? What did she really know about Will McGlashen and his secret past?
Will McGlashen needed to keep his own counsel. A man with a past full of violence and loss in Scotland, he was grateful for this chance to rebuild his life as a blacksmith in Virginia. He'd have to ignore the undeniable pull he felt toward his boss's eldest daughter. When Joshua Bowman showed up and claimed her, instead of providing resolution for will, it burns like the fire he wields in his blacksmith shop. As events unfold, Will wonders if the signs she's sending him are all in his head and prays that he has the strength not to find out.
The story is set in the Virginia frontier in 1765, a time when Native Americans still lurked in the hills, bandits and robbers were handed swift justice, and enterprising men and their families attempted to live in and tame the wild western edge of the new colonies. An ordinary offering good food, a bed, and company for travellers along the way was a much welcomed respite. Mathilde and Will's story is woven into the history, adventure, and danger of the time period.
Get your copy here:
http://www.amazon.com/gp/product/B00OBT8WBA/ref=as_li_tl?ie=UTF8&camp=1789&creative=390957&creativeASIN=B00OBT8WBA&linkCode=as2&tag=lucyfelt-20&linkId=WS3YFHCPFAFGT7JN
http://www.amazon.co.uk/gp/product/B00OBT8WBA/ref=as_li_tl?ie=UTF8&camp=1634&creative=19450&creativeASIN=B00OBT8WBA&linkCode=as2&tag=lucyfelthouse-21&linkId=BPSBGEWMXLCVKBRR
https://www.smashwords.com/books/view/483617?ref=cw1985
https://itunes.apple.com/us/book/tempting-will-mcglashen/id928305202
http://store.kobobooks.com/en-US/ebook/tempting-will-mcglashen
http://www.barnesandnoble.com/w/tempting-will-mcglashen-liz-everly/1120527011
Author Bio:
Liz Everly writes, plays, and cooks in a tiny house with a big garden. She writes under a pen name to escape expectations and to embrace all possibilities. She's the author of the SAFFRON NIGHTS SERIES (e-Kensington), the EIGHT LAYS AROUND THE WORLD serial, and a contributor in THE LADY SMUT BOOK OF DARK DESIRES. She also writes regional bestselling cookbooks and Agatha-award nominated traditional mysteries under her own name. On any given day, you may find her researching murder, sex, or cooking techniques. She'd not have it any other way.
http://www.twitter.com/Lizeverly1
***
Happy reading,
Jenny xx