For those of you who follow this blog, or who know me in what is laughingly called "real life," you won't be at all surprised to know that I loved the brand new Robin of Sherwood audio episode from the very start.
"But you were bound to love it!" I hear you cry – well no actually. Robin of Sherwood was a formative and important part of my life, and if this production had not done its predecessors justice, I would most certainly have said so.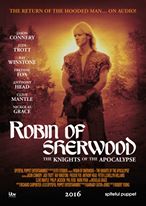 The Knights of the Apocalypse stars the original cast of Robin of Sherwood, with Jason Connery as Robin, bar the late and much missed Robert Addie and Jon Abineri.
Addie was ably replaced as Guy of Gisborne by Freddie Fox, and the Lord of the Trees himself, Abineri, had his role taken on by his son. His voice is so spookily similar to Herne's, that it was nigh on impossible to tell father and son apart.
The Knights of the Apocalypse was written after the end of the original series by the creator of Robin of Sherwood, Richard 'Kip' Carpenter, but it was never filmed. In tribute to Kip, who died in 2012, every penny in profit from the sales of #KOTA will go to his favourite charities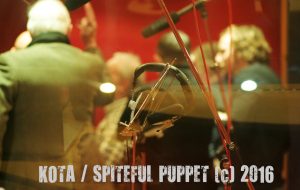 As I donned my headphones- chocolate and drink to my side- ready to indulge in this two part episode of nostalgic heaven, I will confess to a slight increase in heartbeat as the first few sounds hit my ears.
Hoof beats…fast…through shadows…and there were voices…and then…the theme music! (The original series theme music, provided by Clannad, introduced both episodes) A smile passed over my face that felt just as broad as it did every time I settled down on a Saturday evening at 5.35pm, 30 years ago.
Listening with closed eyes throughout, I could hear and see every image. The visuals in my head were conjured by the sounds I heard as crisply as it would have been if I'd been watching on television. It was as if time had stopped and, to quote Alfred Noyes, "…the dead where coming back again, the years had rolled away- in Sherwood, in Sherwood, about the break of day…."
Yet, time hasn't stopped. 30 years really has passed since we last left Robin and his men without Marion, who'd entered a nunnery in a turmoil at the end of the final televised episode. We have been left on a cliffhanger all that time…until now.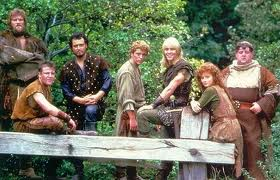 Once Clannad's theme of 'Robin…the Hooded Man….' had faded away, the audio tale begins with Robin giving a role call- yes, all the outlaws are there- even Marion.
I am keen to give no spoilers, and so will hold back from a detailed- or even vague- account of the story. I will say that every cast member was outstanding- that Nasir (played by the ever excellent Mark Ryan), spoke more in these 2 audio episodes than he did in the entire 3 televised shows, and that the show was very much stolen by Nickolas Grace as the Sheriff and Ray Winstone as Will Scarlett- partly because their lines were so clever, and partly because they delivered them with such humour.
There was humour, menace, tension, and a wonderful star studded support cast. Michael Craig returned as Robin's father, the Earl of Huntingdon, and Philp Jackson reprised his role as the Sheriff's brother, Abbot Hugo. Colin Baker and Anthony Head were superb guest stars. Head really has cornered the market in evil, almost pantomime, villains! It's the laugh- he just has the evil laugh off to a tee!!
Directed by Robert Young, the original TV director, produced by Barnaby Eaton-Jones,  and put together by the executive producers, Spiteful Puppet Entertainment, who are an award-winning audio production company (BBC Drama Awards, New York Radio Festival); The Knights of the Apocalypse was excellent from start to finish.
There really is only one question left to ask…
When will there be another one?
Oh- and can I help write it/be in it/do something….? OK, so that's a lot of questions…
If you don't have your copy yet you can buy one here- https://www.indiegogo.com/projects/robin-of-sherwood-the-knights-of-the-apocalypse#/ and find out my details here – https://www.facebook.com/KnightsOfTheApocalypse/
Happy reading- or in this case- listening, everybody.
Jenny x