A couple of months ago, with great excitement, I announced that I had written two audio stories for ITV's 1980's television show, Robin of Sherwood, under my medieval crime pen name of Jennifer Ash
Those of you who follow this blog will know precisely how much that opportunity would mean to me. Not only have I been a lifelong lover of all things Robin Hood, but I have spent many years researching the history behind the legend.
It is with even greater pleasure therefore, that I can let you in on a secret.
ITV and Spiteful Puppet have just confirmed that they want me to write a third episode!!
I can't say anything else for now- except that this will be one of a new batch of Robin of Sherwood audio dramas written by authors as passionate about the show as I am!
More news soon!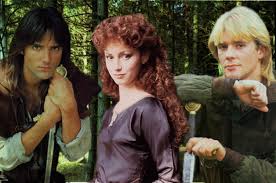 ***
In the meantime- here's a reminder of my earlier episodes (NOW AVAILABLE)
The first- The Waterford Boy– has been brilliantly narrated by Judi Trott- (a.k.a Marion of Leaford). It tells the story of a simple lad, Alwin of Waterford, who has the misfortune of crossing Guy of Gisborne's path.
The second story – Mathilda's Legacy -is a slight departure from the Robin of Sherwood episodes which have been written before. Mathilda's Legacy tells the story of how David, Earl of Huntingdon met his wife- Mathilda, third daughter to the Earl of Chester – mother to Robert of Huntingdon.
Narrated by the fabulous Michael Craig, (a.k.a Earl of Huntingdon), this extra story was a joy to write. Who wouldn't want to introduce the world to Robin Hood's mother? Oh- and there's a pesky 'would be' Sheriff of Nottingham knocking about as well.
You can now buy these audio downloads- as well as 2 other amazing stories from Spiteful Puppet for only £5.99 each-
The Waterford Boy– "Robin is angered by the Sheriff's new people tax… but his rage is nothing compared to that of Will Scarlet when he hears Alwin mutter the name, D'Marelle.  For Will and the recruiter have met before… many years ago…"
Mathilda's Legacy– "David realised why his offspring behaved in the way he did. After all, Robert of Huntingdon was Mathilda's son. He was her legacy.  The moment couldn't be put off any longer. It was time to tell his son the story of how the Earl had met Robert's mother…"
And don't forget….
The Templar's Promise, read by Phil Rose – "On the run and desperate for help, Brother Michael offers Robin and the outlaws the chance to secure a fortune in gold.  If Robin is to get his hands on it, he must face betrayal and an enemy who is every inch his match…"
and
The Blood That Binds, read by Nickolas Grace – "The Hooded Man will face an adversary who is playing a long game, one that will see Herne's son fulfil a destiny and set blood against blood in more ways than one…"
***
What more could any Robin Hood fan want?
So check out Spiteful Puppet here for all the download links- https://spitefulpuppet.com/product-category/robin-of-sherwood/
Happy downloading…
Jennifer x