What better way for me to beat my flu bug blues than to announce the imminent arrival of the first story in…
The Folville Chronicles – The Outlaw's Ransom.
Those of you who have come across my Jenny Kane novel, Romancing Robin Hood, will know that it contains a medieval murder mystery alongside a contemporary romance.
My first bookish outing as Jennifer Ash has taken the medieval part of Romancing Robin Hood and turned it into a standalone novel entitled The Outlaw's Ransom…just check out this beautiful cover!!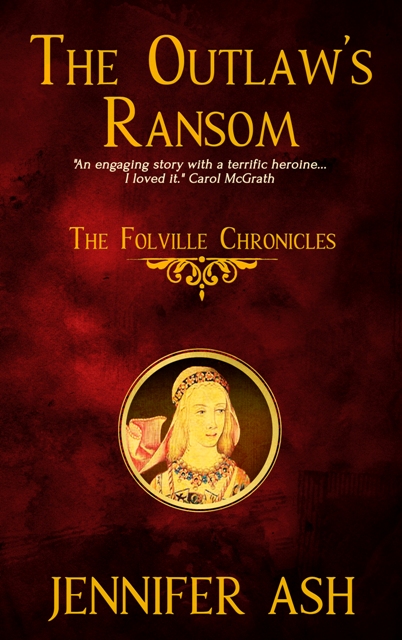 Blurb
When potter's daughter Mathilda is kidnapped by the notorious Folville brothers as punishment for her father's debts, she fears for her life. Although of noble birth, the Folvilles are infamous throughout the county for using crime to rule their lands—and for using any means necessary to deliver their distinctive brand of 'justice'.
Mathilda must prove her worth to the Folvilles in order to win her freedom. To do so, she must go against her instincts and, disguised as the betrothed of Robert de Folville, undertake a mission that will send her to Bakewell in Derbyshire, and the home of Nicholas Coterel, one of the most infamous men in England.
With her life in the hands of more than one dangerous brigand, Mathilda must win the trust of the Folville's housekeeper, Sarah, and Robert Folville himself if she has any chance of survival.
Never have the teachings gleaned from the tales of Robyn Hode been so useful…
***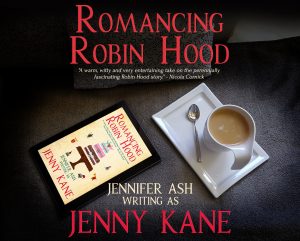 Although the story of Mathilda has been updated for The Outlaw's Ransom, if you've already read Romancing Robin Hood, then you will recognise this story already.
So why the new author name? Why not release The Outlaw's Ransom as Jenny Kane?
The answer is simple- my Jennifer Ash writing is very different from my work as Jenny Kane.
Whereas Jenny Kane writes cosy Sunday afternoon contemporary fiction with a hint of romance, and a feel good factor, Jennifer Ash writes medieval mysteries with an edge of uncertainty- albeit with a hint of romance in the background!
And will there be another Jennifer Ash book?
Yes indeed. A brand new full length medieval mystery called The Winter Outlaw (Book 2 of The Folville Chronicles), will be out this April. Not only that, but a further sequel, Edward's Outlaw (Book 3 of The Folville Chronicles), will be released at the end of 2018/early 2019. In fact, I'm writing it at this very moment!
So if crime is your thing, if you like medieval mysteries, or even if you have a soft spot for Robin Hood (whose ballads are a favourite of the main protagonists within The Outlaw's Ransom), then why not give my Jennifer Ash persona a try?
You will be able to buy The Outlaw's Ransom for your Kindle and as a paperback in early March.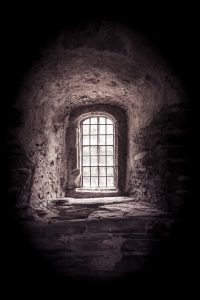 (Please note that The Outlaw's Ransom is a re-release. It is now published by Littwitz Press- who will also publish the rest of the (brand new) Folville Chronicles.) 
If you like the sound of my Jennifer Ash work, then maybe you'd like to listen to my Robin of Sherwood audio stories. You can check them out here-
https://spitefulpuppet.com/product/the-waterford-boy/    
Happy reading everyone,
Jennifer/Jenny
xx