This week I'm delighted to be welcoming Elliot Thorpe to my place to tell us about his latest story, World War When.
Over to you Elliot…
I was involved in a book project back in the distant past of 2016, an anthology of stories and verse to commemorate the (then-upcoming) centenary of the end of the First World War. While the project went in other directions, the work I had put into my contributions I didn't want wasted. Any writer will tell you that an author never throws away an idea! I'd toyed with any number of scenarios and plotlines and saw mileage in expanding beyond the short story remit to a full-length novel.
I'd always found both World Wars to be fascinating, extremely dark chapters in recent history that have hopefully taught us lessons. I'd never written anything directly linking to modern warfare before, although I did delve into the skirmishes between the Ottoman Turks and the Wallachians in a horror novel in 2013. That previous novel, currently out of print, took a hugely fantastical liberty with the source material – something that seemed permissible bearing in mind that the protagonists and antagonists lived in a world wholly unlike our own some 500 years ago.
The idea then of taking a slice of history that is well-known, deeply researched, intimately documented and only a handful of years falling out of living memory I have to confess gave me moments of internal conflict. I didn't want to make light of the events between 1914 and 1918. I didn't want to flippantly create characters that existed as unflappable heroes. Nor did I want to step on the experiences those who served had been through. But that's the art of storytelling, to weave a fiction that is believable, to conjure up heroes who aren't two-dimensional, to place a tale in front of a backdrop that both thrills and chills.
I did my research. I would have been daft not to – because historians at all levels would find something that I got wrong in my prose. I created a past that was recognisable, a close as I could make it to reality following said research, with healthy influences thrown in for good measure: anything from Buchan to Elton to Faulks to Meredeth to Moffatt to Mukherjee to Sapper. I wanted a world of action, intrigue, drama and romance, of excitement, danger, love and loss. Then I went off-piste: the story mutated into how the Allies had lost the Great War and what happened after.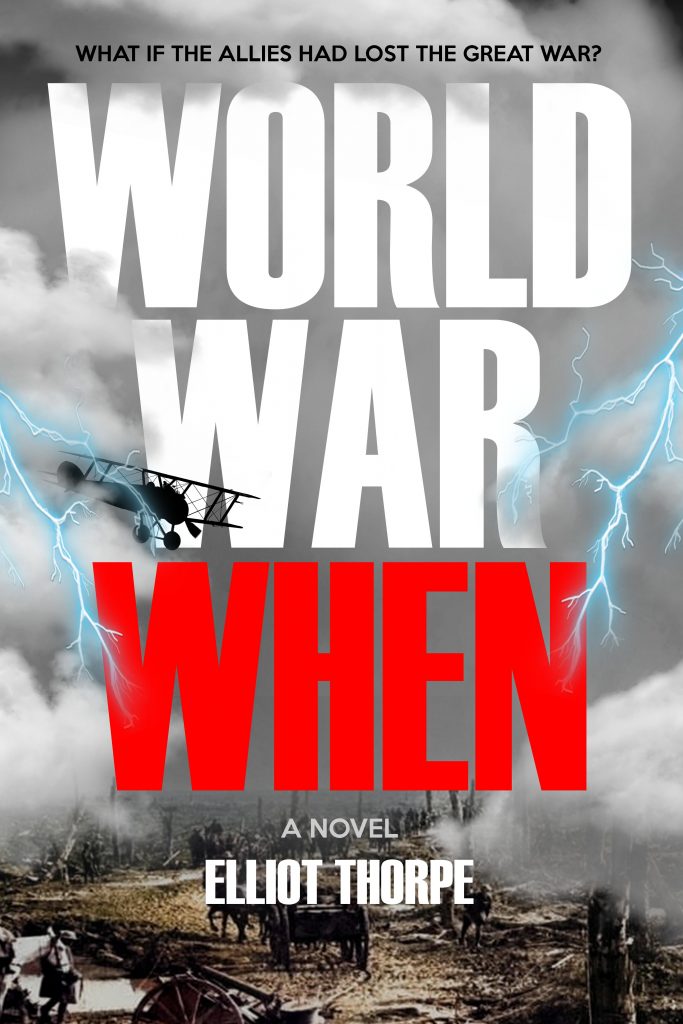 This alternative history, as I saw it, hadn't been truly explored before in fiction. We have countless 'what if Hitler had won' tales, but no one had seemed to have asked what if the Kaiser had won in 1918?
And so World War When was born: a new, exciting reinvention of the end of 1914-1918 conflict.
But then I realised I had re-ignited my own conflicts: by telling a story of how the Central Powers had stormed across Europe to raise the Kaiser's flag atop Buckingham Palace, I was erasing all the pain and suffering that our great grandparents had gone through. Perhaps I was looking too deeply into this. My solution? I made my characters, my protagonists, question the world they were living in. Could it be better? Could it be changed? Was the Great War fought for nought? Was all the pain and suffering they had gone through prior to 1918 a waste? When one of the characters answered 'yes', I knew I had my novel's hook.
World War When poses the question: What if the Allies has lost the Great War?
Find out the answer when the novel, published by AG Books, is released 22 January 2022 in paperback, hardback and on Kindle. You can buy it from Amazon and all good bookstores.
Keep reading for an exclusive extract…
The war began with two shots and it would end with one.
At least that was what Daniel Restarick hoped, waiting in the bombed-out shell of what had been a shop, judging by the strewn cans of food.
The US Army had withdrawn some hours ago, successful in pushing the German offensive back towards Metz. The air was thick with death and rain. Spirals of smoke drifted on the air of the autumn afternoon; devastated buildings forlornly lined either side of the main street. At one end, a Renault FT tank was upended in a crater, having been shelled by enemy artillery. Even at this distance, Restarick could smell the petrol settling in a pool at the bottom of the jagged hole.
He was across the street from the church—one of the few fully standing structures, as if some providence had kept it free from the conceit of humanity. He was tired but focused, the rum from his weekly ration having been spilt during the night. Patience, too, was a prerequisite of a man like him.
At twenty-nine, Restarick was considered a veteran, having seen conflict almost from the moment war broke out. Formerly of the Essex Regiment, he had been hand-picked, during the summer of 1916, by Naval Intelligence—to work in the field for the Factory or, more formally, Room 40, the predominant section in the British Admiralty that handled cryptoanalysis. Covert operations had led him here, with the knowledge that vital information and thus advantage was going to be passed to the Central Powers,. His mission was simple: prevent this by any means necessary.
If the war ended on this one shot, the euphoria and relief across the world would be his doing. It was a heady thought.
It began to rain again, thunderstorms having relented only yesterday evening, almost concurrently with the exchange of fire. Restarick hated the feeling of the cold water against his back, hated the sight of his rifle becoming obscured, hated the stinging in his eyes. Further, he wore no gloves, so the damp had a habit of making his grip more precarious on the lengthy barrel.
He wanted a cigarette but the smoke would give away his position. It would have to wait.
Wiping the sight, he scanned the rubble-strewn street before him, waiting for his quarry and thinking of his return to England, to Surrey and to what he had already lost.
He and Lita had only been married for five months when she died and they had spent very little time together as a couple, stolen moments while he was on leave. There had been no honeymoon. They'd written, of course, as much as the Army Postal Service allowed, but it was a poor replacement.  Still, she had not given any indication of unhappiness or discontent. Although, perhaps that was the role of those left behind. Just as those on the battlefield had to callously dismiss them from their minds.  Lita had worked at the Silvertown munitions factory. The previous year, she had survived an accident that had killed over seventy and injured in excess of four hundred more. Survived to perish later, in a fire in their home in Surrey; she'd been trapped as the ceiling above her collapsed, bringing the bedroom down around her. The ARP wardens and the fire brigade had been unable to save her.
Her funeral had been a small affair. She'd left Spain as a young teenager and found her own way in life. Most of the mourners had been from Restarick's side of the family, and a handful of officers with whom he'd served. The memory of the day itself was now obscured by the rage that had consumed him. He and Lita, however, had shared a passion for freedom, that fragile bloom, and this pushed him on, to fight against those who would crush it underfoot.
Her portrait, folded away in his pocket, served as his constant reminder.
The land surrounding the town was forest with the occasional patterns of farmland, not easily traversable by vehicle. The target, he had to assume, would arrive in the town on foot and, with both the Rue des Chanoines and Eglise Saint-Etienne mentioned in intercepted messages, the church was the most logical choice for the information exchange to take place.
In the distance, he heard the world rumble. Not thunder, that was too natural a sound. This was the result of mortar shells, ripping into bodies, into metal and into the earth some miles away. The shelling continued for a good hour or so, during which Restarick pushed his mind away from the devastation.
And there was his target, clear as day through his rifle sights. A trench coat, its large collar turned up, obscured any sign of expression or guise, a large grey woollen hat pulled low over the spy's face. Over one shoulder, they held a khaki hold-all and it was this, Restarick knew, that held the papers he needed to intercept. On reaching the church door, the figure appeared to look around briefly, before ducking into the building.
Restarick cursed and shuffled forward on his belly, careful not to be seen. He couldn't risk going into the church itself in case the spy wasn't alone, though he suspected the spy would be making the exchange while out of sight. He would need to be damned fast to shoot down whoever came out of there.
He aimed for the bell tower, firing and quickly reloading. The bell tolled deeply and Restarick refocused his sights on the church door.
Then it was no longer the church door in the crosshairs. Now it was the traitor's head.
This was it, the moment that would bring the war to an end.
Restarick quickly checked his watch and smiled to himself. 1700hrs. The Great War, 28 July 1914 to 13 September 1918.
He would be the bringer of peace.
He pulled the rifle into his shoulder, the weapon tight in his arms, and squeezed the trigger.
To be continued…
You can find all the buy links for World War When here – https://worldwarwhen.co.uk/shop/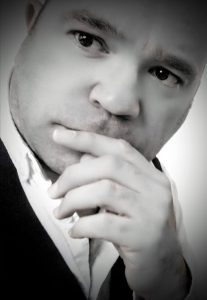 BIO
Elliot Thorpe is a freelance writer, having previously worked for Starlog and written for the sites 'Den of Geek', 'Shadowlocked', 'Doctor Who TV', 'Red Shirts Always Die' and 'TrekThis', as well as for Encore, the magazine for the theatre professional.
He scripted the full cast audio drama Doctor Who – Cryptobiosis for Big Finish in 2005 and in 2013, his first novel Cold Runs the Blood was published.
He also has contributions in Seasons of War: Tales from a Time War (2015), Grave Matters (2015), Doctor Who – A Time Lord for Change (2016), The Librarian (2017), The Wretched Man (2020) and Sherlock Holmes and the Woman Who Wasn't (2021).
For many years he enjoyed a working relationship with the West End production of The Definitive Rat Pack and in 2017 co-wrote Just Dino – A Recollection of Dean Martin with Bernard H Thorpe, which was expanded and re-released the following year as Dean Martin – Recollections. To date, three further volumes have followed: Dean Martin's Movie Moments, Dean Martin – A Discography and For The Good Times: The Dean Martin Compendium. https://www.facebook.com/The-Dean-Martin-Association-110034111572241
He is a long-term regular columnist for the US-based magazine Search (searchmagazine.net), writes for thedoctorwhocompanion.com and co-hosts Sid & Terry's Doctor Who Podcast on YouTube.
Please visit worldwarwhen.co.uk
https://www.facebook.com/World-War-When-A-Novel-112564057994522
Author photo courtesy A E Abbottson
World War When © 2022 Elliot Thorpe
Thanks for visiting today, Elliot,
Happy reading everyone,
Jenny x