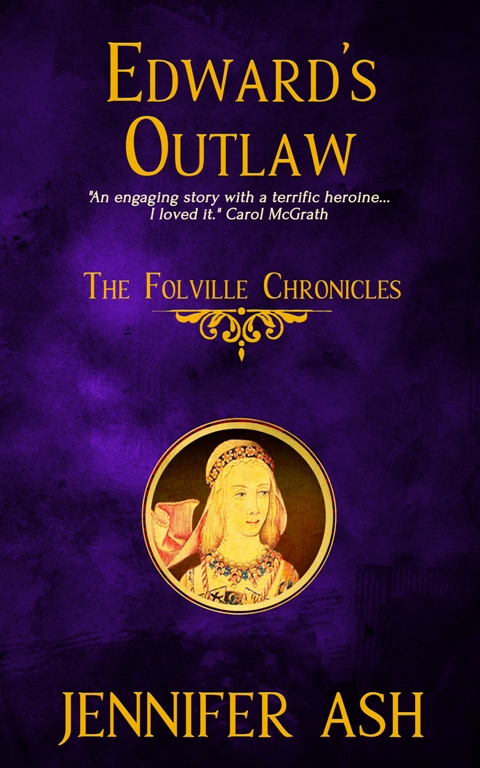 Book Three of The Folville Chronicles
January 1330: King Edward III's England is awash with the corruption and criminal activity that his mother, Queen Isabella had turned a blind eye to- providing it was to her advantage.
Now, having claimed the Crown for his own, Edward is determined to clean up England. Encouraged by his new wife, Philippa of Hainault and her special advisor- a man who knows the noble felons of the countries Midland region very well- King Edward sends a messenger to Roger Wennesley of Melton Mowbray in Leicestershire with orders to work with the county sheriff to arrest five of the Folville brothers…including the newly married Robert de Folville.
Robert takes his wife, Mathilda, to Rockingham Castle for her own safety, but no sooner has he left, when a maid is found murdered in the castle's beautiful guest suite, the Fire Room. The dead girl looks a lot like Mathilda. Was she the target, or is Mathilda de Folville's life in danger?
Asked to investigate by the sheriff in exchange for him deliberately taking his time in the hunt for her husband, Mathilda soon uncovers far more than murder…a web of carefully laid deception which trails from London, to Derbyshire, and beyond…
Available from: Amazon UK | Amazon US | Amazon CA | Amazon AU
REVIEWS
"I was waiting for this book all summer and noticed it came out even earlier than announced – happy days! 🙂 Wow, much more reading material this time, I loved it! I was worried that this might be the last one, but it looks like there might be more to come, phew! Brilliant twists, I wasn't sure who the murderer was until the very end. Really recommend!" Amazon
"The third in the series of stories based on fact and fiction. A history lesson as well as a good read. Roll on number four." Amazon
"The third book in Jennifer Ash's Folville Chronicles series is her best yet. It's historical intrigue based on real-life 14th century criminal gangs. The protagonist is the fictional Mathilda, wife of a member of the Folville criminal family. When King Edward III apparently orders the arrest of Mathilda's husband and her in-laws, she becomes involved in new mysteries — including a seemingly unrelated murder. The novel also touches upon the Robin Hood legend as the characters are very familiar with the earliest Robin Hood ballads and see themselves carrying on that tradition. It's a great mystery and a window into the past. And there are hints of further adventures to come. Highly recommended."  Amazon