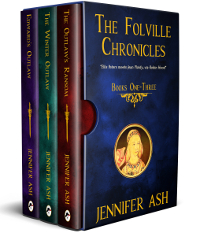 This special collection is a perfect read for all fans of Robin Hood and medieval adventure.
BOOK 1: THE OUTLAW'S RANSOM
When potter's daughter Mathilda is kidnapped by the notorious Folville brothers as punishment for her father's debts, she must prove her worth in order to win her freedom. With her life in the hands of the most infamous men in England, Mathilda must win the trust of the Folville's housekeeper, Sarah, and Robert Folville himself if she has any chance of survival.
Never have the teachings gleaned from the tales of Robyn Hode been so useful…
BOOK 2: THE WINTER OUTLAW
1329: It is the dead of winter and the notorious Folville brothers are on edge. There are rumours of an unknown outlaw terrorising the Leicestershire countryside. Could this man be Adam Calvin, who is being pursued for a crime he did not commit?
Mathilda of Twyford, newly betrothed to Robert de Folville, believes Adam's story. But after an attack on the household's trusted housekeeper, it falls to Mathilda to work out who can be trusted and who can't… With the Folvilles' past about to trip them up, it's going to take a level head and extreme bravery if Mathilda and Robert are ever going to make it to their Winter Solstice wedding.
BOOK 3: EDWARD'S OUTLAW
January 1330: King Edward III's is determined to clean up England and sends a messenger to Roger Wennesley of Melton Mowbray in Leicestershire with orders to arrest five of the Folville brothers … including the newly married Robert de Folville. Robert takes his wife, Mathilda, to Rockingham Castle for her own safety, but no sooner has he left, when a maid is found murdered in the castle's beautiful guest suite, the Fire Room. The dead girl looks a lot like Mathilda. Was she the target, or is Mathilda de Folville's life in danger?
Available from: Amazon UK | Amazon US | Amazon CA | Amazon AU