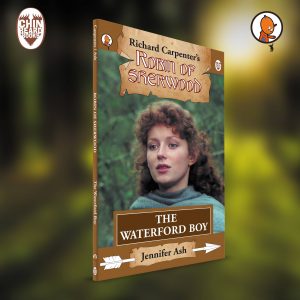 Blurb 
Richard Carpenter's ROBIN OF SHERWOOD
'THE WATERFORD BOY' – A new audio adaptation in paperback
(Set during Series Three, just prior to 'The Time of the Wolf')
Written by JENNIFER ASH
Cover by ROBERT HAMMOND
On King John's command, all convicted male felons from England's jails are being sent to fight in France. The King's chief recruiter, James D'Marelle, is touring the country and rounding up each quota of men.
When word reaches Nottingham Castle that he is paying a visit, the Sheriff orders Sir Guy of Gisburne to gather a few men from each local village to make up the numbers. In the village of Waterford, Gisburne becomes enraged by a young boy's ritualistic chants to Herne the Hunter and he vows to capture him.
Robin is angered by the Sheriff's new people tax… but his rage is nothing compared to that of Will Scarlet when he hears the name, James D'Marelle.
For Will and the recruiter have met before… many years ago…
Television series Robin Of Sherwood © HTV/Goldcrest Films & Television 1983. Created by Richard Carpenter, with grateful thanks to his Estate.