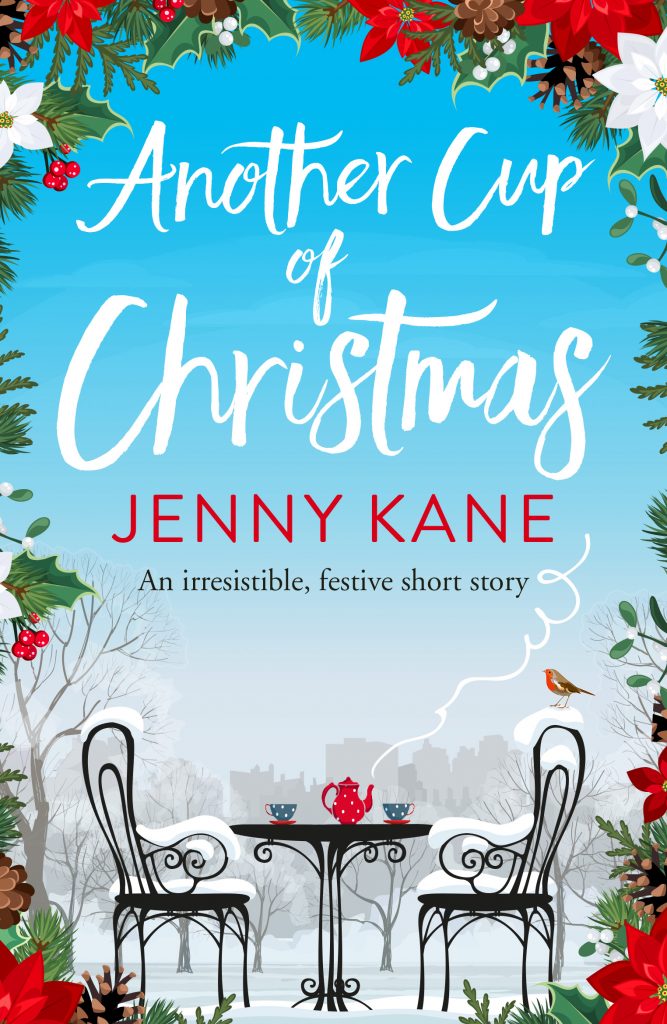 Another Cup of Christmas is a festive sequel to Jenny Kane's fantastic debut romance, Another Cup of Coffee.
Five years ago the staff of Pickwicks Cafe in Richmond were thrown into turmoil when their cook and part-owner, Scott, had a terrible accident. With help from his friends, his wife Peggy, and the staff at the local hospital, he made an amazing recovery. Now Pickwicks is preparing to host a special Christmas fundraiser for the hospital department that looked after Scott.
Pickwicks' waitress Megan has been liaising with the ward's administrator, Nick, as all the staff who helped Scott's recovery are invited are invited. As the problems of organising the fundraiser take up more and more of their busy lives, Megan and Nick contact each other more frequently, and their emails and phone calls start to develop from the practical into the flirty.
But can you actually fall for someone you've never met?
As the fundraiser draws closer, Megan is beginning to think that she had imagined all the virtual flirting between herself and Nick – he promised to arrange to meet her for real, but he hasn't done so. Now he's bringing someone with him to the fundraiser, and they're just bound to be everything Megan feels she isn't …
Available from:
In eBook format from Amazon UK and all other good e-book stores.
Another Cup of Christmas also appears in the Jenny Kane Christmas Collection
Reviews:
"…A Cup of Christmas carries on where Another Cup of Coffee, left off.  I was SO happy to get to visit with these characters again!  …The story revolves around planning the fund raiser, as well as the blooming romance between Megan and Nick …Overall, a wonderful holiday tale!  Who doesn't love romance and Christmas time? Goodreads 5 star review
****
"Great follow up story to Another Cup of Coffee!
Jenny Kane does it again.  This story takes place five years later with the Pickwicks Café bunch.  They are throwing a fundraiser to help raise money for the hospital that helped Scott recover from his accident.  Megan is the new waitress at Pickwicks.  She is doing her best to help get the fundraiser together and coordinating with the hospital. Megan is working with a man named Nick who is an employee at the hospital. She has only had contact with him via email and occasionally phone call or two.  Megan ends up having feelings for Nick even though she has never met the guy. Nick is worried about his feelings for Megan. Is she like his ex? Is she a liar? One way to find out is to go to the fundraiser to meet her. ..I really loved this book…this is almost like a true story. I can't wait to read more by Jenny Kane. Her first two books are a hit in my opinion." Amazon 5 star review
****
'I loved this… it was sweetly romantic and kept me hooked! But now I'm craving more like a caffeine fix 😉 x' Amazon
****
'Lively characters, nice to catch up with them & see where a few extra years have brought them. Hoping there will be more coffee books coming along.' Amazon
****
'Another Cup of Christmas is a really sweet, romantic read and when I say romantic, I don't just mean with regards to Megan and Nick's relationship. Jenny Kane conveys a real community spirit when it comes to Pickwick's Christmas fundraiser. I loved they way each and every character willingly threw themselves into the event and I felt myself really getting into the festive mood as the story developed. A great read in the run up to Christmas, highly recommended x' Amazon