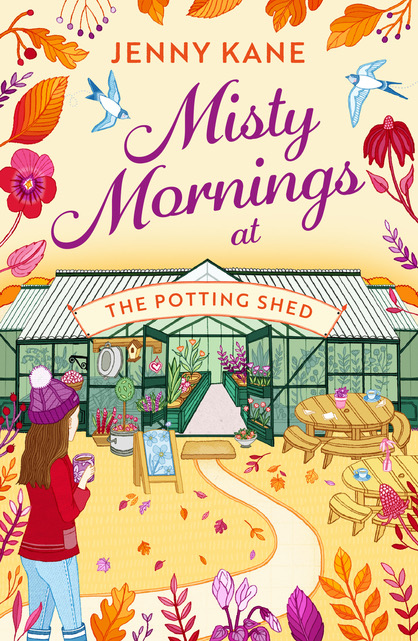 Don't miss out on the third lovely book in the brand new series by #1 Kindle bestselling author Jenny Kane.
Welcome back to The Potting Shed! As Maddie and Sabi re-open the doors of their family-run garden centre. Business is booming, and it's time to give back to the community that has kept The Potting Shed afloat, by opening the Forget-Me-Not dementia café.
But, as the doors to the café open, Sabi is offered the chance of a lifetime, that could take her away from The Potting Shed for weeks, café manager Jo's frail, elderly mother is taken ill, and Maddie's partner, Ed, takes a job in a faraway city just when Maddie needs him more than ever. A new member of staff is desperately required – who will join Sara, Jo and Ivan as the busy autumn season fast approaches?
Available to pre-order from Amazon UK, Amazon US, Kobo, Nook and Waterstones as an ebook or paperback.
You can also buy the story in audio format: Amazon UK, Amazon US.
PUBLISHED ON 14th SEPTEMBER 2023
PRE-RELEASE REVIEWS
'Oh my, this book gave me such warm and fuzzy feelings! The friendships, love and community caring is literally the backbone of this story and it means everything! I will reread this again. I loved it. And the thought of a dementia cafe is genius! This needs to happen!'  Netgalley
'I really need to learn that "I'm just going to read a few chapters" of a Jenny Kane book always becomes "I couldn't put it down and read it all in one day". I have loved this series from the beginning and it continues to deliver heart-felt and sweet stories. …' Netgalley
'Fantastic to be back at the Pottering. Can read alone. Lovely having Belle as a new character. The cakes sounded yummy. Tristan was a character and a half. I loved the twists with him. Happy and sad tears in the book. Maddie is a fab boss. Jenny Kane is a lovely writer.. Dementia is such a difficult subject and it was covered so well.. A great read. Loved it.' Netgalley
'Misty Mornings at the Potting Shed, what a sweet, warm installment in the series. I liked reading the progress of the characters – their personal and professional lives getting more and more towards their goals.
It is a warm friendly read, perfect for cosy winter days or just for some good ol reading time.' Netgalley
'What a sweet, cozy, heart warming story! This wasn't what I expected…it was so much better! It really was a feel good community story that brightened my day. I loved the plant aspect, our characters, and the vibe to this.' Netgalley
'Thoroughly enjoyed the 3rd instalment of The Potting Shed series. Although this could be read as a stand alone it makes more sense if you have read the first 2. This develops the characters further and get to know Jo better and meet Sara properly. If you haven't read 1 and 2 then I definitely recommend them and also this one. Great summer reading and escapism.' Netgalley
'I truly love this series. I have read all the books and I adore the characters. Even the slightly annoying one has made it into my heart (I won't mention her name). The author has created a world at the potting shed that I wish I could live in. When they are looking for help to run it, I want to volunteer! They do not even have to pay me. I would love work in the café and to care for the plants also!
I enjoy stories that have characters of various ages, and this book has that quality. Several teens are instrumental to the story as well as some older folks.
This book is a great continuation of the series. Quite a bit happens in these pages, but as always in a sweet romance, all is good by the final page. I really needed an escape from real life and I thank the author, Jenny Kane for providing a place to regain my faith in people. I look forward to future books in this series and am hoping that they will be some!' Netgalley
'Jenny Kane has done it again. This was a lovely addition to the "Potting Shed" series. This was absolutely delightful. The plot was well-paced and captivating from start to finish. The characters were charming and witty. I highly recommend this fun and quick read! Many thanks to the author, publisher, and NetGalley for the advanced copy of the book.' Netgalley
'This is the latest of the Potting Shed series and it doesn't disappoint.
With a familiar cast of characters, and a few new ones, I quickly settled in for a good read.
The Potting Shed is beginning to feel like a real place that I'd like to visit!' Netaglley
'I've been looking forward to the latest instalment of the Potting Shed story for so many reasons, but mainly because the cast of characters is so diverse that I was intrigued to see not only the next stage in the lives of the main characters, but also who would be introduced in the next book. I can't say too much about the next relationship because it would give away too much of the plot, but suffice to say it didn't disappoint and it felt particularly poignant reading one set of characters think about the reasons why they shouldn't get together, because it was a very similar situation to the one my parents found themselves in. I know that they didn't always find it easy, but they made it work beautifully and I was desperate for the characters to do the same. Even the 'baddie' of the book is completely three-dimensional and a part of me still felt sorry them when they were unmasked at the end. Their upbringing forged them into who they are to a large extent and the only thing that made me less sympathetic was that through the Potting Shed team they were given the chance to reform and didn't take it. I do think this is one of the real strengths of Jenny's writing more generally as well – she has a real understanding of the depth of human emotions and the psychology of how people react to things and consequently, her characters never feel as though they are anything but real, living, breathing, people and this is why readers come back again and again to her books.
Possibly the most telling thing about my reading of this book is that two of my favourite characters weren't in it. I knew they weren't going to be and because I loved them so much in the first two, I wondered if I was going to enjoy this one as much without them. I can honestly say that as soon as I started reading it, I completely forgot that they were missing from the action. The other thing that really stuck with me when I closed the book was the relationship between Jo and his mum and Jo's continuing struggle with who he is (this is a massive oversimplification and I think it would be much fairer to clarify that it's Jo's understandable fear of how people will react to him, rather than his struggle. It is other people's problem, not his.) I loved that we were able to see how Jo's mum's reaction to being told he was male had given him the stability and confidence he needed to just be himself. So often in fiction we see trans characters being rejected, scorned, mocked or portrayed as little more than a victim and I LOVE that in this series we have a flawed, but utterly likeable character who is accepted by those closest to him. That's not to say it's all sunshine and roses – there is a healthy dose of reality scattered throughout the series, shown through different characters and how they behave towards Jo – but at its heart, it's a positive message and for me personally, it was important to show that many parents do indeed love their children unconditionally. As they rightly should.
In so many ways, this series is quite a departure from traditional books in this genre, which is precisely why I like it so much. However, Jenny still manages to stick to enough of the conventions to keep the story attractive to more conventional romance audiences and I admire the delicate balancing act she's achieved.' Netgalley