The last thing I expected I'd be doing during the drafting of my novel, Romancing Robin Hood was plotting my first murder- and yet, that is exactly what happened.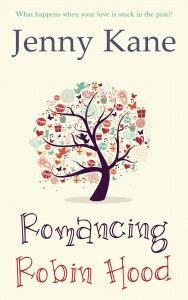 Perhaps, with a legendary outlaw in the title, it isn't so surprising that I have found myself sorting out the finer points of a murder mystery- and yet I didn't see it coming. My intention was to write a 'feet up on the sofa read' style modern romance, with an accompanying medieval romance. What I ended up with was a modern romance and a medieval murder mystery!
Romancing Robin Hood's  secondary story is centred around a real life fourteenth century criminal gang- the Folvilles. This family was based in Ashby-Folville in Leicestershire, but ruled a larger area of the country, which also included Rutland, Northamptonshire, and part of Derbyshire, with a fearful reputation. It was quite fun drawing an easy read map of the Folvilles' territory to go into the front of Romancing Robin Hood.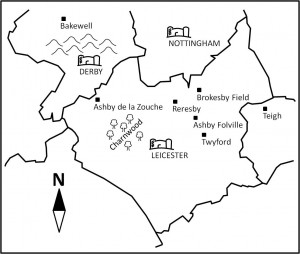 The Folvilles were one of the criminal family gangs that I researched in-depth when I was a student many moons ago. They were members of the lower nobility, who took crime (both violent and otherwise), as a way of life.
My novels fourteenth century protagonist, Mathilda, has to get to know the Folville family rather better than she would have liked… (you'll see!!) As well as living with them, she suddenly finds herself under a very frightening type of suspicion…

I must confess, I'm rather enjoyed weaving this sub plot around the main romance of the modern part of Romancing Robin Hood. I had no idea killing someone off could be so much fun!! It's like doing a jigsaw from in the inside out, while having no idea where the corners are…
****
Blurb
What happens when your love is stuck in the past…
Dr Grace Harper has loved the stories of Robin Hood ever since she first saw them on TV as a girl. Now, with her fortieth birthday just around the corner, she's a successful academic in Medieval History, with a tenured position at a top university.
But Grace is in a bit of a rut. She's supposed to be writing a textbook on a real-life medieval gang of high-class criminals – the Folvilles – but she keeps being drawn into the world of the novel she's secretly writing – a novel which entwines the Folvilles with her long-time love of Robin Hood – and a feisty young girl named Mathilda, who is the key to a medieval mystery…
Meanwhile, Grace's best friend Daisy – who's as keen on animals as Grace is on the Merry Men – is unexpectedly getting married, and a reluctant Grace is press-ganged into being her bridesmaid. As Grace sees Daisy's new-found happiness, she starts to re-evaluate her own life. Is her devotion to a man who may or may not have lived hundreds of years ago really a substitute for a real-life hero of her own? It doesn't get any easier when she meets Dr Robert Franks – a rival academic who Grace is determined to dislike but finds herself being increasingly drawn to…
Buy links
Amazon UK – http://www.amazon.co.uk/Romancing-Robin-Hood-Jenny-Kane-ebook/dp/B00M4838S2/ref=sr_1_1?ie=UTF8&qid=1407428558&sr=8-1&keywords=romancing+robin+hood
Amazon.com – http://www.amazon.com/Romancing-Robin-Hood-love-story-ebook/dp/B00M4838S2/ref=sr_1_1?ie=UTF8&qid=1409936409&sr=8-1&keywords=romancing+robin+hood
Accent paperback link- http://www.accentpress.co.uk/Book/11599/Romancing-Robin-Hood.html
***
Happy reading,
Jenny xx