I'm welcoming the brilliant Caroline Dunford, author of Euphemia Martins Series, to my site today. Why not grab yourself a cuppa, and sit down for five minutes, and check out this great interview!

What inspired you to write your book?
The Euphemia Martins series is one of those ideas that arrived all in a rush but still continues to unfold. The stories are set in a time that I love but with which I also have a very personal connection.
The heart of my novels is inspired by a family legend. My great-grandmother came from a very wealthy background but, after a falling out with her father, was forced to make her own way in the world. Euphemia is forced by the death of her father, and her mother's estrangement from her own father, an Earl, to also go into service.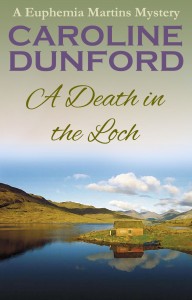 My great-grandmother had the choice of becoming a 'fallen woman' or going into service so she chose to enter service as a maid. However, a life of luxury had not prepared her mentally or physically for any kind of work. Her story led to her meeting a handsome tobacconist and a marriage that saw her eventually escape from service and go on to have thirteen children, all of whom survived to adulthood. She never reconciled with her family and stayed poor all her life, but I like to think she was happy. I also think she was an enormously brave woman, and while Euphemia has not (yet) escaped service by marriage, her central characteristics are her bravery, her wits, her innate sense of justice and, of course, the most potent weapon of any virtuous young woman, her scream.
The Euphemia Martins Mysteries are set between 1910 and 1918. It is a time I have long been fascinated by. So much happened and so much changed. Not least the breakdown of the class system and the rise of the Suffragettes. In the decade before WWI the majority of the British population had no idea what was about to happen but, behind the scenes, all the pieces were being lined up for war. During the war itself people at all levels were challenged in terrible ways and certainly the beginning of the end for most of the Great Houses of Britain.
Do you model any of your characters after people you know? If so, do these people see themselves in your characters?
No. My life, and the people I meet, inspire me, but generally the people I know are far too complex and far too odd for any reader to ever believe in them! Euphemia is the only person who has a figure of real world inspiration although, of course, I never met her.
What type of research did you have to do for your book?
I spend a lot of time visiting the Great Houses of Britain (sadly, as a visitor buying a ticket at the door rather than as a guest). I also investigate the major historical incidents and societal shifts that took place during Euphemia's life. I want to keep my heroine rooted in events of the time. She is not always at the heart of things, but when major incidents, like the sinking of the Titanic, take place it has an effect on her. And then, of course, there is that sneaky spy Fitzroy who has made his way more and more into the novels and led to me investigating the many elements espionage of the time.
Which Point of View do you prefer to write in and why?
I write entirely from Euphemia's point of view. She is caught between the worlds of upstairs and downstairs and so has a very unique perspective. While she is intelligent, Euphemia is also very naïve and this may mean the reader sees more in her narrative than she herself understands. This is hopefully intriguing, but also often comical. Euphemia is also uniquely placed to comment on what she sees, especially as her deceased father has gifted her with an innate and unshiftable sense of justice in world where the rich can overrule the legal system and the servants (and the poor in general) do not expect to receive justice. Euphemia is an outsider, an unusually modern voice for her time and someone who regularly challenges the rules, not to mention the people around her. However, just because she challenges, it does not always mean she is necessarily successful in her desire to bring justice.
Do you prefer to plot your story or just go with the flow?
I always know the murder mystery at the heart of the novel. I often make reference to historical events, which I have to plan how to weave into the novel. However, as the series develops the characters are taking on much more of a life of their own, and side plots (romance, conflicts, passions etc.) often develop as I am writing the stories. I have to keep the mystery on track, but at the same time allow for the organic development of my somewhat headstrong characters. Bertram, Euphemia, Rory and the slippery Fitzroy are all rather persistent and stubborn characters that push for more and more time in the limelight!
What is your writing regime?
When I am writing a book (which is most of the time) I aim for at least 2,500 words a day. I like to write earlier on in the day, so I know my main work for the day is accomplished. As well as writing I spend a fair amount of time on publicity and social media, as well as research. Writing is often the fun and easy part of my day.
Euphemia Martins Books available
Currently there are six Euphemia books available. In chronological order these are
A Death in the Family
A Death in the Highlands
A Death in the Asylum
A Death in the Wedding Party
A Death in the Pavilion
A Death in the Loch
(A Death for King and Country is will be published very shortly.)
All books are available in both ebook and print form.
Thank you Jenny, for the great interview. I love being able to reach out to my readers.
Links
http://www.accentpress.co.uk/Contributor/10221/Caroline-Dunford.html
https://www.facebook.com/CarolineDunford
Find me on twitter as @verdandiweaves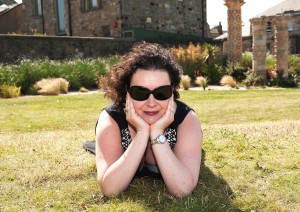 Bio
After time spent as a journalist and a psychotherapist I became a full-time author and playwright in 2002. I write murder mysteries, contemporary Scottish romance and YA. My plays cover a variety of subjects from the life of Burke and Hare to what can happen to you if you are an over dedicated Elvis fan!
How we interact as human beings has been a life-long fascination for me, and even led me to do a second degree is psychology. I believe that stories are at the heart of the human condition. We need to tell them to help understand the world and others around us.
I live in a cottage by the sea with my partner, my two young sons and an awful lot of on-going building repairs. I love reading, cooking, chatting with friends and learning.
***
Many thanks for such fantastic interview answers Caroline.
Happy reading everyone,
Jenny xx