I'm delighted to have Bea Stevens with me today, sharing a little from her brand new romance:
Best Foot Forward.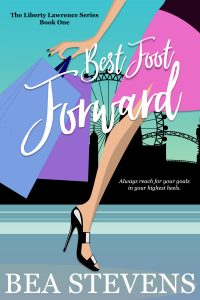 Blurb
Liberty 'Libby' Lawrence adores designer labels – even though she can't afford many. And she especially loves shoes. Her favourites are Christian Louboutins – though not those fake ones Bianca Morrison-Wright gets from the market (the red paint rubs off the soles and everything!)
She's working as a manager (albeit junior manager) at a London hotel, when the boss announces that there has been a theft from his office. Libby couldn't help noticing some strange marks on his carpet when she was called in for a reprimand recently (not that it was her fault, or anything) which lead her to surmise who the thief is.
Detective Sergeant James Harper, the hunky policemen who is assigned the case, seems interested in her theory – until she names her number one suspect. Libby is devastated, not only because he doesn't believe her but – more importantly – that this guy knows NOTHING about shoes!
As Libby struggles to convince the sergeant that her hunch is right, her boss that she's ready for promotion and herself that she's not really falling for the gorgeous copper, she realises that maybe she's wrong about the theft, she's not suited to the hotel industry and that the handsome hunk is married!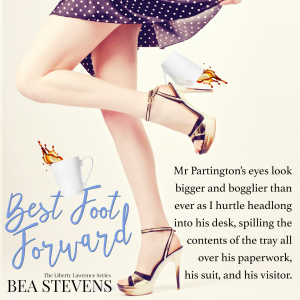 Excerpt
I'm busy watching a yummy copper-haired guy who's just walked through from the bar and is looking around. It's him. It's Mr Handsome Hunk himself.
Oh my God.
My heart pounds like a bass drum.
Cassie's nearest and goes up to him, seating him on table twelve, just next to the deuce by the window. That's a table of two, by the way, not just a tennis term.
I quickly pick up a menu and head over, trying not to catch the attention of the two reporters on the next table. Cassie's eyes flash at me as our paths cross, and I suspect she's thinking the same as me – what a stud!
'Good afternoon, sir.' I smile as I hand him the menu. 'The soup today is potato and leek, and I'm afraid we've run out of lamb.'
He doesn't even smile as he takes the menu from me. There's a thud in my stomach.
'Pity, I quite fancy lamb today.'
I daren't tell him what – or rather who – I fancy.
'Sorry, sir.'
He frowns; I hope it's not because of the lamb.
'Just be careful of the vegetables,' Ben calls over from the next table.
'You're okay if you just want a pea, though,' Rob chimes in with a chuckle.
Very funny. I shoot them a dirty look, stick my nose in the air and walk away. Or at least, I would have walked away if my heel hadn't got caught in the tablecloth as I spun around. I yelp as my ankle twists and there's a clatter of silverware as the contents of table twelve hurtle through the air, firing all around me like bullets as I fall with a hefty slam, ending up sprawled across the floor in between the two tables.
'Libby, are you okay?' Cassie's there in an instant. I peer up gingerly, having covered my head with my arms in case the wineglasses came crashing over me.
'I think so,' I say, sitting up carefully.
The reporters on table fourteen are laughing hysterically, while the man on twelve is shaking his head and holding two glasses in his hands.
'I'm really sorry.' I slowly stand while Cassie gathers the cutlery.
'I saved these.' The man hands me the two wineglasses. 'Perhaps I could sit at table thirteen instead?'
'I'm afraid we don't have one,' I murmur. 'It's considered, um…unlucky.'
***
If that's whetted your appetite, you can buy Best Foot Forward here: https://tinyurl.com/y7hajzqm
***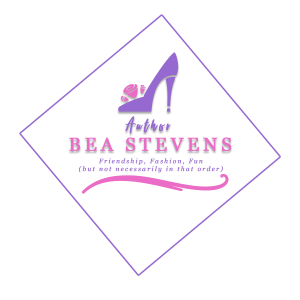 Bio
Bea lives in the beautiful countryside of Shropshire, England, but is never averse to taking a trip to the local (and not-so-local) towns to check out the big stores for new shoes and bags (all in the name of research, of course J).
She has worked mainly in catering and admin, but had to give up her job when her fight against breast cancer took another downward turn. An eternal optimist, she took the opportunity to write – something she has always loved. Every cloud… and all that!
She hopes very much that you share her sense of humour and that you enjoy her first Chick Lit novel, Best Foot Forward.
Please feel free to contact her at https://www.facebook.com/AuthorBeaStevens/ 
***
Many thanks for sharing your lovely new novel with us today Bea.
Good luck, and happy writing.
Jenny xx