This time last year, I shared a birthday blog with you saying that for years I've intended to write a story based on the moors of Devon, and yet somehow time, and other work commitments, have never allowed it.
This year for an early birthday present, the lovely Dr K took me for a weekend away on Dartmoor. We weren't there just to escape from our workaday lives however- I had a mission. I wanted to find a place that could- in my mind at least- double for fourteenth century Sherwood!
Don't worry dear reader- my increasing age hasn't addled my brain (well, not much). I am in the midst of writing an entirely medieval sequel to my popular timeslip novel, Romancing Robin Hood, and as it is one heck of a drive up to the midlands from Devon, I wanted to find somewhere more local to visit that would let me feel a little of the forest atmosphere.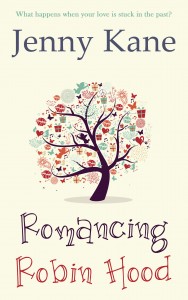 When I write I find it essential to experience the location about which I'm writing. Obviously, until they invent time machines, I can't nip back and feel the medieval air myself- and I have been to Sherwood many times so I have memories to fall back on- but I wanted to stand in a woodland area where I could see nothing modern, hear nothing modern, and soak up the atmosphere.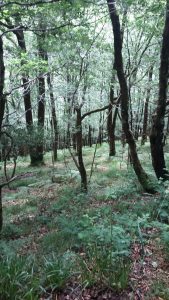 Only a few minutes along a walk by the side of the Teign Valley, I found what I was looking for. Oak trees, spaced widely, but close enough to form cover. No modern edifices in sight. No buzzing from mobile phones. No planes flew sounds overhead. The air was right. The breeze was right. The scent in the air was right. In my minds eyes Robin Hood himself could have been hiding anywhere close by – or in this case the new outlaw – a less pleasant outlaw who, for now, shall remain nameless…
A wonderful walk later- and a rest by the thirteenth century Fingle bridge (more outlaws are hiding I'm sure), and many new ideas were brewing in my mind for the medieval mystery forming in my head. Mathilda (who you will remember from Romancing Robin Hood), is in for quite an adventure…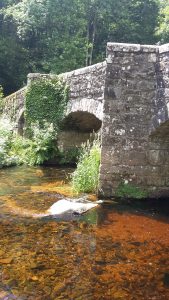 And talking of brewing- let's all settle back with a cuppa-(coffee for me please)- and a nice nibble of birthday cupcake, and contemplate if I am going to kill anybody off- or not…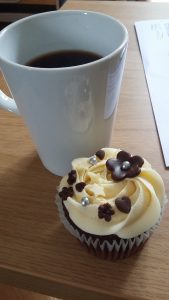 Happy reading,
Jenny x