There are many advantages to having (yet another) birthday…This is what I'm telling myself as I wake up on my 45th birthday in a state of bewilderment that I've got this far through my life without anyone telling me I'm doing it wrong.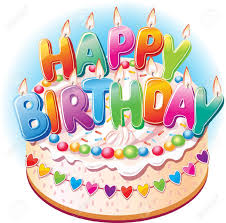 I will be honest- the idea of being 45 does not fill my with joy. On the other hand, not reaching 45 would have one hell of a lot worse, and so I'll go with it- although it had better be a damn site better to me than 44 was!
A lot went wrong when I was 44 –  book deal promises died, publishers dissolved into the ether, writing promises were broken, and so on….On the other hand (again)…out of these professional ashes came Imagine… The creative writing business I am co-managing with the lovely Alison Knight.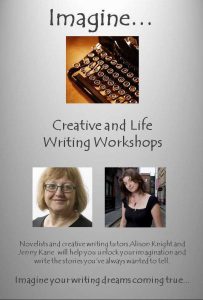 It has already been so much fun- and we've had some fantastic adventures sourcing potential retreat venues, appearing on BBC Radio Wiltshire, teaching from Penzance to Chippenham, and lots of places in between. My highlight so far…
Carefully easing out the memories of a class of dementia sufferers who all want to get their life stories on paper before it's too late. Humbling.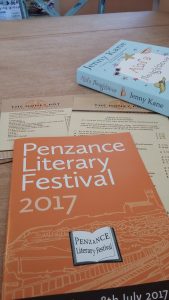 This last year has seen me embark upon my first literary tour, taking Abi's Neighbour on a trip around the South West, ending up in Cornwall, where it is set, amongst the rocks of Penzance, and the yellow sands of Sennen.
Outside of my working life- my eldest daughter left compulsory education, has recently won a prize at the Royal Institution of Science for outstanding work in biology, and is about to head off to university. Meanwhile by youngest daughter has just won a scholarship to Maths school over the Summer, as well as an award for academic excellence in Statistics – not to mention a 2nd Dan Black Belt in mixed martial arts (Don't mess with daughter number 2!!) I think you can say I'm a proud Mum.
***
As if to offset the extra wrinkles and gradual general in-toning, a birthday does bring with it some perks.
I get to stay in bed and write this rather than go to the café to write this! I'm going to take part of the day off so that I can explore a little of the beautiful Exmoor countryside, and- it my nostrils don't deceive me, and I'm not hallucinating the aroma coming from the kitchen, later there will be cake…
If you like a bit of a saucy read, I can also offer you a little pressie- in the shape of my Kay Jaybee novella, Wednesday on Thursday– which is FREE on Amazon this week (over 18's ONLY)
So, if you'll excuse me, I'm off to see if the postman has been, and to pull on my walking shoes. If I'm a good girl they might just walk me in the direction of a scone or two…
Happy reading,
Jenny x