It's lovely to be here on the second day of my blog tour celebrating the launch of Living the Dream and talking about the importance of writing buddies. This is my third book (fourth if you count the anthology with The Romaniacs) and every time I say that I have to skip round the room a few laps to calm down.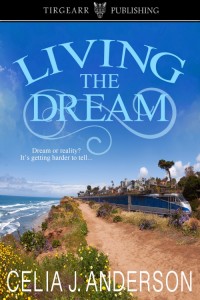 It only seems like five minutes since I met the other Romaniacs (Sue Fortin, Laura E James, Debbie Fuller-White, Vanessa Savage, Lucie Wheeler, Jan Brigden and Catherine Miller) at the 2011 Festival of Romance in Watford. Since then we've propped each other up through numerous writing and life hiccups, made each other laugh until we cry, howled at each others' rejection slips and celebrated all the milestones in our new lives as 'proper writers'.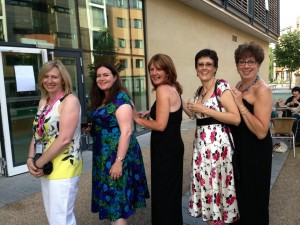 The best advice I could ever give to anyone who's at the beginning of this journey is to get yourself a gang like these ladies. We were all unpublished when we met, and none of us could have predicted what happened next. There have been competition wins, awards, publishing contracts, wine by the bucketful and so much cake you could build a bridge over the channel. But it's the laughs that have kept us going. On your own you're in danger off taking the bad times to heart and beating yourself with a big stick. Together, naff as it sounds, we are strong.

Excerpt:
I rummaged in the drawer for a plaster to put on my bleeding toe and imagined my husband lying on a hospital slab – cold, lifeless, and waiting for the knife. We locked glances as he swung the mirror round again, my wide green eyes meeting the familiar blue and beady gaze head on. I watched as he tossed back his curls. They were long, grey, and slightly greasy. I wondered how soon medical science could be persuaded to have his body.
'I need to go,' I muttered, looking away before he could see the depth of my loathing and the treacherous angry tears that were starting to prickle my eyelids. 'We've got a heavy day today.'
'Actually, Vita, you did manage to get that message across. You've been wittering about it for the last week. Why don't you just come right out with the truth? You're bored with your job and you're jealous because I can work from home, aren't you?'
Work? When was the last time any of that had happened in this house? Not this month, for sure. I took a deep breath. I badly wanted to get a few things off my chest but a morning row always makes my day go sour, however good it feels to shout at Ronan.
'No, that's not the problem – you're putting words into my mouth again. It's just that it's going to be a really long day. We've all three got back-to-back counselling sessions, Jack and Fliss are just as busy as me, so I won't be home until at least seven o'clock. Could you maybe sort dinner out tonight?' I tried not to sound grovelling, but heard myself adding, 'Please?'
'Bloody hell, you want me to cook again? What's it going to be?'
'Anything you like. There's nothing in the fridge, and the freezer's practically empty, too.'
'I can't believe you're asking me to go shopping, especially after what happened last time. I haven't been able to go back into Sainsbury's since…' He shuddered and raised the volume a notch. 'You know I've got a deadline for my edits. The books don't write themselves, you know. They say crime doesn't pay, and crime fiction certainly doesn't.'
This was an old joke of Ronan's and I didn't even try to force a smile as he continued, 'You're not trying to tell me that your job's enough to make ends meet if I don't churn the books out? Why can't you go out in your lunch hour?'
'I'm not getting one today. Jack had to cover for me on Friday while I went to the bank to see about the loan. Fliss said it was okay but I've got to pay the time back.'
'Right, so basically you're blaming me for making you lose your lunch break? Because we need a top-up loan?'
'No, I…'
'Actually, Vita, if you didn't spend so much on clothes, we might be able to manage.'
I felt my jaw drop. That was so unfair. I have never been preoccupied with the way I look. Dressing in low-key clothes for work helps people to relax, and my hair's tied back in a ponytail most of the time. A pair of black framed spectacles helps. I put them on if I'm seeing clients who might reckon I look too dizzy and blond to be a counsellor – no-one knows they're plain glass. Ronan used to like me to go out in tight jeans and little crop tops, but he never seems to notice what I put on lately. I faced up to him, all five feet two inches of me.
'When did I last spend money on things for myself?'
He snorted and rolled his eyes. 'Well, that's obvious. I always think it's a shame when a woman lets herself go.'
'Hey, come on. Either I splash out on clothes or I don't bother with how I look. You can't have it both ways, Ronan.'
'Oh, you think you're so clever, don't you, Vita? Sooooo sharp.'
I could feel myself building up for the sort of explosion that would blow us apart once and for all. Breathe, Vita, breathe, I told myself. There's no time for a showdown today even if I would love to shout and rant at the chauvinist pig with his endless jibes and digs. More and more lately I've been biting my tongue – swallowing the fierce responses I want to fire back at him. Arguing with my husband is pointless. He always wins. But then again, nobody can have a winning streak that lasts forever, can they?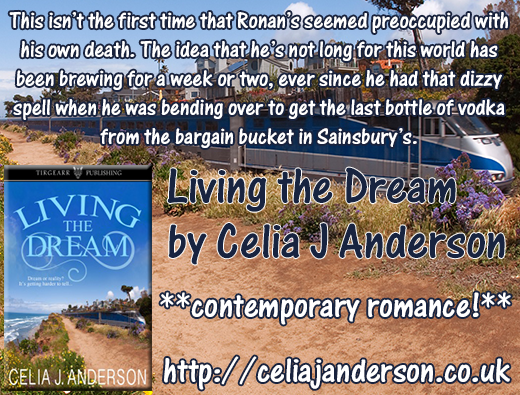 Blurb:
When dreams and reality crash and mingle, escape can be the hardest challenge of all.
Longing to get away from her troubled marriage, the opportunity to cross America by train seems like a dream come true for Vita Craythorne. But charismatic travel agent Moriarty Miles has other ideas; by replacing her friend Jack on the trip, Vita has unwittingly set herself up as a guinea pig for Moriarty's mind-blowing and potentially dangerous new virtual-holiday project. His idea is to give clients the holiday of a lifetime without ever having to leave the comfort of their favourite chair. It's exciting. It's innovative. It could be just what Vita needs. That is, if she can avoid becoming trapped inside her own, miraculous dream world.
Here are my buy links:
http://celiajanderson.co.uk/books/living-the-dream/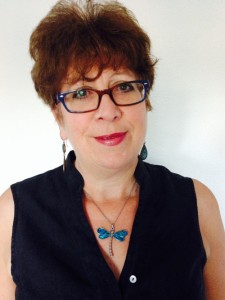 Author Bio:
Celia J Anderson is passionate about writing, cake, wine and long walks in the Quantock hills or on random beaches. She is very proud to be the assistant head at a Catholic primary school in the Midlands and divides her time between walking off the cake, inventing imaginary worlds and teaching English and drama.
https://www.facebook.com/CeliaJAndersonAuthor
http://www.twitter.com/celiaanderson1
GIVEAWAY!
Make sure to follow the whole tour—the more posts you visit throughout, the more chances you'll get to enter the giveaway. The tour dates are here: http://www.writermarketing.co.uk/prpromotion/blog-tours/currently-on-tour/celia-j-anderson-3/
***
Thank you for visiting today Celia! I wish you a very successful tour.
Don't forget to enter that giveaway everyone!
Happy reading,
Jenny x