It's Day 2 of my Blowing the Dust Off series. Today we are in the company of Nell Peters (she of the end of the month blogging epics). She is taking a peak at her first crime novel By Any Other Name.
Go grab a cuppa, sit down, and enjoy…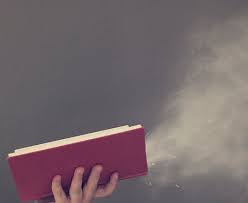 Hi Jenny – is it the end of the month already? Oh no, different gig – I'm here to waffle on about one of my backlist masterpieces! Silly me …
It was on (Friday) 25th April 2014, that I received an email from Greg Rees, then an editor at Accent, telling me he'd finished the complete MS of By Any Other Name and wanted to publish it – as he read through, he'd been flabbergasted not once, but twice apparently. Go me! The offer came as a huge surprise, since when he'd liked the original three chapter submission and asked for the rest, I'd rather dismissed the possibility of things going any further – I expected to receive yet another 'not right for our list at this time' or 'I just don't love it enough' type rejection. I've had enough of those to metaphorically paper a medium-sized room, although funnily enough, none for that particular book, as I'd only just finished writing it. When I say 'just finished writing' I mean the final two thirds of a crime novel started so long ago I can't actually put a date on it – except that it was just after Queen Victoria died.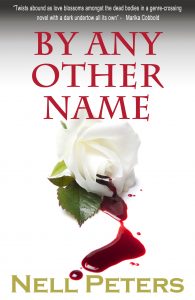 The first third of BAON had to be rewritten too from memory, after #3 son managed to crash my PC spectacularly and send all my files spiralling into cyber space, without hope of retrieval – and I had no back-up, nada! Rookie mistake … I dipped into the rewrite now and again over the years, in between writing other stuff, and eventually got to the bit where everything had disappeared in a puff of ether. Then I had to actually start thinking how the plot would evolve and finish the thing – it actually took on a whole different outline to my original mental blueprint.
However, that Friday the excitement and anticipation of publication had to take a back seat very quickly, because the following day was GD Isla-Rose's first birthday – and she was having a big party, for which I'd promised to make a pink princess fairy castle cake, plus oodles of buffet food. I mentioned the cake making to Greg and he very helpfully sent a link to an M&S creation that would have been perfect, except for the seven day waiting period. Damn! So, into the kitchen toddled the least domesticated female since Lizzie Borden's stepmother served up that putrefied mutton …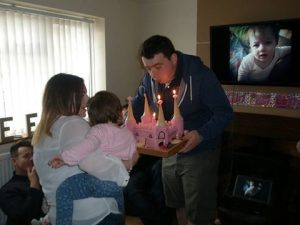 Isla is #4 son's (now) older daughter and he rocked up to, erm, help with the cake. By the time we'd finished many hours later, all book publication thoughts had left the building and the kitchen had suffered a snow blizzard, covered in flour and icing sugar (as were we!) But we were reasonably pleased/relieved at the result. Happy to report that of the too many people packed into their tiny house, nobody died of food poisoning from the party fodder and a good time was had by all.
The next week, my contract arrived, but before I could sign it (against the advice of the Society of Authors, I might add) my father was taken ill in Twickenham and I had to speed off to his bedside, via long distance trains and a tube strike. Dad was fine, of course – he's a life-long hypochondriac, but even they become genuinely ill sometimes, and at eighty-nine it was a bit risky to ignore his protestations. I eventually managed to extract myself from his sick bay and return to my lap top in Norfolk to begin the process of whipping the MS into pristine shape for November release.
When the big day arrived, it was something of an anti-climax. There had been no pre-order, ARCs, trumpet or whistle blowing prior to the launch and apart from me posting on social media, the day passed unheralded with me gawping at the lap top. I joined some FB groups to get myself 'out there' – from one day to the next I went from being a no-group bod to belonging to four, and rising.
Once your book finally hits the cyber shelves, even as a very unsatisfactory print on demand, reviews are eagerly awaited and after a couple of weeks or so, one landed on Amazon for BAON – a 1*! At that time Accent used to put new releases on a freebie offer for a limited time to encourage sales and 'Patsy' (her name is ingrained in my memory forever!), I noticed, made a habit of grabbing any freebie going and rubbishing it, after reading just a few pages. If you have a healthy clutch of reviews, you can weather a low rating, but when it's the first it takes ages to up your average, which is frankly depressing.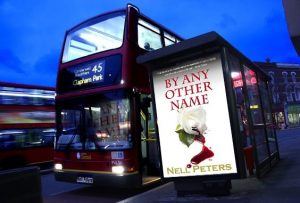 By Any Other Name is a genre-crossing crime novel and admittedly a bit Marmite. There are similarities to I Let You Go in that the plot stands on its head at about two thirds of the way through – it's difficult to say much more, so why not read the blurb:
A summer job to die for – and people do.
Emily Kelly can't believe her luck when she is employed as temporary companion to Sir Gerald Ffinche and falls in love with his son, Richard.
However, it's obvious their happiness isn't shared by all, when one tragedy is quickly followed by another; and as the body count mounts, subtle clues are left to incriminate Emily and destroy her relationship.
Police involved seem incapable of exposing the real culprit; perhaps a family member, one of the household staff, or someone else close to the Ffinches?
No one is above suspicion, and no one is safe until a psychopath is unmasked – or thereafter.
With a shoal of red herrings and a plot that turns quickly from almost-cosy to taut psychological thriller, this is an enthralling, chilling read that will appeal to those who relish the unpredictability of Clare Mackintosh.
    'Twists abound as love blossoms amongst the dead bodies in a genre-crossing novel with a dark undertow all its own.'
Marika Cobbold, best-selling author.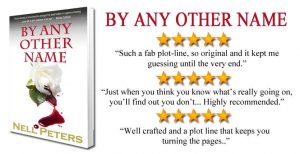 Fancy reading an excerpt? Be my guest:
Chapter One
As Emily rushed around, scooping up all the stuff she needed to take to work, an advertisement in the local free paper caught her attention:
'Footloose and Versatile Female, Aged under 35 years.
Must be free July and August. Telephone in complete confidence …'
Not much to go on, but what could possibly be worse than painting red crescent smiles on toy clowns' faces day in, day out, until September, she asked herself. Exactly. She ripped out the bottom half of the page, folded it roughly and shoved it in her bag, before heading out the door at speed.
She'd recently finished the first year of a degree course in Psychology, passing all assignments with flying colours and notching up the requisite number of credits to enable her to continue – much to her tutors' blatant amazement, her attendance record having won no awards. But without visible (or invisible) means of support, Emily had to take a holiday job in a local toy factory just to survive until the next loan cheque arrived on the doormat. Though the work was mind-numbingly awful, it was all she could get; she hadn't been there long and for the third time in as many days, was about to miss the last bus that would deliver her to her paint pot on time.
She forgot all about the ad until lunchtime, when she was sitting eating crisps with Doreen and some of the other women who worked in the paint section.
'What do you think about this, Dor?' she asked, waving the scrap of paper under her nose.
Doreen adjusted her half-moon glasses and scrutinised the print. 'Well, if I was ten years younger…'
'And the rest!' scoffed Peroxide Pam, who was reading over Doreen's shoulder, gnashing her Wrigley's for all to see and hear.
Doreen pursed her lips, ignoring Pam, 'As I was saying, if I was ten years younger, Em, I'd apply for it meself – what have you got to lose?'
The arrival of Mr Spinks, their line supervisor, put an end to any further debate.
'Come, come now ladies. Idle chatter won't get the baby bathed – not in a month of Sundays.' Spinks was a short, round man – a regular sleaze ball, who vastly overestimated his levels of charisma and importance. 'The lunch break is finished – now back to your work stations, quick as you can.' He clapped raw sausage fingers together, the effort of movement making his chins wobble.
She took a moment to suck the last traces of nicotine from her roll-up and stubbed it out on the handy 'No Smoking' sign provided – which meant the others left without her and she found herself alone in the locker room, with Spinks blocking the exit. Damn!
'Well, if it isn't Miss Smarty Pants…' he was getting a little too close for comfort, 'I don't know why you think you are so much cleverer than the rest of us – just because you managed to cheat your way into university, that doesn't make you any better than me…' His damp breath was making her hair frizz and she wanted to get away from his horrible disrobing gaze.
Thank goodness, Doreen's antennae were on top form. She reappeared at the end of the dingy corridor, 'There you are, Em. I wondered where you'd got to – mustn't waste company time, now must we?' She smiled ingratiatingly at Spinks, who jumped back from Emily as though she had broken out in seeping plague boils.
He scowled, 'Very good, Mrs Mason, that's the Dunkirk spirit. Carry on, now.'
She started to follow Doreen, changed her mind and spun around to face him once more, 'Actually, Mr Spinks, I'm working here during the vacs to earn money – that's why everyone works here isn't it, to earn money? I don't think of myself as any better or any worse than anyone else – including you.' She felt Doreen's sharp tug at her elbow, 'And the name is Kelly, Emily Kelly – not Smarty Pants. She left last week, I believe.' Then she allowed herself to be dragged away.
Spinks stalked off in the opposite direction, gargantuan buttocks flubbing together and one arm held awkwardly behind his back, like Prince Charles. 'Rome wasn't built in a day, you know,' he called over his shoulder.
'Wazzock,' hissed Doreen, not too loudly, 'don't you take no notice of him, Em, Mrs Spinks is probably keeping him on tight rations in the bedroom department.' She inclined her head and winked a blue-shadowed crêpe eyelid.
'I'm amazed there is a Mrs Spinks.' Emily suffered a gruesome mind's eye flash of him in the nude – even his spare tyres had spare tyres – which sent shivers up and down her neurological pathways.
'Oh yeah, right under the thumb he is,' Doreen was one of those people who seemed to know everything about everybody.
'Does she have a Seeing Eye Dog and a white stick?'
Doreen shrugged, 'Never met the woman in person, but I saw them out shopping on a Saturday once. She's one of them scrawny, mean-looking women – probably a terrible nag. And Spinks never brings her along to the Christmas parties.'
'Lucky escape for her, I imagine?' Emily scoffed.
She looked genuinely shocked, 'You must be joking! It's the social event of the year round here.' Emily made a mental note never to sink that low. 'Okay, Miss Smarty Pants – time we was getting back to our work of national importance.'
Back at the production line, plastic clowns were standing all in a row, waiting for her to make them look happy and appealing and well worth their outrageous price tag. Doreen hitched up her weighty boobs with equally weighty forearms and waddled off to her seat, her lumpy backside straining to be free of the tight brown overall. As always, she was anxious to catch the beginning of The Archers – which was the highlight of her day.
Not being a fan of radio drama, Emily loaded her paintbrush with crimson gloop and settled down to switch off from life in the sweatshop and daydream her way through to clocking-off time. Johnny Depp featured regularly in her fantasy world and that afternoon, she was guest of honour at his sumptuous mansion, high in the Hollywood Hills. Dearest Johnny couldn't do enough for her, waiting on her hand and foot as she soaked up the Californian sun at the side of his turquoise infinity pool, sipping vintage champagne through a sparkly straw.
Her imagination took a detour to that interesting advertisement and the possible scenarios it might throw up. Was it possible a terminally ill Adonis was searching for someone like her to sooth his fevered brow, during his final, tragic weeks? As a reward for her unstinting care, he would bequeath to her all his money, plus a controlling share portfolio in a selection of designer dress and shoe shops. Or could it be an eccentric zillionaire sought a beautiful, lithe young woman (such as Emily, obviously) to work an hour a day on his very own Caribbean Island? Naturally, her allotted tasks wouldn't be too taxing – perhaps grooming the Guinea pig twice a week, arranging vases of exotic flowers to his satisfaction, pouring just the right amount of expensive, scented bath oil into his hot tub; that sort of thing.
If you'd like to read more, here's the international link.
Toodles.
Nell Peters
***
Thanks Nell – fabulous blog as ever.
Don't forget to come back tomorrow to see which book Marie Laval is going to share with us.
Happy reading,
Jenny x