OK- I am in denial. It is not the end of September! It can't be…except, it is…
Over to Nell!
Good grief! We've reached the end of September already – how did that happen? Anyway, let's not waste any time as I'm sure you have better things to do, like giving your pet rhino a pedicure, or similar.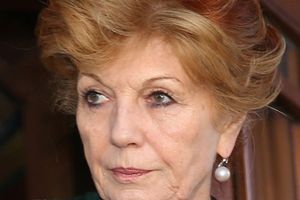 Red-headed actress Rula Lenska was born seventy years ago today as Róża Maria Leopoldyna Łubieńska – wow, pity her poor teachers calling the register. And she must have had custom-made, extra-long name tags for her school uniform. The family claim membership of the Polish aristocracy, with her parents being a count and countess – I wonder how impressed the good folk of St Neots were by that, because that's where Rula was born. Perfectly nice town though it is, St Neots doesn't quite conjure the same mental image as Warsaw, Krakow, Gdansk or even Radomsko, does it?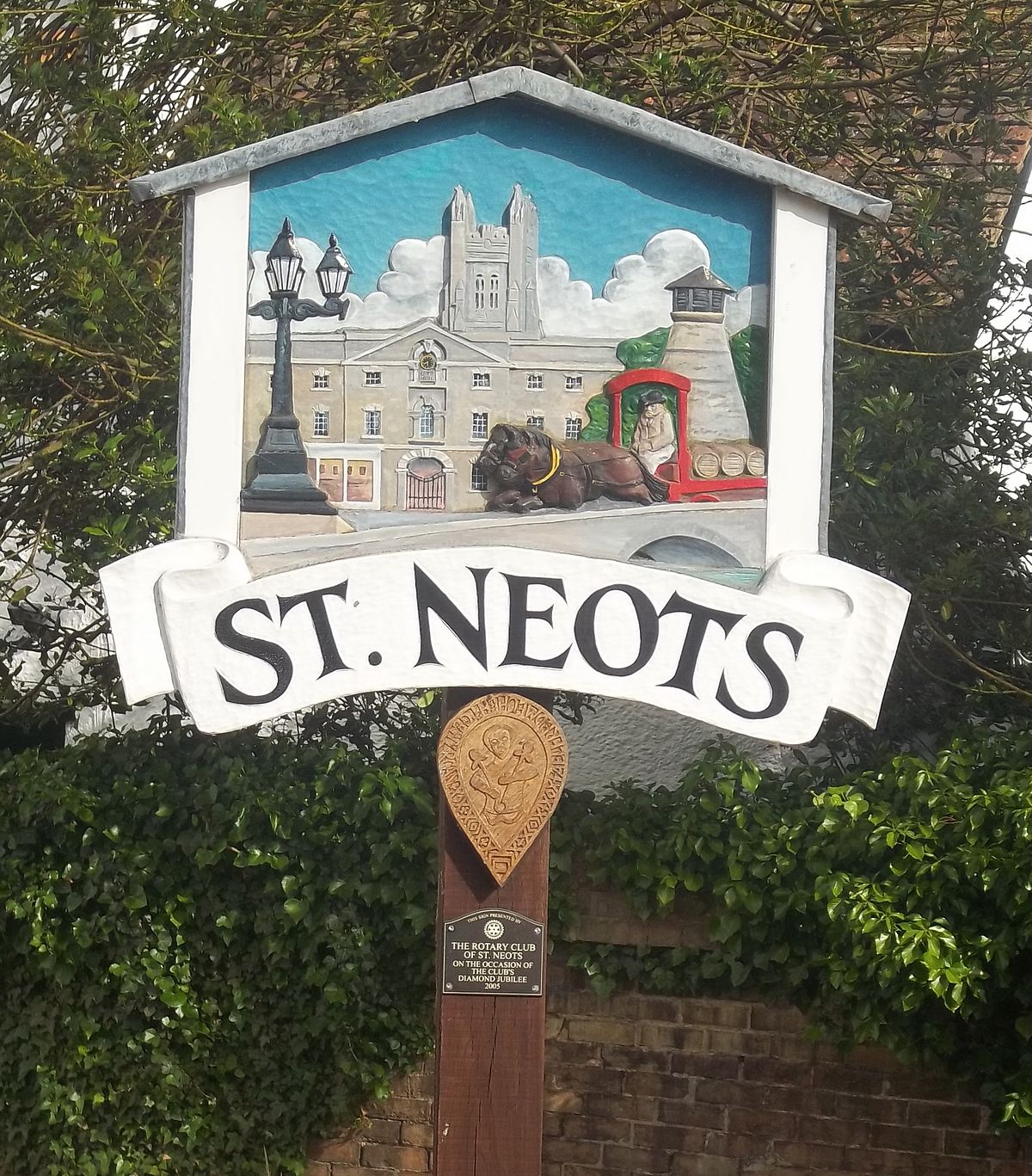 Early on in her career and certainly by the time she hit thirty, Lenska had renounced her countess title. She said at the time, 'In England it doesn't count, if you'll excuse the pun.' Oh, how very droll. However, a good few years afterwards in January 2006, when she signed up for Celebrity Big Brother, she justified her decision to take part with the words, 'I'm a crazy Polish countess who likes a challenge'. Do make up your mind, dear.
I've never seen CBB – a fact that horrified near-neighbour Peter, who is a designer on the show, when we were chatting at a party locally. Even I, though, knew about RL cavorting with MP George Galloway in a role-play task where he pretended to be a cat licking milk from her cupped hands, and Lenska stroked his ears and moustache. Eew … or perhaps mew. Apparently, she also managed to lock herself in the toilet during her time in the house, giving late singer Pete Burns the golden opportunity to quip, 'Oh dear, what can the matter be, clapped-out actress stuck in the lavatory.' How brutal – made me laugh when I read it, of course, but rather mean. I'm hanging my head in shame … really.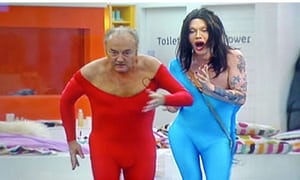 My mother also managed to lock herself in the downstairs toilet, a few days before my dad's funeral. I got a call from the Bluebird lunch carer saying Mum had been in there quite some time and seemed to have forgotten how to slide back the basic lock in order to get out. When Sally (said carer) tried to relay instructions through the door, my mother said she didn't know what she was talking about and became abusive. So, Sally rang her office and some bright spark there told her to contact me. What sensible advice, when they were in Twickenham and I was at home in Norfolk – a buck expertly passed if ever there was one.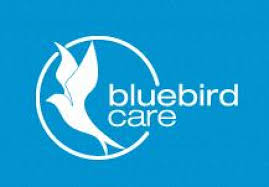 Sally decided a chisel to jimmy the lock was the way to go and so I guided her through the idiosyncratic locked door system of the ground floor – each lock with ever more weirdo-shaped keys that need to be persuaded into action – out into the back garden and around the house to the potting shed. My father was always one for 'we'll get a man in' but did have some basic tools and I was pretty sure that was where they'd be, along with various lawn mowers and other garden machinery, an ancient bicycle or two, a zillion disused flower pots and industrial strength spider webs. After she managed to get the shed door open, Sally quickly located a chisel and squealed with delight when she saw an axe. I persuaded her (with much difficulty) to leave that where it was.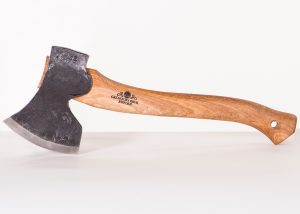 While she was attempting her breaking and entering, she had to hang up the phone, promising to call back when the prisoner had been sprung. An hour passed and I was beside myself with worry, when she finally rang back. Mission aborted. She'd called the Fire Brigade. We had to end the call once again, as she was expecting them to ring. By the time I heard from her again, I was (even more of) a basket case – but job done. Not impressed by three hunky firemen setting her free with a strategically placed crowbar, my mother had spat harsh words at Sally for letting strangers into her house and insulted the poor guys loud and long – nothing to do with dementia, that's how my mother rocks.
Going back to aforementioned Rula Lenska, Marc Bolan shared her date of birth, but died just two weeks short of his thirtieth birthday when the Mini being driven by his girlfriend hit a tree on Barnes Common – I passed the spot on many an occasion when I lived in London, and there were always flowers placed there. The singer/songwriter/poet/musician was actually born Mark Feld and tried out stage names Toby Tyler and Mark Bowland along the way, before settling on Marc Bolan. Through his father Simeon's bloodline, he shares Rula Lenska's Polish (plus in his case, Russian) ancestry, but does not appear to lay any claim to the nobility – so, just dead common like the rest of us.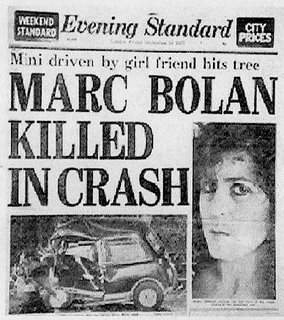 While at school (from which he was expelled at fifteen for bad behaviour), he played guitar in the trio Susie and the Hula Hoops, with vocalists Helen Shapiro, twelve at the time, and Helen's cousin the appropriately-named Susie Singer. I can remember Helen's hit, Walking Back to Happiness – boy I'm old, but not as old as her, because she was born on 28th September 1946, the year before Lenska and Bolan.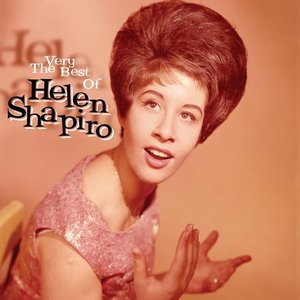 The glam rock band T. Rex recorded Ride a White Swan in 1970 with producer Tony Visconti (who also managed David Bowie) – it was the single that changed Bolan's career, and was inspired by Mungo Jerry's success with In the Summertime, tempting Bolan away from predominantly acoustic to a more electric sound. Friends Bolan and Bowie both inflicted pretty awful names on their sons – Rolan (although he was named as Rolan Seymour Feld on his birth certificate) and Zowie, who wasn't so lucky but is now rather more prosaically known as film director Duncan Jones.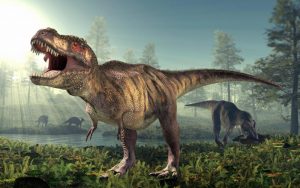 The band were originally known as Tyrannosaurus Rex, named after one of the largest carnivorous dinosaurs – a ferocious beastie capable of the ultimate in bone-crushing action. Ouch. These prehistoric predators were approx 40' long and up to 20' tall, with strong thighs and long, powerful tails built for speed, plus a 5' skull which drilled into prey. They suffered from a bit of a design fault, though – while the two-fingered forearms could seize prey, they were too short to reach the mouth and deposit the poor unfortunate victim. Doh! That's when their serrated, conical teeth came in handy (sorry!) – to pierce and grip flesh, and then rip it away from the body of their quarry. That could become the latest diet craze – tie up your arms somehow to make their reach shorter! Because we don't have T. Rex-type teeth, no food would make it as far as the lips, ergo no calories consumed – sorted! I may yet become rich and famous …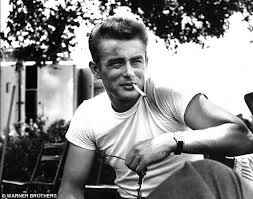 On this day in 1955, another young man died as the result of a car crash – one James Dean, twenty-four year old American actor and cultural icon of teenage disillusionment, angst and social estrangement, as portrayed in arguably his most famous film, Rebel Without a Cause. American teens of the era easily identified with the dilemma of his character, Jim Stark, who feels that no one, not even his peers, can understand him.
A keen participant in motor racing, Dean was driving his Porsche 550 Spyder to a race meeting when the accident happened, having been stopped less than two hours earlier for speeding. The crash occurred at an intersection, when a 1950 Ford Tudor driven by Donald Turnupseed (I kid you not!) turned in front of the Porsche. Because he was driving too fast, Dean was unable to stop, colliding side-on with the other car. The actor died instantly, while Donald walked away with minor injuries. A subsequent coroner's jury delivered a verdict that Dean was entirely at fault due to his speed, and found Turnupseed innocent of any criminal act. Fellow actor Humphrey Bogart observed about JD's image and legacy: 'Dean died at just the right time. He left behind a legend. If he had lived, he'd never have been able to live up to his publicity.' Harsh, but possibly true. Unbelievably, according to Forbes Magazine (a US bi-weekly business publication, maxim The Capitalist Tool), James Dean's estate still makes around $5M annually. Not too shabby …
This year, the Day of Atonement, or Yom Kippur is observed on 30th September, being the 10th of Tishri in the Hebrew calendar, or the tenth day of the seventh month, and is regarded as the 'Sabbath of Sabbaths'. It is considered the most important holiday in the Jewish faith. Falling in the month of Tishri (variably September or October in the Gregorian calendar), it marks the culmination of the Ten Days of Awe, a period of introspection and repentance that follows Rosh Hashanah, the Jewish New Year.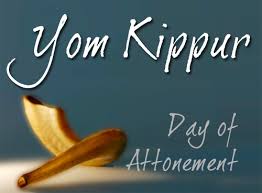 I wonder quite how that sits with International Blasphemy Day, observed annually (mostly in North America and Europe) on 30/9 since 2009, after a student contacted the Centre for Inquiry in New York proposing the idea, which the CFI supported. Ronald Lindsay, president and CEO of the CFI said of Blasphemy Day, 'We think religious beliefs should be subject to examination and criticism just as political beliefs are …' For those who – like me – haven't heard of the CFI, they are a non-profit educational organization, their primary mission to foster a secular society based on science, reason, freedom of inquiry, and humanist values. In January 2016, Richard Dawkins hitched his foundation's wagon to the CFI. Probably enough said.

Today is also Chewing Gum Day (a lot of blaspheming going on when folk tread in the damned stuff?), International Lace Day and Family Health and Fitness Day USA – the latter two taking place on the last Saturday in September rather than a specific date. And then there's National Mud Pack Day, also an American affair. The blurb says, 'This holiday is for learning and appreciating the use of mud on the face or really any part of the body. Mud packs have been popular for years for facial treatments to keep the skin young, soft and supple, so let today be the day you learn how to nourish your skin with mud.'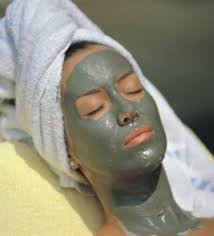 No sooner said than done – it has been raining, so I'm off to dig up the garden (or maybe I'll get a man in) and then luxuriate with a homemade concoction slathered over all the wrinkles. You may not recognise the youthful creature who guest blogs next month – plus, of course, I will be super-skinny from trying out and perfecting The T. Rex Short Arm Diet! May have to work on the name …
Thanks, as always, for having me, Jenny!
Toodles.
NP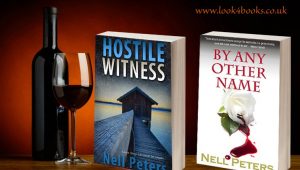 Many thanks to Nell for another entertaining and fascinating blog. I will never look at Rula Lenska in the same way again!
Happy reading everyone.
Jenny x