Today I'm delighted to welcome fellow erotica and romance writer Zara Stoneley, to talk about her latest work- a real bonkbuster of a novel! Over to you Zara…
From the bedroom to the stable…
Stable Mates by Zara Stoneley
After two years of writing erotic romance I noticed a trend – my stories were heading from the bedroom to the stable! Okay, a lot of the naughtiness in my books hasn't taken place exclusively in the bedroom, but I did find the story lines were inevitably drawing me away from the erotic and into the Cheshire countryside.
Why? Well the UK countryside is my home, but it's more than that. I have spent years surrounded by dogs and horses, by wonderful riders and country characters (not to mention hot farriers). And from being a teenager I've always loved reading 'bonkbusters'. It started with Jilly Cooper many years ago, and now I still love her books and other similar ones by authors such as Fiona Walker.
I'd toyed with the idea of writing a 'bonkbuster' myself, but then when my editor at HarperCollins actually asked if I'd consider writing one it sealed the deal.
Stable Mates has been inspired by the fabulous people and places I've known for a long time, and by the contrasts you can find in Cheshire. What happens when the traditions of an idyllic country village are threatened by the very different values of its upmarket neighbours? Will the welly brigade let the WAG's invade – or can they carry on living in harmony?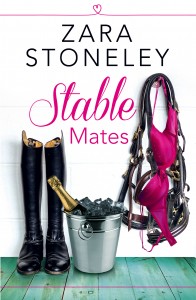 Stable Mates
Blurb –
Secrets and scandals, love and lust – when the 'Cheshire Set' are up against the 'Footballer's Wives' the only common ground is carnal… Flirting and fun seem the perfect antidote for Lottie's battered heart, and where better to find them than back in tranquil Tippermere, home of sexy eventer Rory Steel, the smiling Irish eyes of hunky farrier Mick O'Neal, and mysterious newcomer, model Tom Strachan? But when landowner Marcus James drops dead unexpectedly, and the threat of his waggish wife Amanda selling the heart of the village out from under them looms large, things look like they're about to heat up in and out of the saddle. With tensions running high, and the champagne flowing as freely as the adrenalin, is it any wonder that love catches more than one of them unawares?
Buy links –
Amazon     Barnes & Noble     Kobo   Foyles  Waterstones
Sainsbury's      Google Play        iTunes    Blackwells
Early reviews – 'a delightful romp peppered with humour, sadness, scandal and steamy sex.' 'Loved it, so funny.'
Thanks so much for having me here today, Jenny!
****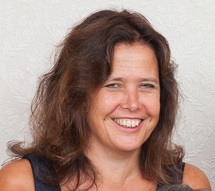 Short Bio
Bestselling author Zara Stoneley lives in deepest Cheshire surrounded by horses, dogs, cats and amazing countryside. When she's not visiting wine bars, artisan markets or admiring the scenery in her sexy high heels or green wellies, she can be found in flip flops on the beach in Barcelona, or more likely sampling the tapas!
Zara writes hot romance and bonkbusters. Her latest novel, 'Stable Mates', is a fun romp through the Cheshire countryside and combines some of her greatest loves – horses, dogs, hot men and strong women (and not forgetting champagne and fast cars)!
She writes for Harper Collins and Accent Press.
Find out more about Zara:
Website      Twitter        Facebook        Google+
***
Thanks ever so much Zara,
Happy reading everyone,
Jenny xx