It's guest blog time! I'm delighted to welcome fellow Accent Press author, Jackie Kabler, to my place today. Jackie's second novel is out now…but how much of her media career influenced it…
Over to you Jackie…
WRITING WHAT YOU KNOW…OR NOT?
As a relatively new author – my first novel, The Dead Dog Day, was published by Accent Press last year – I had the thrill recently of appearing for the first time at a literary festival, where I was delighted to be asked to chair a panel discussion. The topic was 'Writing what you know…or not?', and the panel was made up of a great mix of authors with widely differing views, which made for a lively hour!
I thought it was a really interesting topic. Some of the writers there considered writing about what you already know to be the ultimate in laziness, arguing that being a fiction writer is about being creative, not just about regurgitating facts and experiences from your own life. Others, including a former social worker who now writes novels based around her experiences, argued that having such a wealth of knowledge about a specialist area lends realism and authenticity to our writing. I say our, because my current series of novels, the Cora Baxter Mysteries, is set in a television newsroom, a world in which I worked as a news reporter for twenty years.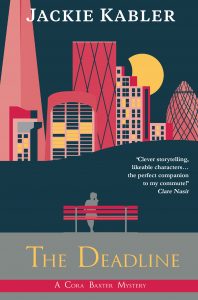 My decade on breakfast show GMTV provided such a wealth of material – some of it surreal, some of it shocking, much of it hilarious  – that when I decided to attempt writing a novel it just made sense to me to use that material. And I'm glad I did – some of the nicest comments I've had from readers of my first book were about how fascinating it was to get an insider's view of the not-as-glamourous-as-you-think world of breakfast TV. But am I just being lazy? Should I, as a creative person, be using my imagination more in my writing? It's something I've been thinking about. I'm still working on the Cora Baxter series, but now I also have an idea for a psychological thriller which will definitely push me out of my comfort zone. So – should we write what we know, or not? What do you think?
***
The Deadline, the second in the Cora Baxter Mysteries series, is now available in paperback, e-book or audiobook format.
ttps://www.amazon.co.uk/dp/B01J448FDQ/ref=dp-kindle-redirect?_encoding=UTF8&btkr=1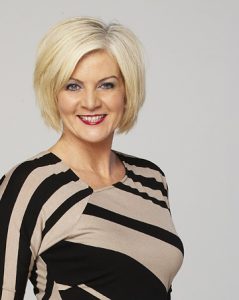 Bio-
Jackie Kabler is a journalist, TV presenter and author. Currently a presenter on shopping channel QVC, she signed a three-book deal with Accent Press in 2014 for a series of murder mysteries set in a television newsroom. She spent twenty years as a news reporter, including a decade on GMTV, followed by stints with ITV news, BBC news and Setanta Sports news. She lives in Gloucestershire with her husband, who is a local GP.
You can keep in touch with Jackie via her website www.jackiekabler.com, on Twitter at @jackiekabler or on Facebook at www.facebook.com/jackiekablerauthor
***
Many thanks for such a great blog Jackie,
Happy reading everyone,
Jenny xx