It's always good to have a first time visitor to my blog, and today I'm delighted to welcome the lovely T S Harvey, to give us a potted history of her books and her life!
The Author
I was always an avid reader as a child and English always my favourite subject at school. In addition to my writing I'm a breeder and exhibitor of pedigree dogs, having won Best of Breed at Crufts in 2011 with my English Toy Terrier, Ch. Kadaz Authentic (or Hattie as we knew her).
I've appeared on several quiz shows over the past ten years and won The Weakest Link in 2005. My mum recently took part in Bargain Hunt and this should be aired later in the year.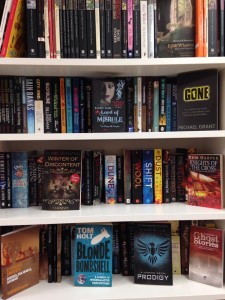 The Books
The Tin Man        
My first completed novel was a family saga sent in Texas in 1946, coming right through to present day. This was self-published through Createspace and has just undergone a make-over so to speak and the revised version is once again available on Amazon.
Written in the first person and narrated by Michael, it follows his life through its ups and downs, from being orphaned at 4 years old, experiencing abuse at the hands of the matron and staff at the Children's home, his joy at being fostered and becoming a 'brother' and ultimately a carer to his foster sister.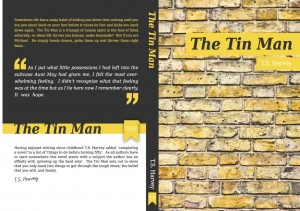 In time I plan to write prequels to The Tin Man from the perspective of several of the characters in this book, including Carl Ryan, the Tin Man of the title.
Four Seasons:
The first book in the four part series is Winter of Discontent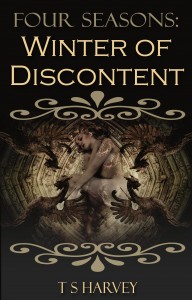 The initial inspiration for the Four Seasons series came from my daughters and my eldest grand-daughter. Having successfully self-published my first novel they asked me to write something in the Young Adult / Supernatural genre which was more on the lines of the sort of books that they read. I gave a lot of thought to the content / characters that I would like to 'work' with and came to the conclusion that there was no point going down the Vampire route as that has been done so often, and in many cases so well, that I didn't want to find myself competing with the likes of Stephenie Meyer for bookcase space. Having decided to go with Warlock / Witches as the framework for the story I also decided not to go with the fantasy options, dragons, goblins and the like. Having finely honed the genre and direction, I did a lot of research online into Witch folklore and some of the results it produced gave me some really useful ideas, many of which I employed in the storyline.
The second book in the series is Spring of Fools which is due out on the 9th April.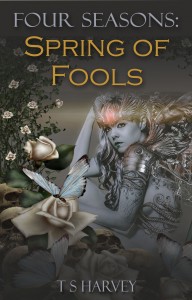 The Content
Covens:
The Moirai: These were a powerful group of witches, along with the Grenae, said to exist in medieval times. This helped give me some background ideas as well as some future plot lines.
Segans / Kintarians: In folklore these are also powerful groups of Warlocks. The Kintarian is said to be a shape shifter which also provided me with further inspiration for the characters that appear in this book and in the forthcoming, Four Seasons: Spring of Fools; Book 2 in the series.
Character Names:
Having already inspired me to write in this genre I decided to name my lead female character, Sarah, after my eldest grand-daughter.
I wanted to choose names for male leads that would sit comfortably in European countries as the history of the characters goes way back. Having chosen Erik (I felt it sounded cooler with a 'K' and more European) as the main male lead I then had to find a surname. Enter Google translate. I'd decided that his family history would be rooted in / around Germany so I Googled 'Magic' and ta dah… Zauber.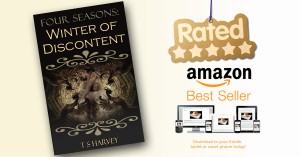 'Physical' Content:
I made a conscious decision before I started to write this book that I would include some references of a sexual nature as even though the basis of the story is supernatural the characters could quite easily be the girl or boy you sit next to in History. Given that, it made sense that students at the age Sarah and Erik are, would talk about, and in many cases, participate in sexual activity. None of it is written for shock value; however, Book 2 moves it up a notch which I think is believable given the difficulties and frustrations of the characters in this book.
'Guest stars':
I consider myself blessed for having a couple of celebrities willing to lend their name to some of the story lines in this book. I've been friends with Jamie Afro's mom, Jeanne, for some years now and when I needed a Rock Singer for a side story I approached her to ask him if he'd mind if I used him rather than invent one. Jeanne knew I wouldn't take any cheap shots and Jamie was happy to oblige. There is another section in the story that called for a singer in the US so I approached one of my favourites, Broadway star Telly Leung. Telly was happy for me to use his name providing I sent him a draft of the content for his approval, which I did, and he sent me a lovely message of support back wishing me luck in finding a publisher. He also sent a note of congratulations when I told him that Accent Press had picked it up.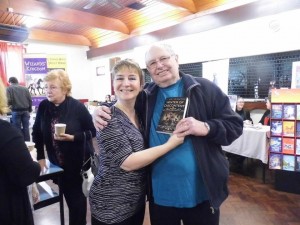 Writer's block:
I was lucky enough not to have any periods when the story didn't flow for me. I think a lot of that is down to my style of writing.   I often change direction in my story telling but I always know where my story ends. I look at this as my 'Writers GPS'. It is like punching in the end destination for me; as long as I know where I'm headed I can cope with the detours on route.
I sometimes need to give myself a bit of a kick to get started but once I do I commit to getting it finished above everything else going on in my life. I think I'd be concerned that if I did call a halt for any reason then I might not pick it up again. This happened to me back in 1987 when I first started to write. I had to stop to do some research, which was a lot harder back then without the internet, and when I couldn't find what I was looking for, and couldn't find another direction for the story without it, I just stopped. Hopefully, one day, I'll pick it back up and start again; but not until I've completed this series!
Marketing:
I've been fortunate to secure several marketing opportunities. Being asked to talk at my old comprehensive school was a real highlight. I've done several book signing events, a few appearances on Cannock Radio and a slot on BBC WM Afternoon Show on 9th April.
I was invited to be interviewed for Cuppa TV (BIG Centre TV) – Regional Lifestyle programme with host Monica Price. This aired on 23rd March and I'm hoping to get a copy to link to my Facebook and Twitter pages soon.
Facebook- https://www.facebook.com/julie.baldwin.9028
Twitter – @TSHarveyOfficial
Buy links are:
(All books are also available on Amazon.com)
****
Many thank for visiting today!