This week marks the first birthday of the first novel in the Mill Grange series.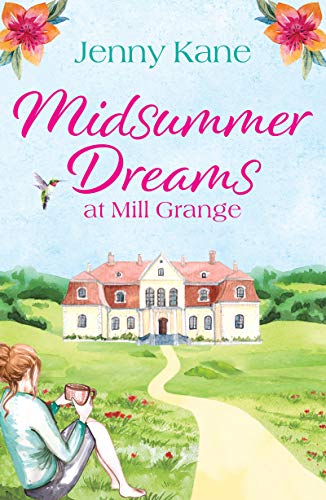 A warm-hearted, feel-good romance from Jenny Kane, a Kindle #1 bestselling author.
Thea Thomas needs to get away from her old life… and the interfering ex who won't leave her alone. When she lands a job heading up the restoration of Mill Grange, a stunning Victorian manor in Somerset, it feels like the perfect opportunity to start afresh.
What Thea didn't anticipate was how hostile the volunteer team, led by the formidable Mabel Hastings, would be about accepting new leadership. And with the deadline looming before the grand opening, Thea is in desperate need of more volunteers.
A broadcast appeal on the local news attracts the interest of arrogant but undeniably attractive celebrity historian Shaun Cowlson, who wants to make a TV programme about the restoration. It's hard enough adding one more big personality to the mix – but then her ex turns up as one of the volunteers! What seemed like a dream come true is fast becoming a total disaster! Can Thea find a way to save the manor?
Available from Nook, Kobo, as well as Amazon UK and Amazon US,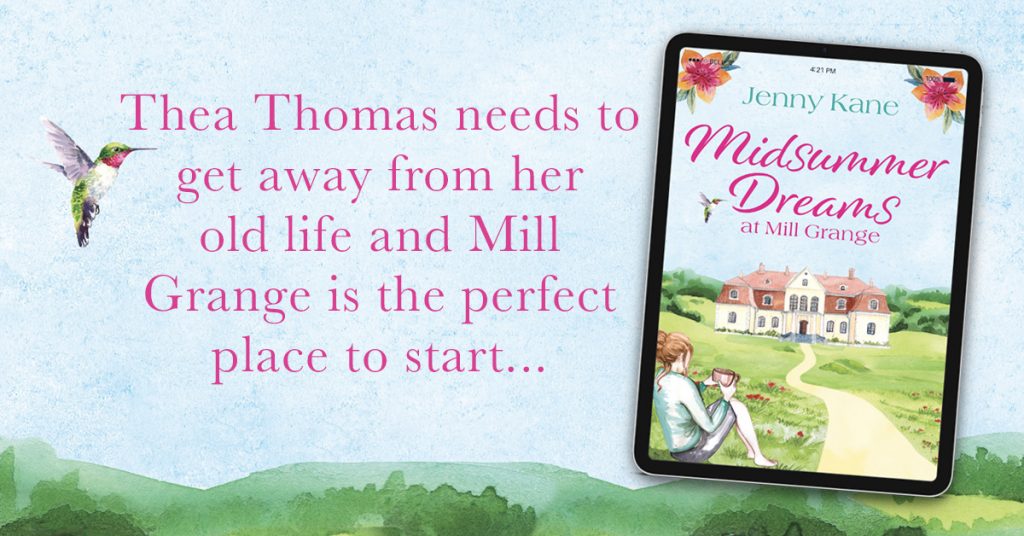 Here are some of the wonderful (and very kind) reviews that a few of my readers have taken the trouble to post. Each one is always appreciated. 
'… I particularly liked the book's setting – Mill Grange is vividly drawn, the details of its renovation, the impending opening celebrations and the question mark over its future driving the overarching story. The surroundings of Exmoor are well used too – there's that really strong sense of place that I always look for and enjoy.
The romance elements are something I equally enjoyed – both romantic threads have their unexpected twists and turns, and both are entirely satisfying (and particularly heartwarming) in the way they're resolved.
But there's also a fair bit of well developed tension too – both over the future of Mill Grange and the dogged and determined pursuit by Thea's increasingly sinister ex. And there's one particular episode that had me on the edge of my seat, real danger particularly well handled and very well written.
And while I'm talking about the writing, I will mention how much I loved that too. The author has a style that's very easy to read, comfortable to relax and disappear into – this was perfect summer reading, and most definitely recommended…' Being Anne
'Another book that feels like a cuddle from Jenny.
Set against the romantic backdrop of Exmoor this book helps you escape for a few hours. We meet new friends working to restore one of Exmoor's treasures.
A lovely cast of characters had me rolling my eyes at their antics and cheering for a certain couple.
Looking forward to see what else is going to happen at Mill Grange.' Goodreads
'Thea Thomas needs to get away from her old life…and the interfering ex who won't leave her alone. When she lands a job heading up the restoration of Mill Grange, a stunning Victorian manor in Devon, it feels like the perfect opportunity to start afresh…
I hadn't realised when picking this book that it was set in the lovely Exmoor, not too far from where I live. The various mentions of local landmarks, from Tarr Steps to Cold Harbour Mill, just added to the warm feeling I got from reading this great story… My first #jennykane read but definitely not my last.'  Goodreads
'Thea, smart, focused, and an expert in her field, all she wants is to successfully complete her project … and to avoid a thorn in her past that keeps popping up. Fortunately, there are far worse places to soak up a challenge than Mill Grange. Author Jenny Kane expertly wraps Thea's problems around one of the most enchanting settings of the year, and it's fascinating as she taps into the nitty gritty and some of the challenges—especially the financial—that come with large scale restoration projects.
Of course, while the landscape provides plenty of fun and tension, the real heat stems from Thea herself. Krane has written her with such a vulnerability that, when she senses the first bit of tension on the horizon, there's genuine worry. Will the project finish on time? Will she get the volunteers on her side? How will she handle her ex? Thea has a headache around practically every corner. Even so, Krane balances everything out with plenty of levity. A cast of quirky cast, small town drama, and the potential spark of romance all blend together to keep things jaunty.
A total joy from beginning to end, Midsummer Dreams at Mill Grange, unlike the titular property, needs no renovation. It's downright sweet.' Netgalley
***
Inspired by Northmoor House – a Victorian manor house near Dulverton on Exmoor – Mill Grange and its inhabitants have gone on to inspire three more novels over this past year – and two of them are already out!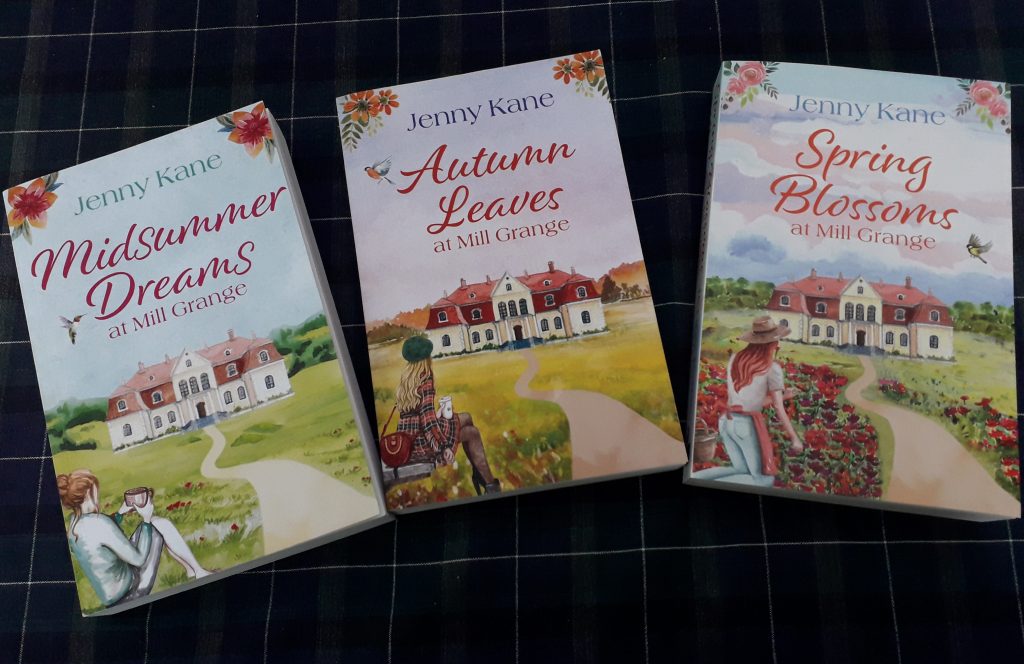 Autumn Leaves at Mill Grange and Spring Blossoms at Mill Grange are available from all good book sellers and ebook providers.
The final novel ln the series, Winter Fires at Mill Grange, will be published this year, in time for Christmas, The preorder is now available via Amazon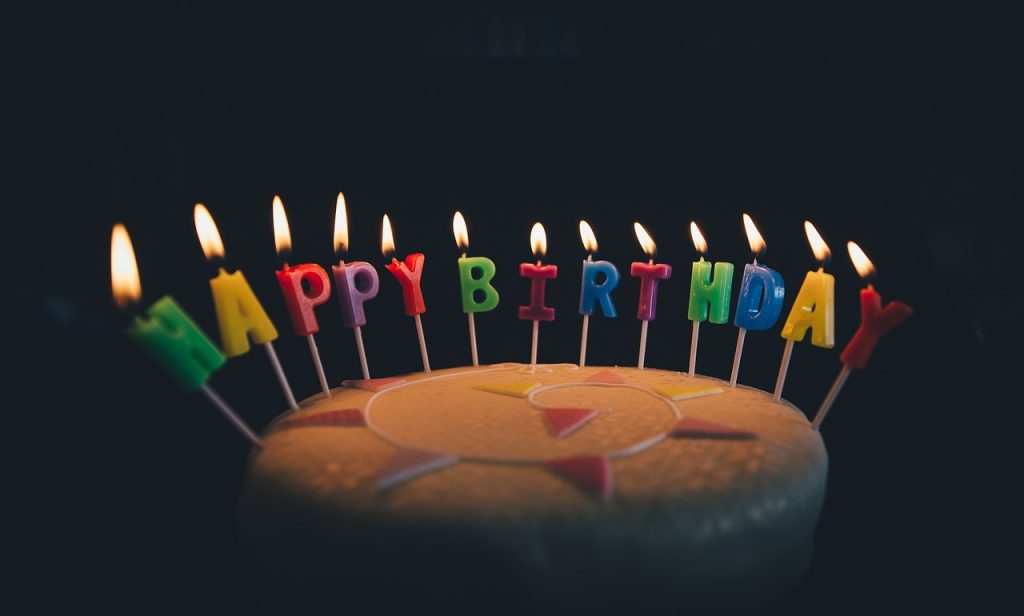 As I raise a coffee cup and nibble some cake to celebrate Midsummer Dream's birthday, I'd like to thank everyone who has supported the Mill Grange series. It was an absolute joy to write – and with only the final few sets of edits to do for Winter Fires, I'm sure it won't be long before I'm missing Thea, Tina, Sam, Shaun, Bert, Mabel and co.
Happy reading,
Jenny x