I'm delighted to welcome Sarah Dahl back to my site to enjoy a cuppa and a chat about her latest historical romance (with spice); Monk.
Why not grab a slice of cake and join is?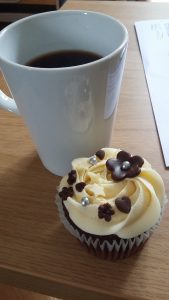 What inspired you to write your book?
It has never been clearer than in this case: "Monk" was created out of mild frustration and the question "What if?". There's this scene in the first series of History Channel's Vikings where Ragnar brings home an attractive young monk, Athelstan, who makes the couple curious. They enter his room and ask him to join them in bed. The audience doesn't get to know if that is a test of Ragnar's, to check if the "new man in the house" will be a threat to his marriage. Or if they just want to have their own version of fun with the man of God who seems so stressed out by their love-making. We know the Vikings had a very relaxed attitude towards phyical aspects, including sex. The scenario is not too far-fetched. But: in the series, the monk shies away. The atmosphere is sizzling and tense, you literally hold your breath before he answers "no, I can't" – although you see his eyes and body saying the opposite. That didn't leave my mind. I wondered if the producers were shying away from his "yes" out of realistic thinking or just Hollywood-esk prudery. We couldn't know then how the monk's answer would affect the coming plotlines.
But from that day I pondered the question "What if the monk had said yes? He wanted to. The temptation was too much, he was overwhelmed. He was close to a "yes". But was it realistic? I thought: Heck, I can do this. I'll write what would have happened, and make it just as sizzling …
So I did my very own version of a monk being seduced by his Viking captors.
Do you model any of your characters after people you know?
In this case: see above. I bluntly admit to stealing the main characters' basics from the series, then made them my own people in my own story and setting. I go very much deeper into their minds and world views. All three, Yngvarr, his wife Runa, and the monk Alistair, are very vivid and accessible on several levels. So concerning your question: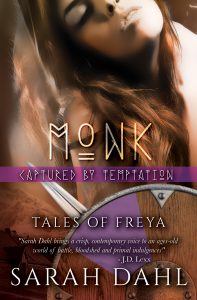 Which Point of View do you prefer to write in and why?
I went bold and brave with this one, and made it three points of view. Which is a first, for such a relatively short piece. This way, readers can dive into every character separately and feel with them, make it a tight and direct experience. Eliminate the guessing and questions. You can't do that with TV-series' characters, whose feelings and thoughts are guess-work after all. But in "Monk" I play with the three views and how the actions unfolding affect every one of the three – and ultimately change them.
Yes, it's carnal, but also: very emotional, a revelation, a turmoil, life-changing. All three of them hand themselves over to the situation and come out differently, not having anticipated what this "game" would do to them. So maybe I modelled my characters after what inspired me, but I very much made them my own material and went deep with them. Through their shy monk –  despite him being very much at their mercy – my Vikings are suddenly not so fierce and confident anymore 😉
What type of research did you have to do for your book?
This is especially funny for "Monk". I'm quite solid concerning Viking research and reality and am very aware of staying realistic and true to the period in every detail. To then be extra-sure I always give the stories to my researcher-friend, John, who then double-checks for any flaws that distort the reality of the era. I was very sure that by now I'm firm enough, and he won't find anything major, but then came the discussion of "the rope", haha. He said no sane Viking would just cut the rope that lay around the captives neck. They used iron collars, for one, and then would never cut a valuable rope when freeing the slave. It would be a strange act to destroy the thing. My problem was that the Viking should scare the monk a little with the swift movement of the knife, make him flinch and graze his Adam's apple; make him aware that he is, from now on, at their mercy. It should break the confident gaze of the captive and display the mortal danger he is in. There's so much to that brief moment! But could that work with iron collars the Viking would have to fiddle with? Would him forcing these open in slow motion have the same effect for monk and readers as a fast-moved knife? Surely not. My monk would have impatiently rolled his eyes at some point, haha. So: even though my researcher was right, technically, I overruled his verdict and stuck with my fast and threatening knife-movement. I needed to shock the monk, not bore him to death before the real action had even started 😉
Links:
Author homepage and buy links: https://sarah-dahl.com/book/monk
Publisher Pronoun with buy links: https://books.pronoun.com/sarahdahl
Goodreads: https://www.goodreads.com/author/show/16341241.Sarah_Dahl
Facebook page: https://www.facebook.com/sarahdahl13
Twitter: @sarahdahl13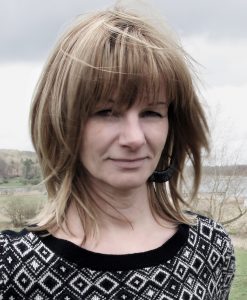 Bio:
Sarah Dahl lives on the edge of the rural German Eifel and writes historical fiction (novels and short stories) primarily set in the Viking age. She also works as an editor, translates, and coaches new writers in German and English. She is interested in everyday life in bygone centuries and the human stories that may have occurred behind the hard, historical facts. Her author page is: sarah-dahl.com 
***
Many thanks Sarah for dropping by today hun. Good luck with your new story.
Happy reading everyone,
Jenny x