I'm delighted to welcome Tim Walker to my blog, to share a little about his #newrelease, London Tales, which was published on the 8th November.
Look out for the extract and buy links below!
Over to you Tim…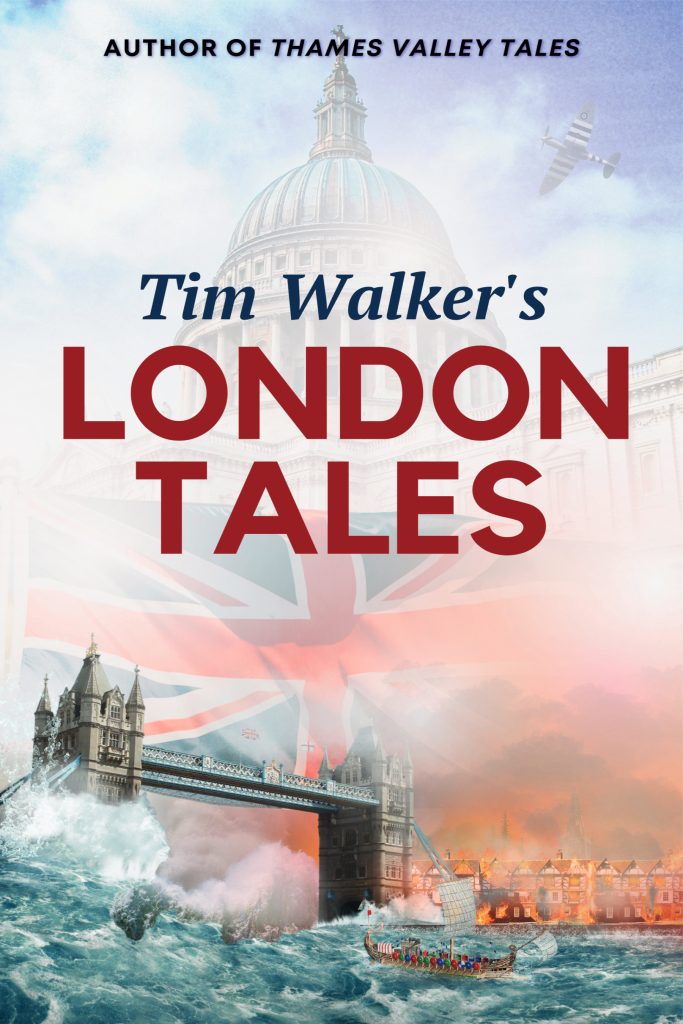 This collection of eleven tales offers dramatic pinpricks in the rich tapestry of London's timeline, a city with two thousand years of history. They are glimpses of imagined lives at key moments, starting with a prologue in verse from the point of view of a native Briton tribeswoman absorbing the shock of Roman invasion. The first story is a tense historical adventure set in Roman Londinium in 60 CE from the perspective of terrified legionaries and townsfolk facing the vengeful Iceni queen, Boudica, whose army burnt the fledgling city to the ground.
Further historical dramas take place in 1381 during the Peasant's Revolt, the Great Fire of London in 1666 and the last ice fair on the frozen Thames in 1814. These are followed by a romance set during the Blitz in 1941, then the swinging Sixties and wide-flared seventies are remembered in the life story of fictional policeman, Brian Smith. Moving on, an East End family get a fright from copycat killings that are a throwback to the 1888 Jack the Ripper murders.
There's a series of contemporary stories that reference recent events, including the London terrorist bombings of 2005, a literary pub crawl and a daring prison break, building to the imagined death throes of London in a chilling, dystopian vision. These stories are loosely inspired by the author's personal experiences and reflections on his time living and working in London in the 1980's and 90's. Adaptability, resilience, conformity and resolve are recurring themes.
London Tales evokes the city's rich history and the qualities that were needed by Londoners at various times to survive and prosper – from the base and brutal, devious and inspired, to the refined and civilized.
Extract
Cherry Blossoms Fall
The all clear sounded like Mother's loving call to sweet, milky tea with bread and jam. I followed the eyebrow pencil lines drawn on the calves of a matronly figure up the circular stairwell of High Street Kensington Underground Station towards welcoming shafts of sunlight. It was Spring, 1941, and my celebratory mood at my recent appointment as a junior doctor at the Charing Cross Hospital Mortuary had been tempered by the anxiety of life in London during The Blitz. German bombing raids had certainly upped the number of fatalities in the terror-stricken city, leading to my opportunistic appointment after graduating from medical school. 'We must do what we can to help the War effort, Doctor Robinson', I'd been told at my job interview, but for now, I was meeting a friend and fellow graduate for lunch.
A foot-wide stream ran along the gutter, spurting water from the bent thumb of a bomb-damaged hydrant that caused delight in children but groans from their fussing parents. Daylight bombing raids were unusual, as Fritz preferred to come over under the cover of darkness. The Blitz had now dragged on for nine, nerve-shredding months of punishment and random deaths; London had become a patchwork quilt of rubble mountains in vacant plots.
"Oh, a wall has collapsed onto the lovely garden!" the matronly figure exclaimed.
I followed the direction of her mortified gaze to a square patch of grass bordered by an array of different trees; its lawn and flower beds now discoloured by a layer of dust that had crept outwards from a bomb-damaged apartment block. The entire front wall of the building had fallen in an untidy heap of shattered red bricks across an access road and spilled onto the communal garden where a forlorn tree trunk denuded of branches poked out of the mess of masonry and household items. The rooms in the once-private four-storey residence were now exposed for all to see, like an abandoned dolls house. Privacy was just one lost innocence to the brutality of war…
***
In this story, all characters are fictitious except Professor Keith Simpson, a pathologist during the War who gave evidence in a number of criminal cases and developed a ground-breaking method for identifying corpses using a facial recognition technique based on overlaying photographic negatives. He published a text book, Forensic Medicine, 1947, that became the starting point for the new science of criminal pathology.
After the German air force, the Luftwaffe, had failed to destroy the Royal Air Force in mid-1940 in advance of a planned invasion, they resorted to bombing the city of London, and other industrial cities, in a campaign of terror aimed at destroying not only infrastructure but citizen morale. From 7 October 1940 to 6 June 1941 almost 28,000 high explosive bombs and over 400 parachute mines were recorded landing on Greater London, killing over 43,500 civilians. Daylight bombing was abandoned after October 1940 as the Luftwaffe experienced unsustainable losses.
There was also a tactical switch by Hitler of military resources from Western Europe to the Eastern front at this time. The air raid by over 500 aircraft against central London on 10–11 May 1941 was a catastrophic event that led to the highest nightly casualty figure. On this one night, over 700 tons of high explosives and more than 80 tons of incendiaries were dropped. More than 2,000 fires were started that night affecting 61 London boroughs. Around 700 acres of the city were damaged by fire and more than 1,300 people were killed, over 1,600 seriously wounded and 12,000 made homeless.
The Blitz led to the largest internal migration of people in Britain's history, including the mass evacuation of over 1.5 million children, from cities and ports to rural locations. On a personal note, both of my parents experienced the Blitz. My mother, Agnes, was a schoolgirl in Liverpool during the Blitz when Liverpool's docks were heavily bombed. The family lived near the south docks in Garston. She was evacuated, with her sister Margaret, to a farm in Maghull in South Lancashire, where she had to help out with farm chores, knit scarves and jumpers beside the wireless in the evenings and do child minding. This lasted only a few months, as the girls seized the opportunity to return home at Christmas of 1940 for a break, but did not return to the Robinson farm, seeing out the war with their family in heavily bombed Garston. All the Neil family survive the war, despite a number of houses in their street being destroyed. Around 4,000 people were killed in the Liverpool Blitz. My father, Thomas Henry Walker, was a teenager living on the outskirts of Belfast in Northern Ireland during the war. Belfast docks were subjected to four bombing raids and resultant fires storms during the war by the Luftwaffe, killing over 1,000 and wounding around 1,500, destroying over 1,300 houses and damaging many more.
Well over 60,000 British civilians were killed across the country and many more injured in German bombing raids during the war. Many more German civilians were killed in retaliatory allied bombings before the war in Europe ended in 1945. The madness of World War Two resulted in the deaths of over sixty million people by the time it finally ended with the surrender of Japan in 1946.
Buy Links
London Tales is available from Amazon in e-book, paperback, Kindle Unlimited and audiobook formats.
Amazon universal link: http://mybook.to/LondonTales
London Tales is a companion volume to Thames Valley Tales.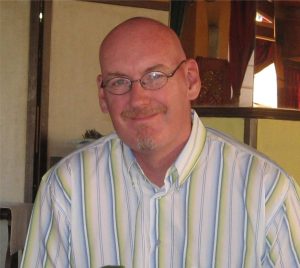 Bio
Tim Walker is an independent author living near Windsor in the UK. Although born in Hong Kong in the sixties, he grew up in Liverpool where he began his working life as a trainee reporter on a local newspaper. After attaining a degree in Communication Studies he moved to London where he worked in the newspaper publishing industry for ten years before relocating to Zambia where, following a period of voluntary work with VSO, he set up his own marketing and publishing business. He returned to the UK in 2009.
His creative writing journey began in earnest in 2013, as a therapeutic activity whilst recovering from cancer treatment. He began writing an historical fiction series, A Light in the Dark Ages, in 2014, inspired by a visit to the part-excavated site of former Roman town Calleva Atrebatum at Silchester in Hampshire. The series connects the end of Roman Britain to elements of the Arthurian legend and is inspired by historical source material, presenting an imagined historical fiction of Britain in the fifth and early sixth centuries.
The last book in the series, Arthur, Rex Brittonum, was published in June 2020. This is a re-imagining of the story of King Arthur and follows on from 2019's Arthur Dux Bellorum. Both titles are Coffee Pot Book Club recommended reads. The series starts with Abandoned (second edition, 2018); followed by Ambrosius: Last of the Romans (2017); and book three, Uther's Destiny (2018). Series book covers are designed by Canadian graphic artist, Cathy Walker.
Tim has also written two books of short stories, Thames Valley Tales (second edition 2023), London Tales (2023); a book of verse, Perverse (2020); a dystopian thriller, Devil Gate Dawn (2016); and three children's books, co-authored with his daughter, Cathy – The Adventures of Charly Holmes (2017), Charly & the Superheroes (2018) and Charly in Space (2020).
Tim took early retirement on medical grounds and now divides his time between writing and helping out at a Berkshire-based charity, Men's Matters.
Find out more about the author at his website: www.timwalker1666.wixsite.com/website
Goodreads Author Page: https://goodreads.com/author/show/678710.Tim_Walker
Amazon Author Page: http://author.to/TimWalkerWrites
Facebook Pages:    https://facebook.com/TimWalkerWrites
https://facebook.com/LondonPostcards
Twitter:                    https://twitter.com/timwalker1666
Instagram:               https://instagram.com/timwalker1666
Many thanks for joining us today Tim,
Happy reading everyone,
Jenny x