The last two weeks have flown by, and it's time for another interview in my 'First Time' series. Today I'm delighted to welcome Teresa Morgan to chat about her first publishing experience.
Over to you Teresa…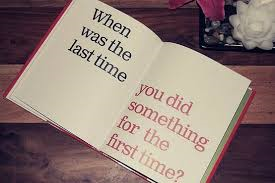 Can you remember writing the first story you actually wanted to write, rather than those you were forced to write at school? What was it about?
To be honest, I didn't realise I wanted to write until ten years ago. I'm a late starter! I started reading Fanfiction, but when I couldn't find the stories I wanted to read, I started writing my own Fanfiction, so that I could write a romance between two characters that wasn't in the show. A friend encouraged me to write it and put it out there.
What was your first official publication?
Plus One is a Lucky Number was my first novel to be published in 2013 by Harper Impulse, a Harper Collins imprint. My novel is more Rom Com/Chick Lit/Contemporary romance. There is some sex in it, because as I was writing it, towards the end of the book, I thought if I don't give the reader something I'm going to leave them frustrated.
What affect did that have on your life?
I had achieved my goal. Knowing that your writing is good enough to be published by a publisher is the best feeling in the world, albeit still worrying. But for the first time in my life I feel I know what I want to do. I've found my career. I now feel so much more satisfied in life. I have to work to have a regular income but the writing makes it feel easier to endure.
Does your first published story reflect your current writing style?
It does and it doesn't. I write my stories as they come, and hopefully I'm improving my 'voice'. But they all come under the contemporary romance bracket really. Even when I was writing fanfiction, I was putting romance into it, plus some action. I suppose with Plus One is a Lucky Number being branded a romantic comedy – I did have to check with my editor if she thought the book funny – I'm conscious that my other novels should contain some humour. But I try to do it naturally, lacing the my writing with some of my sense of humour, so it's quite subtle, and not deliberate, if that makes sense?
What are you working on at the moment?
Book three, working title: To Love Again. Harry is an ex-fireman and is supposed to be my reluctant hero, but I think the firefighter in him just can't stop him helping people, so he's turned out to be less reluctant than hoped. Maddy is my heroine, and the book starts with them very much hating one another as neighbours, but when Maddy's house catches fire, Harry comes to her rescue and lets her stay at his house, and their relationship develops from there.
***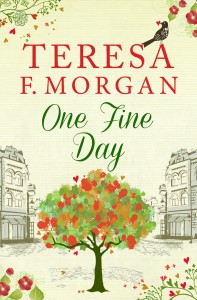 You can buy Teresa's most recently published book, One Fine Day, now-
Blurb: One Fine Day
Just a boy standing in front of a girl…
Actor Steve Mason has it all … gorgeous looks, the perfect starlet girlfriend hanging on his arm and his name on every Hollywood producer's lips. That is, until it turns out the 'perfect girl' is actually a perfect PR stunt! Dumped and with his name plastered across every tabloid headline, Steve decides to head home to England, questioning if he'll ever find a woman who genuinely loves him for who he is, and not just his place on the Sexiest Man Alive list.
It's been fifteen long years since Ruby last saw her big brother – but the new LA version of Steve complete with designer wardrobe, California tan and an American accent is too much to bear – Ruby hardly recognises him and decides it's time to get her brother back!
With Ruby's help, Steve goes undercover as he plays the part of a regular guy who leads a regular life. And then one perfectly fine, ordinary day he meets lovely, funny, down-to-earth Lydia. But when Hollywood comes calling, will Steve be able to leave both Lydia and his little sister behind?
Buy Links:
***
Many thanks Teresa!
Happy reading everyone,
Jenny x