This week's Opening Lines come from Carol McGrath's brand new historical novel, The Damask Rose. It forms part of her ongoing #blogtour.
Published today – The Damask Rose is a must for all fans of medieval fiction. 
Sit back and enjoy the first 500 words.
Over to you Carol…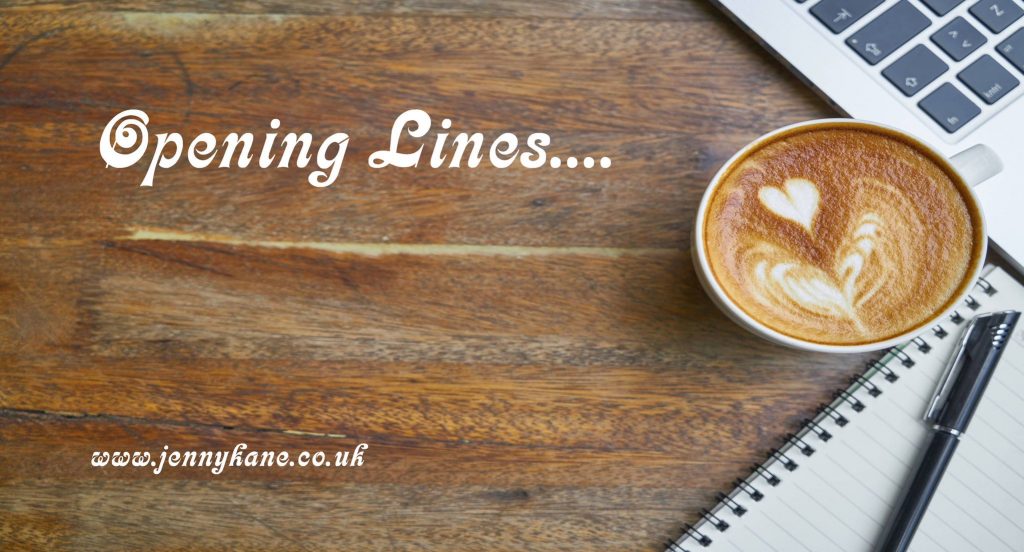 The Damask Rose. Today, 15th April, is Publication Day, so it is really special. Here is the burb for The Damask Rose and a few comments made by other writers who enjoyed it. I hope you will enjoy the blurb and extract that follows:
Blurb
In 1266 Eleanor of Castile, adored wife of the Crown Prince of England, is still only a princess when she is held hostage during the brutal Barons' Rebellion, and her baby daughter dies. Scarred by privation, a bitter Eleanor swears revenge on those who would harm her family- and vows never to let herself be vulnerable again.
As she rises to become Queen, Eleanor keeps Olwen – a trusted herbalist- who tried to save her daughter-by her side.  But it is dangerous to be friendless in a royal household, and as the court sets out on crusade, Olwen and Eleanor discover then that the true battle for England may not be a matter of swords and lances but one fanned by whispers and spies.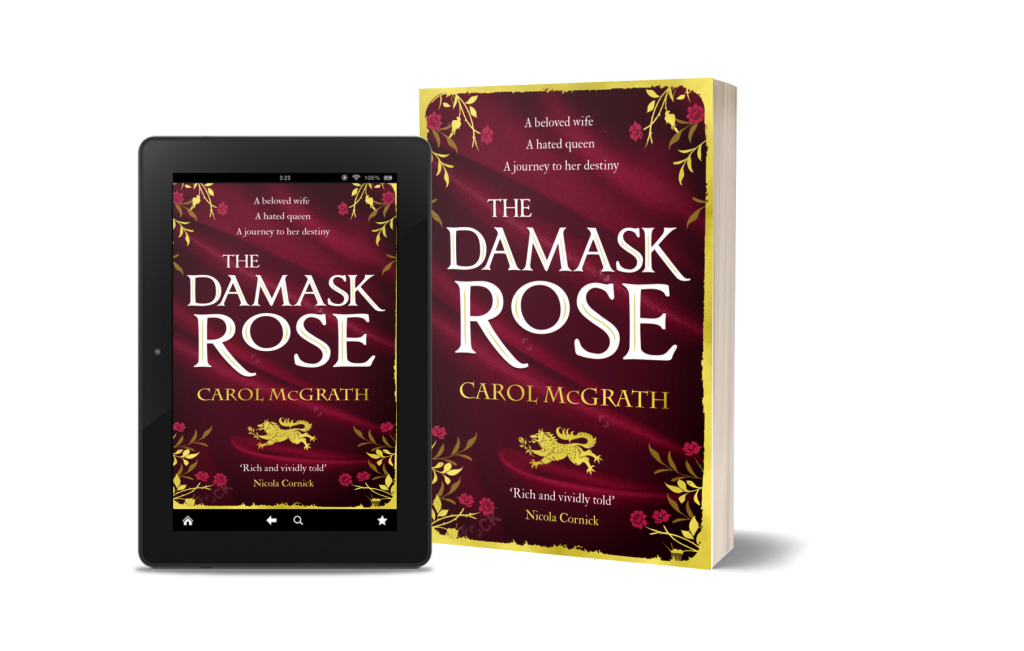 'Fascinating . . . Brings to life one of the most determined and remarkable queens of the medieval world' K. J. MAITLAND, author of The Drowned City
* 'Completely engrossed me from the start . . . A wonderful read' NICOLA CORNICK, author of The Forgotten Sister
* 'Excels at sweeping the reader away on an engrossing journey . . . Great storytelling and superb research' JANE JOHNSON, author of Court of Lions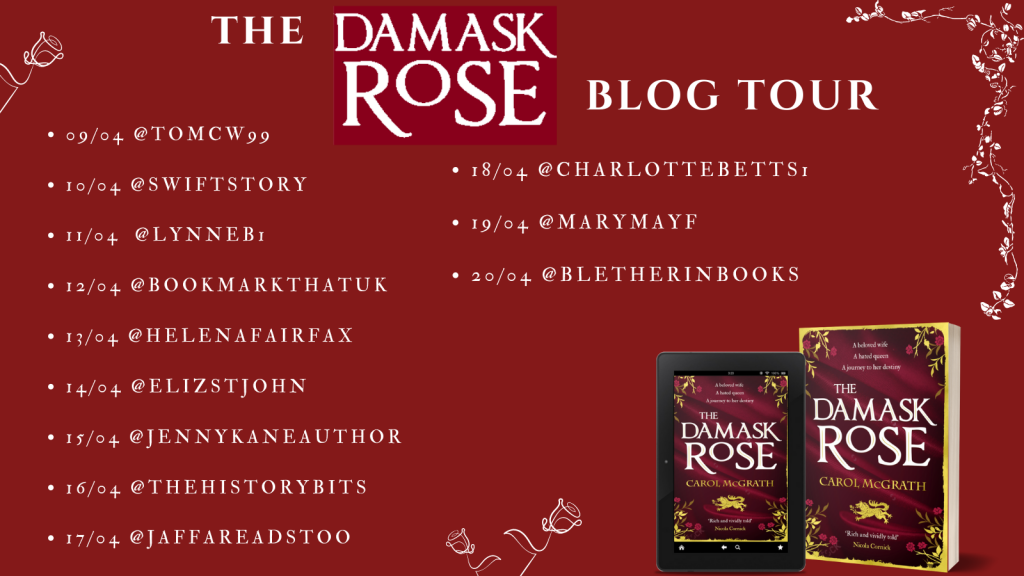 FIRST 500 WORDS
Chapter 1
Windsor Castle
June 21st 1264
On the feast of St John, Lady Eleanor, Lord Edward's wife, watched the forest from the castle's lower battlements. Smoke from rebel camp fires twisted above the tree-line. The rebels had plundered her park, hunted stags in her forest, lit fires and cooked her venison. Occasionally a whiff drifted her way reminding her that soon the castle would run out of food. She sighed knowing she would have to consult with Master Thomas, her steward, as to how long they could survive without surrender, before they starved.  Earl Simon's deputy, Hugh Bigod of Norfolk, had positioned his troops everywhere. They were hidden by willows hanging over the river banks; they were concealed in meadows within corn stalks; they camped amongst beech trees in the king's deer park.
She saw movement on the edge of the forest. A moment later a rider emerged, galloping along the track towards the castle moat.  She shaded her brow. There had been many messengers demanding she gave up the castle but she always sent them away. She edged along the battlements until she reached a point directly above the gatehouse. There was something familiar about this horseman. Another horseman, a squire she imagined, broke from the trees holding aloft a fluttering pennant. She drew breath. Rather than displaying Montfort's fork-tailed lion this long curling flag displayed the King's leopards, gold and silver embroidery glinting in the sun. Her heart began to beat faster, pumping at her chest. It could be a messenger from her husband.
Time stilled as if the scene below was painted into a psalter. Her mantle billowed out and her short veil was nearly blown from her head by a sudden breeze. The castle rooks roosted in trees making loud mewing sounds like babies crying. Bells rang for Vespers. Directly below, her ladies trailed into the chapel, miniature figures with bowed heads and clasped hands. She should attend Vespers since it was the feast of St John, but she remained where she was, watching the rider horse clip clopping along the path competing with the rooks' unsettling caws.
The knight slowed as he approached the moat and gatehouse, halted, dismounted and removed his helmet. Her eyes fixed on his shock of red hair. The Earl of Gloucester! She knew him well from the days before the barons' rebellion. If Earl Simon was the devil, Gilbert of Gloucester was Satan's helper. Tears of disappointment welled up behind her eyes.
Earl Gilbert tugged a scroll from his mantle and with one hand still holding his reins he held it up to the gatehouse guards. Ribbons dangled from a seal. Anger replaced disappointment. If this was a trick, she would have Simon de Montfort's son, her prisoner, hung from the battlements.
She looked up at the highest range of battlements. 'Raise your bows,' she ordered archers positioned above her. 'Bring Earl Simon's son out.' She pointed to the knight below. 'Gloucester is not to be trusted. Others may…
You can find out what happens next by buyingThe Damask Rose. It is available from all good retailers, including Amazon – tinyurl.com/dk2att32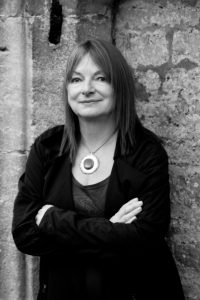 Carol McGrath Bio
Following a first degree in English, History and Russian Studies, Carol McGrath completed an MA in Creative Writing from The Seamus Heaney Centre, Queens University Belfast, followed by an MPhil in English from University of London. The Handfasted Wife was shortlisted for the Romantic novel of the Year. The Woman in the Shadows, a best-selling historical novel about Elizabeth Cromwell, wife of Henry VIII's statesman Thomas Cromwell, was republished by Headline in 2020.  The She-Wolf Queen Trilogy features Ailenor of Provence, Eleanor of Castile and Isabella of France. Carol writes Historical non-fiction for Pen & Sword and Historical fiction for Headline Accent.  Find Carol on her web-site www.carolcmcgrath.co.uk. Links to Twitter, Facebook and my monthly newsletter are all there.
Thank you, Jenny, for hosting my publication day post.
Happy publication day, Carol.
Happy reading everyone,
Jenny x