Opening Lines time is upon us once more. This week I'm delighted to welcome Sue McDonagh to my blog, with the first 500 words from her novel,
Meet Me at the Art Cafe.
Over to you Sue…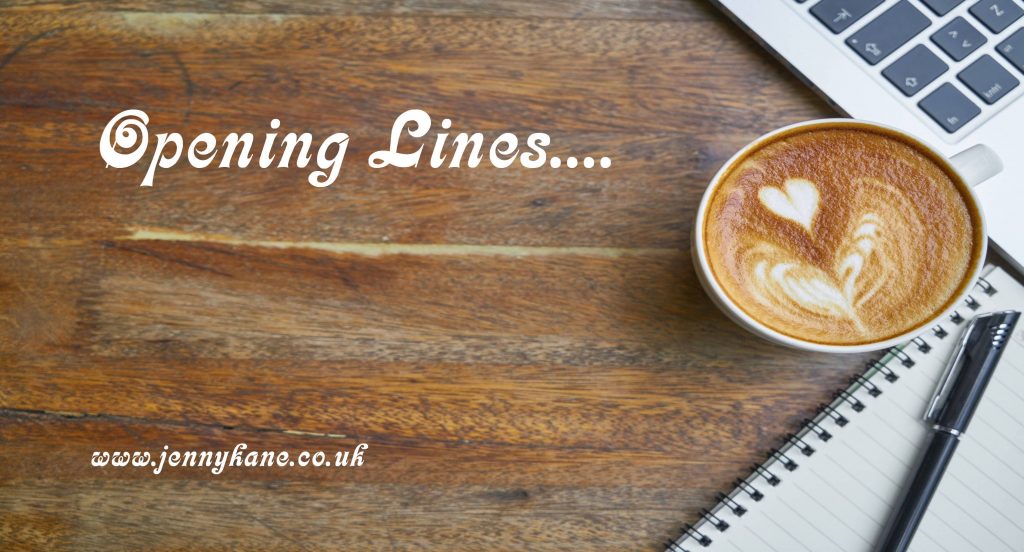 Meet Me at the Art Café is a standalone novel, even though we meet some of the earlier characters from Summer at the Art Café, and they are both based on the beautiful Gower peninsula, in South Wales.
Our heroine, Jo, is a single mum who has a small part in the first novel, and I was intrigued about her background and how she'd arrived in Wales. At her age, I too relied solely on pedal power for a year, although I didn't have to tow a little boy up the hills too!
I'm still a keen cyclist – but I bought an electric bicycle last winter, and it's been a revelation. There is no hill I cannot cycle up, even with my two replacement hips.
Upcycling, recycling Jo is quite sniffy about motorbikes though, especially when the handsome Ed runs over her beloved bicycle on his vintage motorbike. It doesn't look like a match made in heaven, does it?
I'm sure the characters wrote their own words for this novel – particularly little Liam, and Beryl, Jo's neighbour, who often made me laugh aloud. I'd like to go on holiday with her – but I don't think my liver would cope too well!
I'm especially proud that ChocLit asked me to paint my own book covers! Berni Stevens, the resident cover designer and I worked together on both covers and I love how they're different but maintain the beach theme.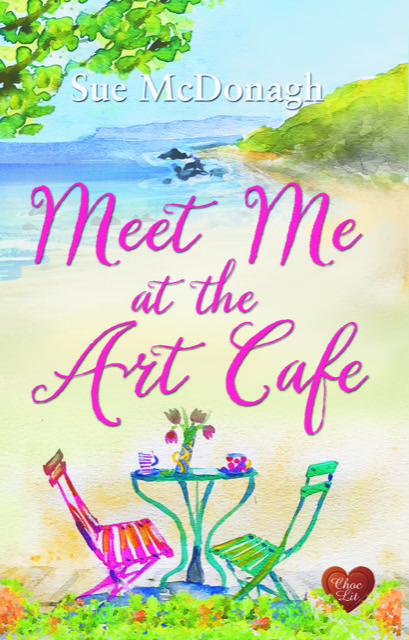 Blurb
Would you take a chance on a bad boy with a leather jacket and a vintage motorbike?
That's the question single mum Jo Morris has to ask herself when she collides with local bike mechanic Ed Griffiths on a rainy Welsh hillside. Working at the Art Café, Jo hears the gossip and is all too aware of Ed's reputation.
But whilst he's certainly no angel, there is something about Ed's daredevil antics that Jo can't ignore. And as she gets to know him better and watches the kind way he deals with her young son Liam, she begins to wonder – is there more to this 'bad boy' than meets the eye?
First 500 words…
The middle-aged couple had been dithering over their order for ages. Lemon drizzle, or toasted tea-cake? Jo could hardly blame them. Everything looked and tasted wonderful at The Art Café.
Pinning her 'take your time, I have all day,' smile on, Jo's eyes slid towards the panoramic windows that gave the café its wonderful view over the beach. Even when the blue-green sea was beginning to rumple into colourless waves, as it was now, blurring the divide between sea and sky on the Gower Peninsula and signalling rain, the coastline was always stunning. Jo could hardly remember a time when she knew nothing about South Wales.
Winter had turned the corner into spring, and there had been a steady flow of trade. Since her boss, Lucy, was poised on the brink of TV stardom, people visited as much in the hope of seeing her, as of the food and drink they were all so proud of.
'Hello? When you're ready?' The man rapped on the counter and she jumped. 'Cappuccino and a pot of tea.' Flicking a glance over his shoulder at his wife as she found a table, he muttered, 'And one chocolate fudge cake.'
'Good choice. It's delicious.' Jo smiled. 'Would you like a second plate and fork, sir?'
'I'm not sharing it,' the man said without a trace of humour, his eyes tracking the cake as she slid it onto the plate. 'She said she didn't want any.'
That hadn't been the message that Jo had understood from their overheard conversation but she clamped her lips together and got on with the order. Her mobile phone, stashed in the pocket of her apron, buzzed just as she turned the steam wand on, spitting scalding water onto her hand.
'Ouch!' Whirling to run the cold tap, she read St Michael's Primary on the screen and fumbled the accept button. Her little boy's school. They never rang.
'Hello, this is Ms Morris,' she whispered. 'Is anything wrong?'
'Our order …' the customer reminded her, sharply.
'I'm so sorry, I'll have to call you back. I'm at work,' Jo said hurriedly into the phone, cutting the call. She could barely hear the secretary anyway over the tap and the still steaming nozzle. Despite the woman's habitual peremptory tone.
Despite her stinging hand, she assembled the tea tray with an apologetic smile to the customer – unreciprocated – and returned the call as soon as he'd sat down.
'Everything alright Jo?' Her other boss, Richard, looked up from the other end of the counter where he was re-stocking the cake display. The Art Café had brought together his culinary flair and Lucy's artistic talents, resulting in an inviting eating place where you could also buy gifts and fine art. Both happily settled with their own partners, they made a great team, and Jo loved working for them.
She swallowed, knowing this wouldn't be a popular request, but there was no-one else who could go to the school. She was on her own. 'Richard…
***
Praise for Meet Me at the Art Cafe:
~ The author's ability to make her characters come alive is outstanding and I urge you to buy this book and visit the beautiful, if slightly damp at times, Welsh coast, and the Art Café, once more.
~ Great story of totally relatable characters, Ed and Jo. There is a bit everything in this book, mystery, humour, love and drama! The star of the book for me though was Liam (aged 4 nearly 5), his comic comments had me giggling away.
~ Back to the Art Cafe and it is just as wonderful as the first visit – check out Summer at the Art Cafe if you missed it! – and I just adored every aspect of this book!
~ I loved this book. The story has a lovely flow, the characters are all engaging, the descriptions are realistic: in some ways the author takes a back seat and lets the story shine.
Buy Link to Meet Me at the Art Café:  https://read.amazon.co.uk/kp/embed?asin=B07NCTYTHB&preview=newtab&linkCode=kpe&ref_=cm_sw_r_kb_dp_K2M.CbD52NWDF
Kobo link: https://www.kobo.com/gb/en/ebook/meet-me-at-the-art-cafe-choc-lit 
***
About Sue:
My career as a policewoman in the Essex Police was interrupted when I was twenty four, by ovarian cancer. A year of surgery and chemotherapy meant a successful recovery, which led to a convalescent year in the Essex Police Press Office. This suited me as I'd always fancied being a journalist, and meant that I could play with joined up writing and stationary.
When I moved to Wales to marry a man widowed by cancer and became instant mum to his two little boys, I used my Press Office skills and wrote press releases and eventually, blog posts for the various clubs and organisations I was involved with.
Art evolved into a full time occupation and I made a living teaching and sketching portraits on the spot at agricultural and seaside shows, moving into more considered work as time went on and appearing on Sky TV in 2014 in the regional finals of the Sky Arts Portrait Artist of the Year.
I now work almost exclusively to commission, but also give demonstrations and talks to art societies and other groups, which I enjoy. 2019 saw my first solo show for some years, together with the launch of my paperback, Summer at the Art Café.
In 1982, following chemotherapy, I cycled from John O'Groats to Land's End in ten days, fundraising over £8000 towards a cancer scanner for St Bartholomew's Hospital, where I was treated.
After my first hip replacement twelve years ago, I and three friends walked 45 miles across the Peak District in 16 hours and raised £10,000 for MacMillan Cancer Support.
When my second hip needed replacing, I thought about commemorating it with a further bonkers fundraising idea, but to everyone's relief, found my excitement in writing.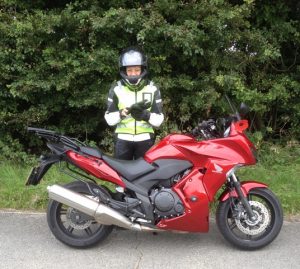 Nearly ten years ago I learned to ride a motorbike, and now help to run Curvy Riders, a national, women only, motorbike club. I am the regional rep for the bottom half of Wales, and regularly ride out on my Honda CBF1000F.
If I balance on my bedroom windowsill, I can see the sea, a mile away. My Border terrier, Scribble, comes to work in my open-to-the-public studio/gallery in Cowbridge with me, and thinks the customers only come in to see him. Sometimes, I think that too…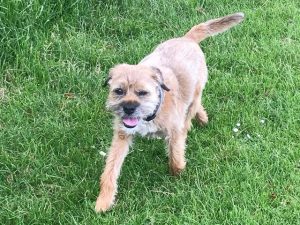 Many thanks for a great blog Sue. Wonderful opening lines- and fantastic book cover too.
Happy reading,
Jenny x