(Book 2 of The Folville Chronicles)
Available for pre-order.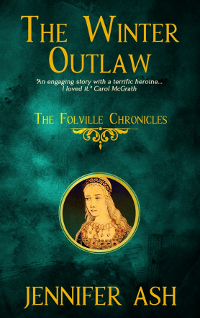 Blurb
1329: It is the dead of winter and the notorious Folville brothers are on edge. There are rumours of an unknown outlaw terrorising the Leicestershire countryside. Could this man be Adam Calvin, who is being pursued for a crime he did not commit?
Mathilda of Twyford, newly betrothed to Robert de Folville, believes Adam's story. But after
an attack on the household's trusted housekeeper, it falls to Mathilda to work out who can be trusted and who can't… With the Folvilles' past about to trip them up, it's going to take a level head and extreme bravery if Mathilda and Robert are ever going to make it to their Winter Solstice wedding.
The Winter Outlaw is the sequel to The Outlaw's Ransom.
***
Pre-order links-
UK- http://ow.ly/RsKq30j0jev 
US –http://ow.ly/EvyF30j0jfk 

I hope you enjoy the second of Mathilda of Twyford's adventures!
Happy reading,
Jen x