Today I had the great pleasure of attending the official opening of a brand new venue in Tiverton, Devon- The Oak Room – which will be the prime location for the Tiverton Literary Festival. (3rd -7th June)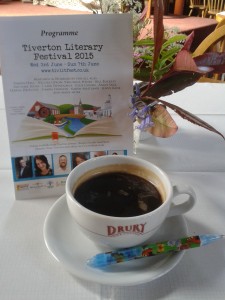 A converted church, there has been a church on the site of The Oak Room since 166o. The current building, made of imposing limestone, was built in 1831. It was used as a United Reformed Church until 2012, when the church was put up for sale. In 2014 Sue Searle, bought the church with a view to converting it into a café, art gallery and events venue- and she has done an amazing job!!
Why not come along on 3rd June and join the Cupcakes and Romance panel? With a cupcake to hand, come and listen to bestselling authors Julie Cohen (Where Love Lies), Alison Rose, (Off the Record), and Rachel Brimble (What a Woman Desires), chat to me about their work, their writing, and their inspiration. You'll have the opportunity to ask questions of your own, and find out just what makes their imaginations spark a heart warming tale.
Or perhaps you fancy sipping a latte while listening to some of the countries best crime writers?
Poet and journalist Paul Mortimer, will be hosting an hour of murder, suspense and dodgy dealings, as bestselling crime writers, Simon Hall (The TV Detective Novels), Nicola Upson (The Josephine Tey novels) and Clare Donoghue (The Watcher), talk about committing crimes via the pen and computer keyboard. There will be a chance to ask your own questions, enjoy refreshments, and purchase some books.
Paul Mortimer will also be at the Oak Room for an evening of outstanding and award winning poetry from the Poetry Café and Junction 25 team.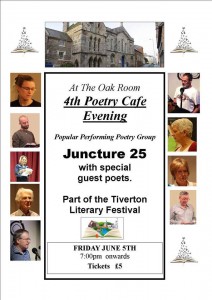 On Thursday 4th June join award winning and, bestselling author, Michael Jecks, for a light hearted look at the life of a writer. Reflecting on a career spent with one foot in the Fourteenth Century fighting the Hundred Year's War (often with murderous intent never far behind), and the other foot in Devon, scribbling words at high speed, Michael raises a glass to a life only half lived in reality. With a talk entitled '20 Writing Questions' I can guarantee an evening of smiles!!
There are many many more literary events being held at The Oak Room, and throughout Tiverton town as a whole, between 3rd and 7th June- just checkout the web site for details www.tivlitfest.co.uk
Tickets are available from www.tivlitfest.co.uk , or from Tiverton Library, Reapers Wholefoods on Bampton Street, and Majestic Wines, Tiverton.
Hope to see you there!!
Jenny xx