It is said that everyone has one book in them. This isn't the case with me- so far I've taken part in the creation of over 100 books. Having said that however, one book always needed to be released from my imagination – and that book was Romancing Robin Hood.
This novel sat in my mind for decades, just waiting for the moment to be right.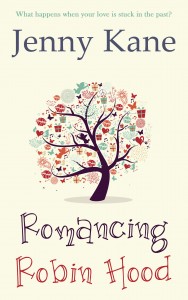 Many many many years ago, when I was a teenager, I was a bit- shall we say unusual? I suspect the words 'odd' and 'eccentric' would be more accurate, but I'll let you make your own mind up on that!!!
I never did the pop or film star crush thing. Never had pictures of Duran Duran or Wham on my wall. Adam Ant didn't look up at me from my pencil case, and I did not wake up to see a life sized poster of Morrissey's backside complete with gladioli (or whatever flower it was) sticking out of his backside!!
Nor was I into the Pac Man craze (I am so giving my age away here!), and the background to Manic Minor drove me nuts! I didn't buy Jackie, or indulge in spending my money on Cosmopolitan.
It wasn't that I didn't like music or playing the odd game of tennis on the Atari- but I had a different sort of fascination.
Robin Hood!!
I know what you're thinking- you're thinking that I had a crush on Jason Connery or Michael Praed- but nope. Sorry- neither of those lovely boys are my type at all.
It all started because I was ill for ages and ages when I was 14. I missed a lot of school. But as always in life, timing is everything- and I was saved by an instant and unshakeable love for the series of Robin of Sherwood that was being aired on ITV at the time. It was the third series- I hadn't seen either of the first two. (I have now- lots!) As I was at home so much, my parents rented one of those new fangled video recorders from Radio Rentals so I could record stuff and watch it when I liked. (Thanks Mum and Dad- still grateful for that!!)
The VCR arrived the same day as the episode of Robin of Sherwood called Adam Bell was aired- I recorded it and watched it 8 times the next day- and then again, and again and again. Now- over 20 years later- I can still quote the script!! (Okay- that's nothing to be proud of- see- I'm a bit odd!!)
It wasn't the tight tights that had captured my heart though- it was the story. The whole story. All of it. I wanted to know everything- EVERYTHING- that could possibly be known about Robin Hood. No film, book (nonfiction or fiction), was safe from me.
My walls disappeared under posters of RH- any posters- from Errol Flynn, to Richard Greene, to the statue up in Nottingham, to the gorgeous Ray Winstone who played Will Scarlet (Okay- you have me there- I had – still do- have a 'thing' for Ray Winstone- there is such a twinkle in those eyes!!!)
The interest became an obsession (In RH not Ray Winstone). When I was better my parents took me to Sherwood- I learnt archery, I read medieval political poems and ballads- I wanted to know the truth- did he exist or didn't he?
I did a project on RH for my A' level History. Then I went to university and did a specialist course in Medieval Castle and Ecclesiastical Architecture…I was a medieval junky!! It seemed only natural to do a PhD on the subject- and that is exactly what I did!
By this time of course, I was pretty certain how and why the RH legend had begun- but I wanted to know who had influenced it into the form we know today, and how the real recorded crimes and daily life of the thirteenth and fourteenth century had affected those stories… (forget thinking RH was around with Richard I or King John- it ain' happening!!)
It was my PhD that taught me to write- (a tome of epic proportions that is still knocking around my old Uni library gathering dust, while e-versions of it are scattered around many American Universitys). Rather than finish off my love of RH- my PhD polished it to perfection!! (Although nothing could make me like the latest BBC series or the Russell Crowe film- both just made me want to scream they were so bad.)
I guess it was only a matter of time before I decided to write a novel about a Robin Hood obsessed historian.
Blurb-
Dr Grace Harper has loved the stories of Robin Hood ever since she first saw them on TV as a girl. Now, with her fortieth birthday just around the corner, she's a successful academic in Medieval History, with a tenured position at a top university.
But Grace is in a bit of a rut. She's supposed to be writing a textbook on a real-life medieval gang of high-class criminals – the Folvilles – but she keeps being drawn into the world of the novel she's secretly writing – a novel which entwines the Folvilles with her long-time love of Robin Hood – and a feisty young girl named Mathilda, who is the key to a medieval mystery…
Meanwhile, Grace's best friend Daisy – who's as keen on animals as Grace is on the Merry Men – is unexpectedly getting married, and a reluctant Grace is press-ganged into being her bridesmaid. As Grace sees Daisy's new-found happiness, she starts to re-evaluate her own life. Is her devotion to a man who may or may not have lived hundreds of years ago really a substitute for a real-life hero of her own? It doesn't get any easier when she meets Dr Robert Franks – a rival academic who Grace is determined to dislike but finds herself being increasingly drawn to…
You can buy this crime/romance/modern/medieval novel from all good retailers, including-
http://www.amazon.co.uk/Romancing-Robin-Hood-Jenny-Kane-ebook/dp/B00M4838S2/ref=sr_1_1?ie=UTF8&qid=1407428558&sr=8-1&keywords=romancing+robin+hood
http://www.amazon.com/Romancing-Robin-Hood-love-story-ebook/dp/B00M4838S2/ref=sr_1_1?ie=UTF8&qid=1409936409&sr=8-1&keywords=romancing+robin+hood
Jenny
xxx