Let's focus on: The Outlaw's Ransom.
The first in an exciting historical crime series, set in fourteenth century England.

Book One of The Folville Chronicles
When potter's daughter Mathilda is kidnapped by the notorious Folville brothers as punishment for her father's debts, she fears for her life. Although of noble birth, the Folvilles are infamous throughout the county for using crime to rule their lands—and for using any means necessary to deliver their distinctive brand of 'justice'.
Mathilda must prove her worth to the Folvilles in order to win her freedom. To do so, she must go against her instincts and, disguised as the betrothed of Robert de Folville, undertake a mission that will send her to Bakewell in Derbyshire, and the home of Nicholas Coterel, one of the most infamous men in England.
With her life in the hands of more than one dangerous brigand, Mathilda must win the trust of the Folville's housekeeper, Sarah, and Robert Folville himself if she has any chance of survival.
Never have the teachings gleaned from the tales of Robyn Hode been so useful…
Available as an ebook or paperback from: Amazon UK | Amazon US | Amazon CA | Amazon AU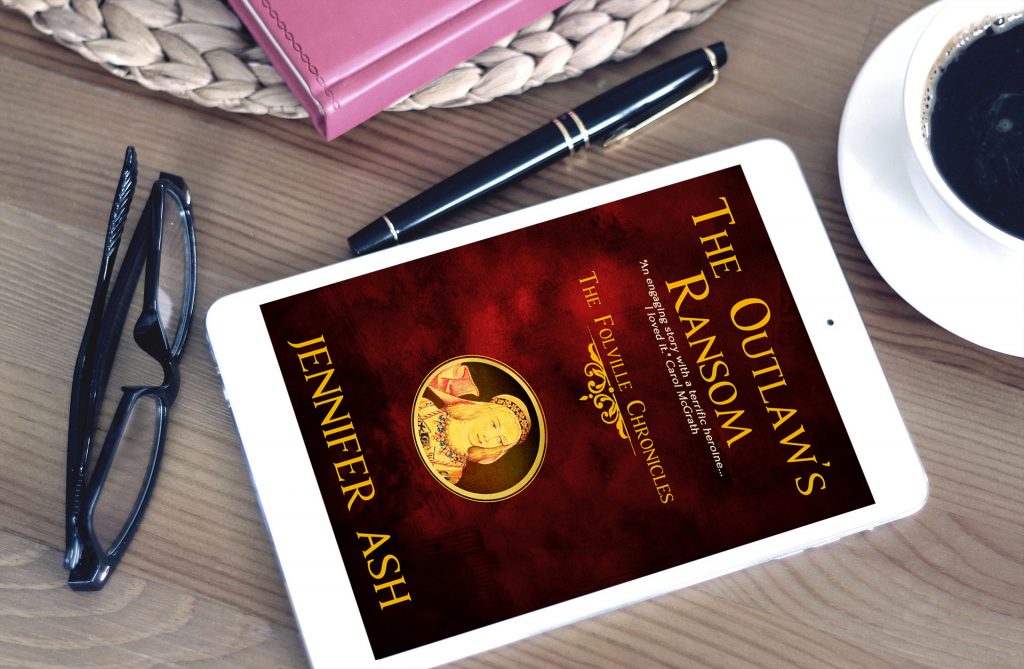 Here are just a few of the lovely reviews for Mathilda's first story…
"Bought it last night and finished at 2am in the morning! I had already read "Romancing Robin Hood" and liked Mathilda, so I was curious what this book would be like. Many aspects of the story were already in the other book but this is a beautiful standalone and I didn't mind rereading parts of the story. I'm glad this is a series by the looks of it and hope the next one will be out soon. I particularly like that the women are confident but still believable characters within the medieval background. No "Kardashians in costumes" but convincing dialogues and scene descriptions. Well done!" Amazon
"I first read this story when it appeared in a lesser form as a 'story within a story'. (Romancing Robin Hood)
I have really enjoyed reading the expanded version – complete with historical references.
Mathilda is kidnapped by local highborn landowners/outlaws as a way of ensuring her family repay a loan. Too clever for her own good she soon realises that they wish to use her to pass messages to another family – who would ever think to question a young lady, but is very quickly embroiled in the murder of a local business man….A very cleverly written medieval who dunnit." Goodreads
"An enjoyable read with credible characters and a pacey plot. Good scene setting, I felt like I was back in medieval times. Looking forward to the next book in the series." Amazon
"What a lovely way to spend Easter Sunday, curled up under my blanket and being whisked back in time. Mathilda is a woman who isn't afraid to say what she thinks and reveals a truth about a mystery, knowing it may cost her dearly. I truly felt as though I was at the market with her and also felt the soreness from being on a horse. A really good tale with a happy ending. Historic books are ones I love to read and I was so glad I picked this up!" Amazon 
"I raced through The Outlaws Ransom in just a couple of sittings, it was so satisfyingly fast-paced that I found with each chapter it was a case of 'just one more'. Mathilda is a fabulous protagonist and seemed to me to be a fitting heroine for the times. The historical accuracy and details peppered throughout the book helped the story come alive in a most enjoyable way. The Folville family is fascinating, both dastardly and multi-layered, the interaction between the brothers engaging and very human. I am greatly looking forward to the next instalment in this series." Amazon
"An enjoyable read with credible characters and a pacey plot. Good scene setting, I felt like I was back in medieval times. Looking forward to the next book in the series." Amazon